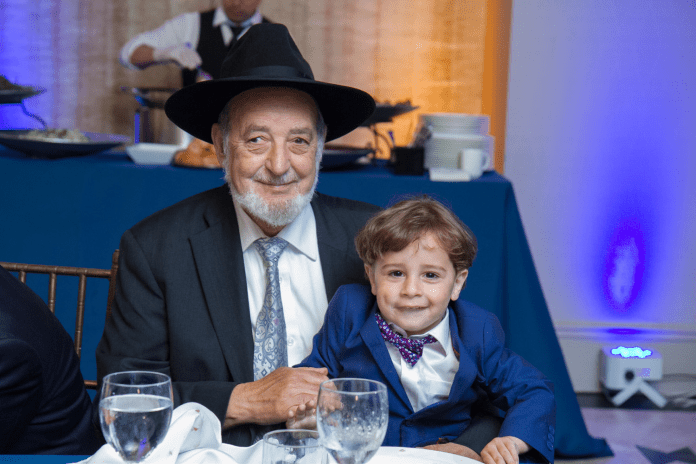 "My parents' focus in life was helping others around them. Their actions, what they modeled to their children, seeped into all of us." ~~ Adina ~~
What a zechut it was to interview Adina Mezrahi, the youngest child of Rabbi Shlomo Lankry, zt"l. Rabbi Lankry was the rabbi of Chesed L' Avraham, the rav of the Moroccan Jewish community of Flatbush, the owner of Sisu bookstore, and the leader of the Chevra Kadisha for the Sephardic community for fifty years. Rabbi Lankry and his eishet chayel Zahava, ad meah viesri, lived their daily lives in a manner that greatly shaped their children's character.
Rabbi David Ozeri wisely said, "Sisu was a front for the Rabbi to do hesed, to save people's lives, to be mekarev people."
Rabbi Shlomo and Zahava Lankry were born and married in Morocco. Both taught in yeshiva and preschool. As a young man, Rabbi Lankry embarked on his calling to teach Torah and practice hesed towards his Jewish brothers and sisters.
The couple emigrated to the U.S. when hostility towards Moroccan Jews intensified after Israel's victory in the Six Day War.
Adina attended Bet Yaakov Ateret Torah for elementary school and high school. This Brooklyn school, which is close to her father's store and shul, is part of the Ateret Torah Synagogue community. The school follows Sephardic nussach and minhagim but has a yeshivish hashkafa and derech halimmud. Its founding rosh yeshiva, Rav Harari-Raful, shlit"a, was praised for synthesizing the school's two facets beautifully.
Adina was very studious and was rather quiet. She loved going to overnight summer camp as a child. She fondly recalled that her mother worked as a cook in Camp Agudah, an Ashkenaz camp, and part of the boy's division of Agudath Israel. Adina attended its sister camp, Bnos, which was down the road. She had the best of both worlds, melding Sephardic and Ashkenaz traditions.
"My childhood friends are like family. I grew up going to sleepaway camp. I have great friends and great memories from Bnos."
And Then Came Marriage . . .
Adina met her naseeb, Eliyahu ("Eli") Mezrahi, of Syrian descent, after graduating high school. They spent the first seven years of their marriage in New Jersey. Eli studied in the Deal Kollel and Lakewood Yeshiva. When Adina married Eli, she saw how similar the Moroccan and Syrian customs were. Eli now works with his father in Seuda, a Syrian catering business, known as "the place to sample kosher Syrian Jewish fare in Brooklyn."
Back to School
After her third child was born, Adina decided to return to school. It is no surprise that Adina chose a helping profession after growing up in a house where her parents demonstrated a consistent commitment to doing hesed. "Helping people and finding peace and happiness in what you are doing is what I am passionate about. It's also the key to success. My parents ingrained this in all of us. My sister is the clinical director at Amudim, one brother is a rabbi, and another brother has a pizza restaurant in New Jersey where he quietly helps many teenagers at risk."
From both her parents, Adina learned that "whatever you do in your life, you can help people and elevate your situation to be a spiritual one."
Adina recalls her father always comforting those who were grieving. He encouraged people to find a meaningful purpose in their loss and to help others.
Adina saw that her mom, who cooked both in schools and camp, did much more than just cook. Former students told her, "Your mother helped us in ways you cannot imagine." The same is true of her father. His daughter Emily said, "So many people approached me and began, 'You don't know what your father did for me.'"
As a spiritual person, Adina lights a candle every Friday night for her father, keeping him close to her heart.
Adina chose a path that would not compromise her family's care. Her family members would always come first. "I didn't want to miss my children's important events and other milestones."
At the age of twenty-six, Adina enrolled in Touro College. It took her four years to get her b.s. in biology and another two years to earn her bachelor's in nursing. Adina also studied two-and-a-half years at Pace University towards her Family Nurse Practitioner Master's degree. She is currently working on her nursing doctorate to gain leadership and management skills.
A Balancing Act
Adina arranged her classes around her children's schedules, returning to school in the evenings for weekly science labs.
Adina's husband fully supported Adina's nursing aspirations. Her mother was also a tremendous help. Zahava Lankry babysat for the little ones and helped fill in when needed. "My mother was my right hand when I was getting my nursing education."
Adina's children have wonderful memories of going on the toy elephant rides on Kings Highway with their grandmother. Adina's parents lived above her father's shul, and her dad cherished hearing the babies wake up and then joining them to play. "I am blessed to have a supportive family who saw my potential, guided me, and taught me the importance of giving back," Adina said.
She did her hospital training at Maimonides Medical Center and Coney Island Hospital. The experience was intense, but she focused on taking one step at a time.
"Hashem provided me with the strength to get through it," Adina recalls. She also had mentors and friends during each stage of her education, who supported her throughout her journey
Adina expressed immense gratitude to both Dr. Jack Sadacka and Dr. Melinda Mann, who were willing to give her clinical experience and training during her family nurse practitioner degree. Dr. Sam Bekhar hired her as a new graduate and taught her a tremendous amount when she worked in his practice.
"They took the time to train me and to educate me. I learned a lot about caring for the pediatric population and how to talk to the parents."
Adina's training with Dr. Mann, an obstetrician-gynecologist, is what led to her developing a keen appreciation and passion for women's health.
Her first position as a registered nurse was at First Response Ambulance. She then moved to HASC (Hebrew Academy for Special Children) and is gratified with the care she has provided for the past five years. Although Adina has advanced degrees, she retains her role as an RN because of her commitment to helping the developmentally disabled.
At HASC, Adina manages the medical care of adults in group homes. Her patients have developmental disabilities and range from low-functioning individuals who require assistance with daily living activities to high-functioning adults who can hold down jobs. The ages of the approximately 30 patients she cares for vary from young adults to senior citizens in their eighties. During the height of the pandemic, Adina's responsibilities became more challenging, as she attended to her patients' care remotely on FaceTime. BH all of her patients did well despite the challenges.
In June, Adina took a part-time position at Parcare Community Health Network, a women's health practice. She works alongside her mentor, Dr. Mann. Adina is passionate about women's healthcare, and finds the job extremely rewarding. "I deal with all kinds of issues facing women. Women go through different challenges. I educate and help women of all ages. I help them to address their health issues and to relieve their anxieties. It's a blessing, to educate them and calm their fears."
How Does Adina Do It All?
Adina and Eli have six children. Their oldest, a boy, is studying at Mikdash Melech Yeshiva in Israel and their youngest is a baby girl. They are grateful to live in a unique community whose members care about and help each other.
Adina's children are very proud that she is a nurse practitioner. They appreciate it when Adina checks their ears and throats, and they don't have to go to the pediatrician's office so often!
Adina's her formula for juggling work and family is proper organization and balance. "Like anything in life, you need to juggle and prioritize. I try to be organized and make lots of lists. I plan my time off around the kids' vacation schedules. It's the hardest when the children are little, but it does get easier. My older ones help in many ways."
Adina recommends staying focused on what's right for you and your family and to avoid comparing yourself to others. Getting support from like-minded people in a similar situation is essential.
Hobbies and Outlets
Adina says it is key to have an outlet, and hers is swimming. She tries to swim as often as she can. Adina loves to read and enjoys nature and spending time at Marine Park.
Advice for Future Nurses
"If your goal is to help people, you'll be successful. Find good mentors, friends, and support groups. It can make or break you."
Please connect with Adina at amezrahi01@gmail.com
Ellen Geller Kamaras, CPA/MBA, is an International Coach Federation (ICF) Associate Certified Coach.  Her coaching specialties include life, career, and dating coaching.  Ellen is active in her community and is currently the Vice-President of Congregation Bnai Avraham in Brooklyn Heights. She can be contacted at ellen@lifecoachellen.com (www.lifecoachellen.com).