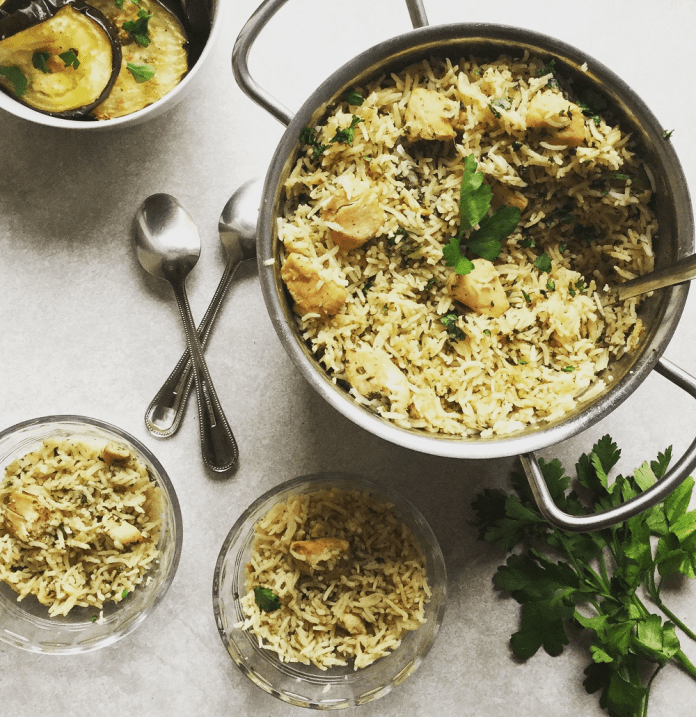 Adina Yaakov
Bachsh is a traditional Bukharian dish made with chicken or beef, rice, and green herbs. The aromatic ingredients are cooked one at a time, infusing the rice with layers of flavor. My Bukharian friend gave me this recipe over ten years ago and I have been making it ever since. I usually serve bachsh as a one-pot dinner, but it can also be used as a side dish on Shabbat.
Bachsh – Bukharian Chicken and Herbed Rice
2 onions, diced
2 tbsp canola oil
1 lb chicken breast, finely diced
1 bunch cilantro
1 bunch parsley
4 tbsp chicken consommé
2 cups basmati rice
4+1 ½ cups water
Salt and pepper
Clean parsley and cilantro. Remove bottom half of the stems and chop finely. Set aside.
In a medium pot, sauté onions in oil until golden, about 8 to 10 minutes.
Liberally season chicken with salt and pepper and add to pot. Sautee for 15 minutes, stirring until it's seared on all sides.
Add 1 ½ cups water and consommé and bring to a boil. Cover and cook on medium flame for 20 minutes.
Add the chopped herbs, rice, 4 cups water, and salt and bring to a boil. Cover and reduce to a simmer and let cook for another 30 minutes. Serve warm.