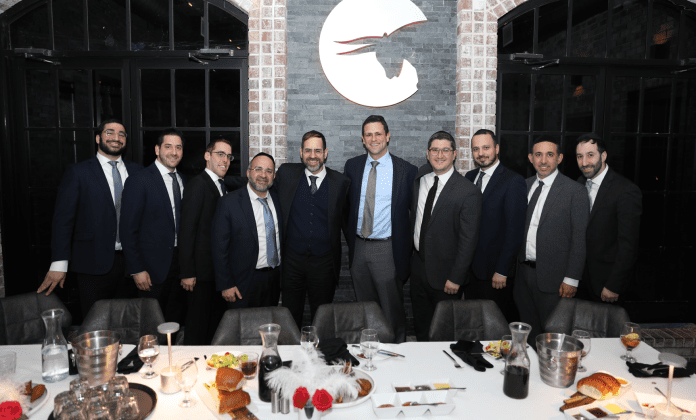 SIMHA Celebrates the Completion of Its First Rabbinic Training Cohort 
(L-R) Rabbi Joey Sultan, Rabbi Alex Mizrahi, Rabbi David Nakash, Rabbi David Mansour, Rabbi David Sutton, Dr. Shloimie Zimmerman, Rabbi Joey Dana, Rabbi Mourad Sardar, Rabbi David Nakash, and Dr. David Katzenstein.
First class of SIMHA's 2nd Rabbinic Training Cohort
SIMHA: Building Up, and Looking Ahead
By Rabbi David Sutton and Dr. David Katzenstein.
On January 29 of this year, SIMHA (Sephardic Initiative for Mental Health Awareness) celebrated the graduation of its first cohort of seven rabbis, all of whom were awarded certifications of completion in SIMHA's inaugural, six-month Rabbinical Clinical Training Program.
SIMHA, a mental health organization based in Brooklyn, provides white-glove, expert mental health services, including clinical assessments, expedited referrals, case management, crisis intervention, and support groups, to those within Sephardic communities who are struggling with any and all mental health matters. SIMHA's founding support group – for mothers of adolescent and adult children struggling with mental illness – is run by group therapist Elisheva Parry, LCSW.
Focus on Education and Prevention
What further separates SIMHA from so many other organizations is its investment in, and focus on, prevention. Its Education and Awareness Division, overseen by SIMHA's founder/director, Rabbi David Sutton and Chief Clinical Officer, Dr. David Katzenstein, DSW, LCSW-R, has offered to those on the frontlines of the community, at no cost, a myriad of seminars, courses, and professional development workshops, given by experts and specialists in the field.
"Our community educators, rabbis, shadchanim, and hattan/kallah teachers, are often the very first to encounter mental health-related concerns among those with whom they work closely, and it is vital that they be readily equipped with the know-how to address these concerns," said Rabbi Sutton.
Rabbinical Clinical Training Program
The Rabbinical Clinical Training Program evolved from a vision into reality after a series of ten workshops given by experts on a variety of mental health topics left many of the rabbis wanting and requesting more.
SIMHA's co-founders and prominent community leaders, Mr. Mark Adjmi and Mr. Nathan Hoffman, together with Rabbi Sutton, tapped renowned psychologist and speaker/author, Dr. Shloimie Zimmerman, Psy.D, to spearhead, develop, and lead the program. Dr. Zimmerman is a leading authority within Jewish communities across the globe on the issues of sexual abuse, community education, and spirituality. SIMHA's Director of Operations, Shlomo Brecher, LMHC, coordinated all the administrative and logistical components required to help the program run smoothly.
The seven community rabbis, Rabbi Alex Mizrahi of the Yad Yosef Congregation and Kesher organization, Rabbi David Mansour of Yeshivat Shaare Torah and Khal Kol Yaakov, Rabbi David Nakash of YDE and Shaare Zion, Rabbi David Nakash of Khal Bnei Aliyah, Rabbi Joey Dana of the West Deal Synagogue and Hillel Yeshiva, Rabbi Joseph Sultan of the Deal Synagogue and Rabbi Diamond's Yeshiva, and Rabbi Mourad Sardar of Khal Darchei Noam and Yeshivat Mekor Haim, gathered each Tuesday in SIMHA's conference room and participated in a weekly three-hour lecture that focused on their integral roles as pastoral counselors. More than providing an extensive course in mental health, Dr. Zimmerman expertly trained the rabbis on the therapeutic nuances of active listening, reflection, validation, empathy, and the many additional skills needed to deal with the multitude of issues that are often presented to them by their congregants.
Success of First Program Leads to Second Cohort
The objective of the course was not to turn rabbis into clinicians, but rather to equip them with the requisite tools to provide knowledgeable and compassionate spiritual care and guidance. Rabbi Joseph Dana, Assistant Rosh Yeshiva at Hillel, strongly concurred that this objective has been well-realized. "The information and hands-on knowledge that we discussed have armed me with what is most crucial: the ability to help those in our community who need it most. As a participant in the cohort, I feel confident that I have the tools to properly discuss even the most sensitive issues with my congregants and students."
Concurrent with the lectures, the rabbis received bi-monthly individual case supervision from Dr. Zimmerman on cases and issues with which they were actively dealing. Most of the course graduates are continuing their training with ongoing weekly supervision, meeting together in a group led by Dr. Katzenstein.
"The fact that these rabbis, with their hectic schedules and busy lives, have voluntarily enrolled in this program in order to improve their skills and knowledge within the complex world of mental health, speaks to their commitment and dedication to the people who need them most," Dr. Katzenstein noted. "It is awe inspiring," 
Thanks to the incredible success of the first cohort, another twelve community rabbis have signed on for the next six-month course, already underway. They are Rabbi Avi Shmueli of Rabbi Diamond's Kollel, Rabbi David Beyda of Meor Yeshiva High School, Rabbi David Maslaton of Bet Yaakov Orot Sarah and Cong. Shaare Sion, Rabbi Joe Mizrahi of Yeshivat Magen David and Congregation Bnai Yitzchak , Rabbi Joe Srour of Congregation Shaare Sion, Rabbi Meir Barnathan of Yeshivat Magen David and Congregation Ahava V'Achva, Rabbi Mordechai Sultan, Rabbi Ralph Gindi of YDE, Rabbi Raymond Azrak of Congregation Ahi Ezer and YDE, Rabbi Raymond Shamah of YDE, and Rabbi Shelomo Haber of Congregation Magen Abraham and Yeshivat Shaare Torah.
Training for Women Leaders
To meet the needs of the community's women, SIMHA co-founder Nathan Hoffman understands that an investment in clinical training programs for women leaders fits perfectly within SIMHA's mission. "Our goal is to help every single individual in our community," he stated." So many women and girls seek out help or guidance for mental health struggles, and it is important that the women they turn to be properly trained, just as the rabbis have been." 
Among the programming already offered were a six-week kallah teacher course given by Mrs. Shevi Samet, the associate director of CORE's Kallah Conversations Community of Practice and a well-known specialist who coaches brides with mental health issues, as well as a multi-day workshop for shadchanim, presented by Dr. Avi Muschel, Psy.D, an expert on dating and premarital relationships. The most recent experiential workshop SIMHA offered for kallah teachers was led Dr. Sarah Miller, PhD, both a clinical psychologist and rebbetzin, on knowing how to differentiate between typical bride angst and real clinical anxiety.
SIMHA Answers a Significant Community Need
Though SIMHA has opened its doors only a mere twelve months ago, the need for its launch is increasingly evident by the sheer number of cases it has accepted since its inception. Over six hundred members of the community have walked through its doors to receive clinical services. Each client is assessed and subsequently receives a custom-tailored treatment plan that is followed closely by SIMHA's clinical coordination team, who serve to ensure that services are provided with evidenced-based care and as expediently as possible.
Due to the increasing number of ongoing cases needing clinical expertise and oversight, SIMHA has hired noted psychologist Dr. Eli Mandelbaum, PsyD, to serve as its Director of Clinical Coordination. Dr Mandelbaum, who maintains a private practice in Monsey, New York, serves as a consulting psychologist for well-known organizations ATime (for infertility) and Ray of Hope (for survivors of sexual abuse), will additionally direct the recently developed Psychology Training Program – the first of its kind within the Sephardic community.
SIMHA's board of directors, among them Mr. Ike Tawil, is keenly aware that so much more work still needs to be done. "Our ultimate aim is to alleviate much of the pain and subsequent confusion surrounding mental illness within our community and eradicate any associated stigma," he said.
SIMHA's president, Mr. Adjmi, concludes, "Our community is known to be there for one another when times are challenging, and this is especially true when dealing with mental health matters."
As Mr. Adjmi succinctly put it, "We are just getting started."
Rabbi David Sutton is the Rabbi of the Yad Yosef Torah Center as well as the Founder/Director of the SIMHA Organization. Dr. David Katzenstein is the Chief Clinical Officer at SIMHA and maintains a private psychotherapy practice in Brooklyn.
 SIMHA: Building Up, and Looking Ahead
An in-depth look at SIMHA's revolutionary rabbinic training program