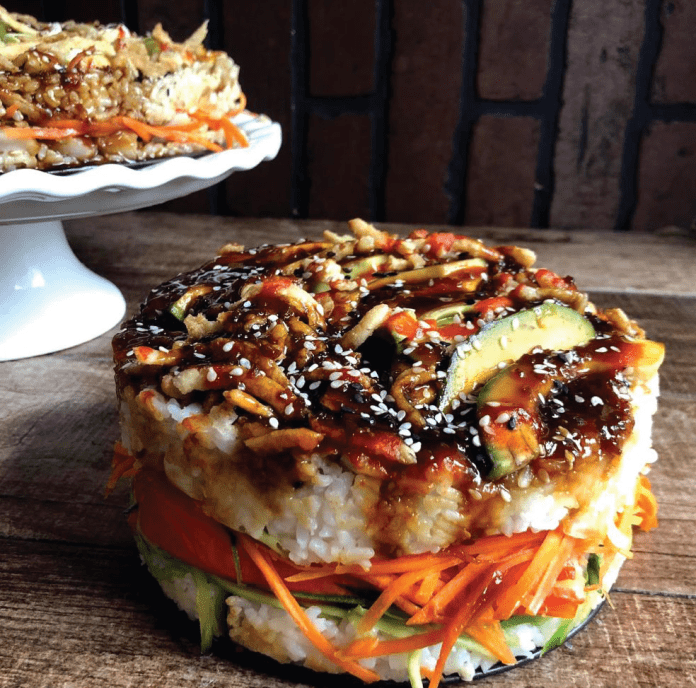 I love using my kitchen gadgets for more than one purpose. Peelers can be used for peeling vegetables, and to slice thin slices of cheese too. Pasta strainers can be used to separate herbs from their stems by pulling their stem through the holes. Think your springform pan is just for cheesecake? Think again! This Sushi Pie uses your springform pan to create a beautifully layered dish that is sure to amaze your guests. You can swap tuna steak for surimi seafood sticks or salmon filets.
2 cups arborio or sushi rice
¼ cup rice vinegar
4 tsp sugar
2 lbs. tuna steak
Salt and pepper, to taste
1 cup shredded carrots
2 cucumbers, spiralized or sliced into super thin strips
1 ripe avocado, thinly sliced
½ cup crispy fried onions
1 bunch chopped scallions
1 cup sweet sauce
Sriracha (optional)
Spicy mayo (optional)
½ cup white and black sesame seeds
Cook rice according to instructions.

While the rice is cooking, heat the vinegar, sugar, and 1 tsp of salt in a separate pot and whisk until the sugar has dissolved. When the rice is cooked, transfer it immediately to a large mixing bowl and drizzle it evenly with the sushi vinegar.
Pat tuna dry and then sprinkle salt and pepper on both sides. In a pan, sear each side for 3-5 minutes, or more for well done. Slice thin and set aside.
In a large springform pan, place half the cooked rice. Pat down with the back of a spoon to flatten. It's imperative that each layer is compact to prevent movement when serving.
Arrange the tuna steak slices, cucumbers, carrots, half the crispy fried onions, and half the sweet sauce on top of the rice.
Add the remaining rice, sandwiching the tuna and sliced carrots between the rice. Pat down firmly to create a smooth flat surface.
Place the avocado slices, crispy fried onions, and scallions on the last rice layer. Drizzle sweet sauce and then sprinkle with sesame seeds.
To serve, carefully remove the side of the springform pan. Serve immediately.
Recipe, photo and styling by Adina Yaakov, Registered Dietitian Nutritionist. For more recipes follow @onceuponathyme__ on Instagram or www.OnceUponAThyme.com