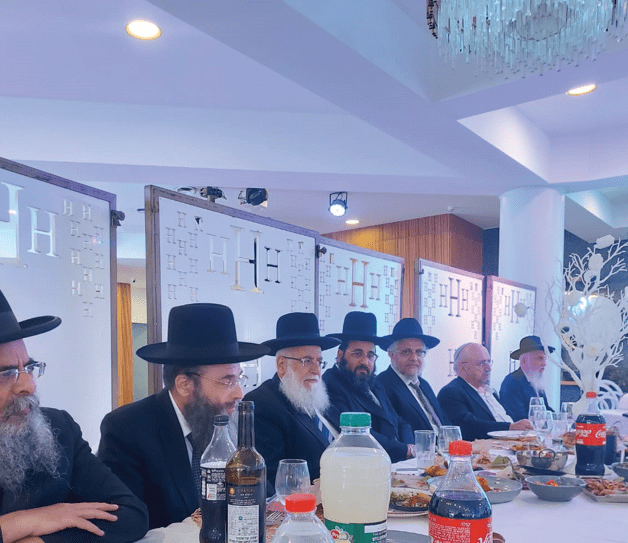 Avi Kumar
In a beautiful display of granting kavod l'Torah, two celebrations in honor of the hachnasat sefer Torah of a magnificent sefer Torah, dedicated in memory of Hacham Ovadia Yosef, zt"l, and Rabbi Shlomo Korah, occurred days apart in Brooklyn and Jerusalem. The sefer Torah, donated by the Syrian community, is housed in a stunning silver casing. It was written in Jerusalem and is permanently housed in Bnai Yosef Synagogue in Brooklyn, home to one of the largest Sephardic communities in the United States. The celebrations took place in Brooklyn on May 14th and in Jerusalem on May 18th.  
Both events were blessed with pleasant weather and featured delicious food, and plentiful drinks. The musical accompaniment lent an uplifting spirit to these special celebrations. Approximately 200 people participated in the dedication ceremony in Brooklyn, and in Jerusalem.  
Memories of Hacham Ovadia, zt"l
It was a special zechut for Israeli-born Rabbi Uziel Admoni, 44, to organize the events. In fact, he attended both events in person. He said, "I had a special relationship with both rabbis, and was personally ordained by Hacham Ovadia in 2010." 
Admoni, a member of Bet Din Torah U'Mishpat, described Hacham Ovadia as "one of the greatest religious leaders we have had in our generation." Hacham Ovadia Yosef was born in 1920 in Ottoman Iraq and moved to Israel at the age of four. He boldly made the halachic ruling that determined that Ethiopian Jews were to be considered halachically Jewish. This was critical to facilitating the aliya of many thousands of Jewish refugees from Ethiopia. 
Rabbi Elie Abadie, Senior Rabbi of the UAE, said, "Hacham Ovadia Yosef wanted to unify all of the Sephardim under one roof and tradition. And he eventually turned out to become the ultimate Sephardic leader of the last one hundred years, if not more!" 
"He returned the Sephardim's pride and put them at the forefront of Israeli society, whether it be it in Torah scholarship or social and political advancement."
Hacham Ovadia was especially known for his special trademark – giving an affectionate smack/caress to the face of youngsters who he was fond of. Many of his followers warmly recall his affectionate pats. Hacham Ovadia visited the Bnai Yosef Synagogue whenever he visited the United States. 
Hacham Ovadia Yosef passed away in October of 2013. The sefer Torah dedications fell almost a decade since his passing.
Celebration in Jerusalem
The gathering in Jerusalem was a memorable event, attended by many rabbis, yeshiva students, members of the Knesset, and city officials, notably members of the Shas party. 
Noteworthy among the rabbis was Rabbi Shlomo Amar, former Chief Rabbi of Israel and the current Chief Rabbi of Jerusalem. Rabbi Amar was a talmid of Hacham Ovadia Yosef. Rabbi Amar wrote a letter in the sefer Torah and blessed the donors at both events, in New York and Jerusalem. 
A Special Symbol of Unity
Rabbi Admoni commented, "Something notable was that the sefer Torah was donated to a shul that has many members and it ultimately represents unity. Both rabbis [who were honored with the writing of the sefer Torah] were very well-known public figures who spoke about the importance of this unity. And our relationship with both of them was based in Torah values and halacha."
A special feature of the new sefer Torah is its smaller size, which allows even the younger set to carry it comfortably. Dan Frija, a member of Bnai Yosef for over 20 years, said, "This stunning Torah was just the correct size for an average person to carry and it's especially more convenient for teenagers who would have the privilege to handle it."
"You must see the look in children's eyes when they're allowed to carry a sefer Torah for the first time. So, having this particular Torah made 'just the right size' will go a long way!" Frija concluded, "It was a magnificent event!
Rabbi Uziel Admoni
Abe Shrem, son of the synagogue's former cantor Gabriel A Shrem (1964-86), said, "Rabbi Admoni knows how to draw in students to study. He knows how to come down to their level and has a great sense of humor. No words can describe the love he has for his students and we are grateful for his work."
Shrem's father tragically passed away in Israel while attending his grandson's bar mitzvah. Shrem still has tremendous gratitude for Eddie Sitt, then the administrator of the synagogue, who organized for Shrem's father to be buried at the Mount of Olives. 
Rabbi Admoni said, "Some communities have difficulty getting sifrei Torah and many here felt uplifted that they were able to contribute.
Maybe one day those who were inspired by this sefer Torah dedication will be able to contribute themselves, enabling the passing on to the next generation the values that we have had for generations and hold so dear. 
"The Torah is one thing that unites all Jewish communities across the world. It is written in the same way with the same letters. Although we might drive different cars and live in different houses and in different countries, our Torah is what we all have in common."
Many praised Rabbi Admoni for his work, and voiced that Bnai Yosef is, indeed, privileged to house the new sefer Torah, which is so meaningful. May it serve to inspire all those who pass through Bnai Yosef's doors.