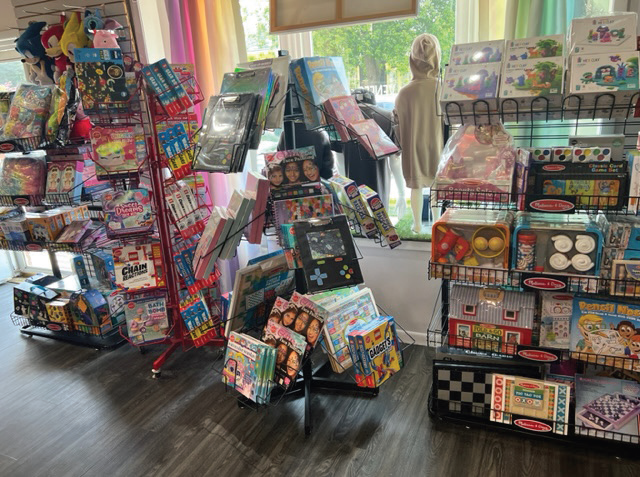 "We sell happiness. Seeing the happiness our gifts bring to people is fabulous. Ilan and I are thrilled when we receive group pictures of our customers wearing our swag." – Vanessa
Who is Vanessa Benun Broochian? Vanessa is an energetic, creative, warm, and driven wife, mom, and entrepreneur, who sells happiness. That's right! She is the creator of Frostings by Venee, a one-of-a-kind decorative apparel shop that also offers trendy accessories, gifts, toys, and much more. 
Born to Mona and Jack Benun, Vanessa grew up on the Jersey Shore and attended Hillel Yeshiva for elementary and high school. Her father is of Syrian descent and was born in America. Her mom was born in Egypt. Vanessa is the third of four daughters. Her sisters are Rebecca, Sabrina, and Jasmine. The sisters became especially appreciative of their roots when their mother and maternal grandmother took the girls for a trip to Egypt.
Jack modeled a strong work ethic, and Mona was very creative and graciously opened her home to guests and family. The Benun girls were blessed to participate in many parties in their childhood home and they helped their mother shop, decorate tables, and more.
Vanessa recalls, "I was loud and friendly, the funny kid, the class clown. I was always creative, even as a young girl. When I didn't like something, I was very honest. I knew presentation was important and I could make my school projects look good even when I wasn't that strong academically."
Vanessa and her sisters described her special essence as creative, energetic, friendly, outgoing, and driven. Although super focused, Vanessa is easy going when connecting with customers. She loves people and she loves working!
College and Career
After high school, Vanessa studied in NYC at FIT (Fashion Institute of Technology). "I had around seven majors in my college years. I knew that I loved art and was into fashion."
She took courses in display and exhibit, window decorating, and event planning. "The event planning classes were very intense. I worked for a local wedding event planner, which was overwhelming, particularly when we built the huppah right before the bride and groom entered! The commute to NY and back to NJ was also very tough."
After a year, Vanessa transferred to Brookdale Community college in New Jersey and received her associate degree. She then felt more confident about what she wanted to major in and returned to FIT to study marketing and advertising.

"When the September 11th terrorist attacks hit, I didn't feel safe in Manhattan and enrolled in Monmouth University in NJ. I majored in communications and minored in art, proudly graduating with honors. It took me five years to complete college. I loved Monmouth and learned a lot. Our mom didn't finish college, so it was important for us to."
As we follow Vanessa on her path to adulthood and entrepreneurship, you will see that she was gifted with the ability to think out of the box and to find new businesses and artistic outlets.
After graduation, Vanessa traveled the world with her sisters and then moved in with Sabrina in Manhattan. Since Vanessa loved shopping, the two started an ecommerce business and bought trendy closeout items and sold them on eBay. Their merchandise included hot accessories and clothing that celebrities were wearing. "We loved the hunt! We were ahead of our time since this was before Instagram."
Vanessa laughingly admitted that she even booked her honeymoon around product releases.
Marriage and Kids
Vanessa met her naseeb, Ilan Broochian, at the West Deal Synagogue at a mutual friend's wedding. Ilan's father is Israeli Persian and his mom, a"h, was American Ashkenazi. Vanessa's and Ilan's minhagim were very similar. Ilan, a Brooklyn boy, asked Vanessa to try living in Brooklyn. "I gave it one year, but I missed the suburbs. I was pregnant with our first child when we moved to New Jersey. Ilan loves the Jersey Shore!"
They have one daughter, Esther (14) and two sons, Jack (11) and David (7). Vanessa is still very close with her sisters.
When Vanessa married Ilan, she was busy with her eBay enterprise. After giving birth to Esther, Vanessa realized it was harder to keep up her business as a mom. The eBay fees were increasing and she lived far away from NY. Vanessa continued the ecommerce venture part-time, but missed the rush and feeling of achievement of her full-time career.
Frostings by Venee Is Born
Vanessa adored dressing up Esther and put rhinestones on her clothing and accessories. When Vanessa decorated Esther's shorts with rhinestones and brought her to day camp orientation, the other mothers asked Vanessa if she would sell the rhinestone shorts to them. "Esther is fourteen, and I haven't stopped selling items like those shorts since that day."
Vanessa began to decorate apparel with rhinestones, choosing the business name, Frostings by Venee. Frostings refers to the rhinestones or bling on the clothes, accessories, and gifts. "Some people decorate cakes, we frost clothing. Venee, is short for Vanessa and sounds like Monet. My dad helped me with the name. I wanted to be a jewelry designer in high school and liked sparkling things."
When Jack was born, Vanessa also decorated his clothes, and he wore them to Mommy and Me, where they were a big hit. She got an iPhone and discovered Instagram!
For the first five years, Vanessa ran Frostings out of her Oakhurst home. She enjoyed working from home and being close to her family. In those early years, Vanessa would sell in schools, shuls, and boutique shows. She went to events in Brooklyn, Manhattan, and Jersey and built a following.
Frostings Branches Out
The business grew and Vanessa needed more room and more privacy. When she went to lunch at Diet Gourmet in Long Branch, she noticed the For Rent sign next door. It was down the block from her home. She rented the space and has been so happy with it.
Customers come from New York, the Midwest, California, and even Montreal. Frostings ships throughout the U.S. and to Canada. Frostings is a hot spot for the Sephardic families who come to the Jersey Shore for the summer season, and presents are shipped to overnight camps all summer long.
In the past decade, Frostings has branched out from rhinestones to patches, screen printing, chenille, vinyl printing, and embroidery.
Most of Frostings' clientele comes from word of mouth. "We are so grateful for the entire Jewish community, our cheerleaders, who support us and enable us to sell such fun things. I so enjoy seeing customers who visited the store as children, return with families of their own."
Ilan is the backbone of the business and is the yang to Vanessa's yin. Ilan joined Frostings full time in 2017 and the two complement each other well. "Even when Ilan was working in the camera business, he helped me with Frostings, and without him we couldn't have come this far. Ilan is the more organized and structured person. I do the buying and selling, and Ilan does the financial, the technical side, and graphics. We give each other needed space."
The Pandemic and Beyond
Covid hit right after a very busy Purim season. The Broochians decided to work and print from home. "We changed the theme of what we printed and added printing equipment in our basement. We made quarantine sweatshirts, masks, bar/bat mitzvah swag, and birthday packages, which we sent out as people couldn't attend semachot in person."
They focused on remote gift giving and celebrating. Frostings became a gift store with presents shipped throughout the country.
Running Frostings from home with three children to home school was very stressful, but Vanessa and Ilan appreciated being busy with customers rooting for them.
Today, Frostings is one half a gift store, with the printing shop in the back. The shop has toys, gifts, and apparel. Gifts are customized for every age, including adults.
Vanessa says proudly, "We sell happiness. Seeing the happiness our gifts bring to people is fabulous. Ilan and I are thrilled when we receive group pictures of our customers wearing our swag."
Balance
"We are so grateful for Shabbat when we can be with our children. Ilan and I are workaholics and are always striving to improve our work-life balance." Hands down, Vanessa says that the children are their greatest accomplishments, and the kids love Frostings. Their oldest is a paid gift wrapper during busy times.
Vanessa unwinds with self-care and by chilling at home. Ilan enjoys sports. The family takes time off for "yeshiva week."
Please connect with Vanessa at sales@venees.com and follow her on Instagram@frostings by_venee or drop in.