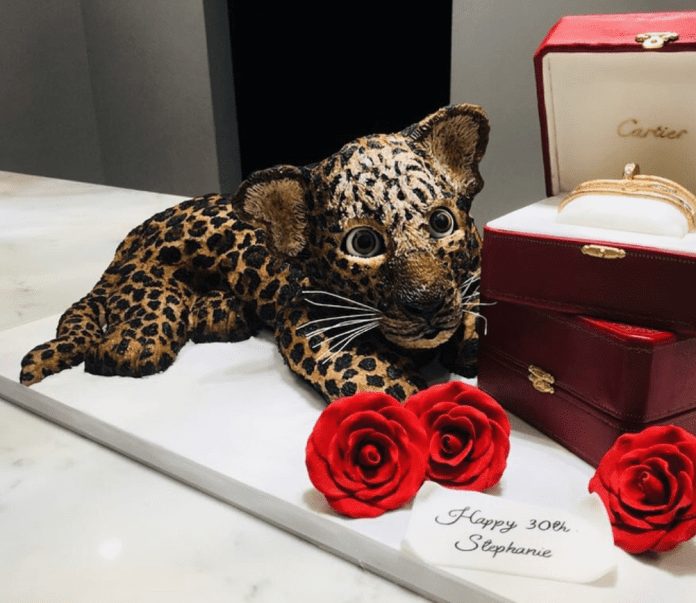 ELLEN GELLER KAMARAS   
"I love to be spontaneous and be in the moment. I am also a perfectionist in my personal and professional life."  ~~ Sara ~~  
Please meet Sara Manopla Chehebar, founder of Sara's Creations.  Sara bakes delectable and beautiful specialty cakes that are works of art.  
Born in Brooklyn, Sara grew up in NY, Israel, and Mexico until she returned to the U.S. with her family at the age of fifteen. 
Living in several countries as a child and teenager strongly influenced the woman Sara is today as well as shaping her perspective on life and family.  She is very grateful to her parents for the varied and stimulating life experiences they provided her.  
Sara's parents, Morris (Maurice) and Fortuna Manopla are both of Sephardic descent.  Fortuna was born in Mexico and Morris in Columbia.  Morris's family is from Egypt and Fortuna's is from Aleppo, Syria.  At the age of eleven, Morris was sent by his mother to study at a yeshiva in NY and Fortuna left Mexico in her twenties to find her life partner in Brooklyn.  She was introduced to Morris and the rest is history.  The couple married in Mexico City and lived in Brooklyn for five years. They then made Aliyah and lived in Har Nof, Jerusalem for three years.    
Sara, her older brother Abraham, and her younger sister Millie were all born in Brooklyn.  She recalls her life in Israel as being beautiful.  
When Fortuna was pregnant with baby Aaron in Israel, the Manoplas moved to Mexico City for a few months so Fortuna could give birth there and be with her parents and relatives.  They returned to Israel and remained there until Sara was seven.  The family then relocated to Mexico City and lived there for eight years.  When Sara was fifteen, the Manoplas made Deal, NJ, their new home. 
"I went to Magen David, an amazing Jewish school in Mexico City, and I still speak to many of my friends from there."    
Sara shared that she was a very happy, outgoing, and easy child.  "I was friendly with everyone, made things work, and I went with the flow."   She was also at the top of the class and was very studious.  
When Sara's family moved to Deal she was very excited to meet new friends.  She had enjoyed a full social life in Mexico City and looked forward to the same at Hillel High School.  
"My brother Abraham was going into eleventh grade, and I was starting the tenth grade.  I will always remember a girl coming over to me, introducing herself as Florence, and asking me if Abraham was my boyfriend."  
Florence became Sara's closest friend, and it is hashgachat pratit that Sara met her husband through Florence. 
Sara is proud that she is an open-minded, courageous, and flexible person.  "Nothing scares me.  All those travels and varying countries and schools shaped me."  
Career and Marriage  
After high school, Sara attended Brookdale Community College for two years, transferred to Rutgers University for six months, and then completed her liberal arts degree at Monmouth University.  Her major was psychology, and her intent was to help people by becoming a psychologist.  Life presented her with another wonderful opportunity to bring joy to others.  
Sara met her husband Solomon ("Solly") Chehebar when she was eighteen. They got married a year later and have been married for eighteen years.    
The couple live in Deal and have three sons, Albert (17), Maurice (15), Daniel (11), and a daughter, seven-year-old Dina. "Our community is unbelievable and it's a blessing to be part of it.  We all come together when someone needs help – we are one."  
Sara's Special Essence  
I immediately felt comfortable with Sara when we met, and I interviewed her while she was preparing one of her custom cakes.  
Sara thrives on being spontaneous and doesn't like to plan too much.  She enjoys doing things out of the box and living in the moment.  She may decide to go to a wedding out of the country two days before the event.  "I don't stress, I live day by day.  If I can work it out, I will attend a simcha.  Too much planning creates anxiety."  
Although Sara is easygoing and lives in the present, she refers to herself as a super-perfectionist in her personal life and in her business.  "I like to parent that way too and allow my children to make decisions when appropriate." She loves being busy and is never bored!   
 
To unwind, Sara likes to go to bed early and catch up on text messages, WhatsApp's, and emails that she missed throughout the day. Since she is always working with her hands, it's important to check her phone at night for missed communications.  
Her Creative Spark  
Sara's special essence is her creative talent.  "I love to create!" Sara says. Her mom recognized Sara's natural creativity when Sara was six, when she took an art class and worked with Fimo, a brand of polymer clay.  Sara still has clay pieces she formed when she was six years old.  Creating art came easy to her.  
When Sara turned seven, Fortuna baked a beautiful heart cake for her birthday, with multi-colored sprinkles.   "I remember the special feeling I experienced when I saw that incredible cake with my name Sara in Hebrew," Sara remembers.   
The Inspiration of Sara's Creations  
When Sara was engaged to Solly, his sister's son was turning one.  "My nephew loved Elmo from Sesame Street and I offered to bake an Elmo cake."  It was the first time she baked a specialty cake.  Sara again offered to bake a one-year birthday cake for her nephew's little brother, this time in the shape of the character Diego from Dora the Explorer.  The next cake she baked was in the shape of a train for her son Albert's first birthday.   
Sara brought pictures of her cakes to Mommy and Me classes and the other mothers asked her to bake special cakes for their children.  This is how her specialty cake business was born. Her venture just kept growing.    
"The best part of my business is that it's only for happy occasions.  Each cake is unique and has my personal touch. I have never replicated a cake."  
Sara bakes cakes for birthdays, bar and bat mitzvot, sweet sixteen birthdays, engagement parties, weddings, brit milot, anniversaries, whatever her clients want.  She has crafted cakes for up to five hundred people. Her clients come strictly from word of mouth, with no advertising.  Sara's cakes have even been picked up by helicopter! 
It's Not Just About the Cake…  
Sara's secret to success is that each cake is personal to her.  "I put my whole heart into it.  Nothing leaves my house that I don't absolutely love.  I have mastered the ability to replicate anything in an edible form."  
"The 20-second time span, when the cake is done, is thrilling, and can't be fully described. It may have taken me 60 hours or more to create.  I always take pictures of the final product!"  
Sara talks or meets with each client and learns the story behind the occasion.  She will draw a sketch based on the client's description and get their approval.  Some cakes can be quite complex and will require a lot of back-and-forth discussions and sketches.  "At times, I need to be an engineer and ensure the cake will not fall."  
Meeting her clients, building relationships with them, and having them become friends is so rewarding for Sara.  She is proud of the name and reputation she has made for herself.  
Balance  
Achieving a healthy work-life balance is a day-to-day effort.  "Trying to be a mom, businesswoman, and making everyone happy does involve some sleepless nights."  
Sara appreciates the wonderful support system she has, which includes her husband, their parents, brothers, and sisters.  During her crunch times, their help with family-related tasks is priceless.   
The pandemic did not affect Sara's Creations adversely. In fact, Sara was busier than ever! "I guess people were bored at home so why not order a specialty cake?"  From a personal standpoint, "It was a struggle at times with all the kids being on zoom for school and finding everyone a quiet place to be so they could focus."   
Looking back, Sara says it was nice to have all her children together and close by.   
What's Next  
Sara is looking forward to moving to a commercial kitchen which will be an absolute blessing. It will be under the JSOR hashgacha. She may also return to school and pursue psychology. Sara concludes, "I flourish on connecting with people and helping them."  
Connect with Sara at sccreations1@gmail.com, on Instagram  @sarachehebar, or call her at 732-245-5435. 
_______________________________________________________  
Ellen Geller Kamaras, CPA/MBA, is an International Coach Federation (ICF) Associate Certified Coach.  Her coaching specialties include life, career, and dating coaching.  Ellen is active in her community and is currently the Vice-President of Congregation Bnai Avraham in Brooklyn Heights.  She can be contacted at ellen@lifecoachellen.com(www.lifecoachellen.com).