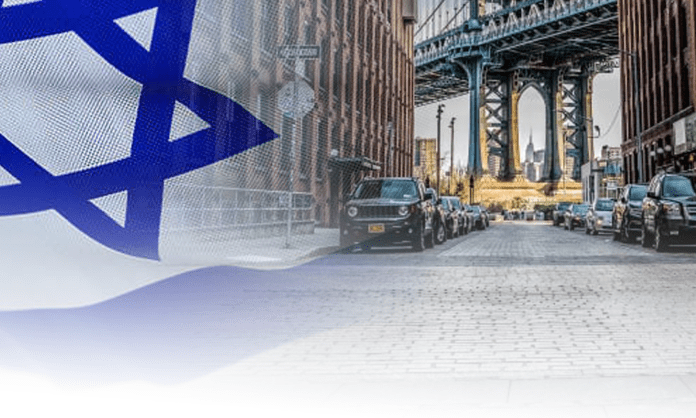 In a world that often seems divided and polarized, New York City Councilwoman (48th District)  Inna Vernikov has emerged as a powerful force for unity and inclusivity in the heart of New York City. Beyond her political role, Inna has led the charge against anti-Semitism and has been working tirelessly to create a more inclusive and secure city for all its citizens. 
Legislative Action
 
For Vernikov, the fight against anti-Semitism is not merely a political agenda; it's a deeply personal mission. Her legislation, beginning with Resolution 487, which designates April 29 as "End Jew Hatred Day" in New York City is something she is very proud of. This resolution signifies a city united, in a bi-partisan fashion, against hatred.
 
But this resolution cannot be the end-all on the fight against anti-Semitism. Education plays a pivotal role in eradicating stereotypes and promoting tolerance. That is why the councilwoman has been a tireless advocate for Resolution 153, which calls upon the Department of Education to create a Jewish Heritage Day in city public schools. This initiative aims to foster cultural understanding and combat the ignorance that fuels anti-Semitism. 
In the complex arena of legislation, Inna Vernikov has emerged as a fearless champion, garnering
respect on both sides of the aisle. Her unwavering stance against Intro 632, a proposal aimed at
restricting landlords from conducting criminal background checks, demonstrates her commitment to safety while upholding individual rights. 
Fighting Anti-Semitism 
One of the defining moments in Inna Vernikov's dedication to combating anti-Semitism was her advocacy at the City University of New York (CUNY). She led the charge at an oversight hearing on anti-Semitism at CUNY, a crucial step in addressing hatred and discrimination within our educational institutions.
 
These hearings were pivotal moments that brought to light the importance of tackling hatred within our higher educational institutions. She will continue to hold the powers that be at CUNY accountable for the hiring of anti-Semitism professors like Marc Lamont Hill, and threatening and "investigating" Jewish professors for their support for Israel. She will not rest until every Jewish student once again feels safe at all CUNY colleges.
 
Inna Vernikov's commitment extends beyond the political realm. She has consistently supported Jewish organizations and initiatives, such as funding the Simon Wiesenthal Combat Hate programming for schools. This investment in education serves as a powerful tool against the forces of anti-Semitism. 
Enhancing Our Safety 
Safety is not an abstract concept for the councilwoman; it's a tangible reality she has worked tirelessly to enhance. The funding and installation of security cameras throughout the district are more than just symbols; they are a means of protection for everyone.
 
Moreover, Inna Vernikov has secured funding for auxiliary vans in each precinct within her district. These vehicles empower law enforcement to respond swiftly to emergencies, reinforcing the safety of our neighborhoods. 
Champion for Quality-of-Life Issues 
Inna Vernikov isn't just a voice and leader in the fight against discrimination. She also understands that quality-of-life issues are extremely important. That is why she has been a loud voice combatting the surge of homeless throughout the city. Inna has also supported local sanitation efforts to clean up our streets, by directing discretionary funds to local sanitation districts. These contributions have been instrumental in improving the overall cleanliness and aesthetics of our neighborhoods. While recognizing that the fight for clean streets is ongoing, Inna remains optimistic and proactive, continuously working to enhance the quality of life for all residents.
 
Inna Vernikov stands for the rights of all citizens, emphasizing fairness. Her vocal opposition to applying the "right to housing" to migrants ensures that safety initiatives remain focused on the well-being of New Yorkers, irrespective of their background or beliefs. She is vocal that city resources should not be taken by those that do not deserve them. By migrants taking up these resources meant for those who need it, it makes it much harder, if not impossible, for citizens to get the help they need. This is wrong, and it must stop. 
Indomitable Fighter 
Councilwoman Inna Vernikov understands that our community needs to be fought for by all means necessary. This is why, with a bi-partisan group of council members, she fought so strongly against allowing non-citizens to vote. She eventually was forced to bring a lawsuit against the city – getting the law struck down by the judge for being illegal.
 
This is why so many community leaders endorse and support Inna Vernikov for re-election. She isn't just a politician; she is the embodiment of communal unity. Her legislative initiatives and community engagement (her office holds the record for most closed constituent cases in Brooklyn, and second in the entire city!) are a testament to her commitment to make sure our community is well represented. In Inna Vernikov, we find not just a champion against hate, but a true advocate for a safer, cleaner, more united city where discrimination and hatred, especially anti-Semitism, have no place. 
This is why on November 7th, 2023 everyone is urged to vote to re-elect Inna Vernikov as our councilwoman.