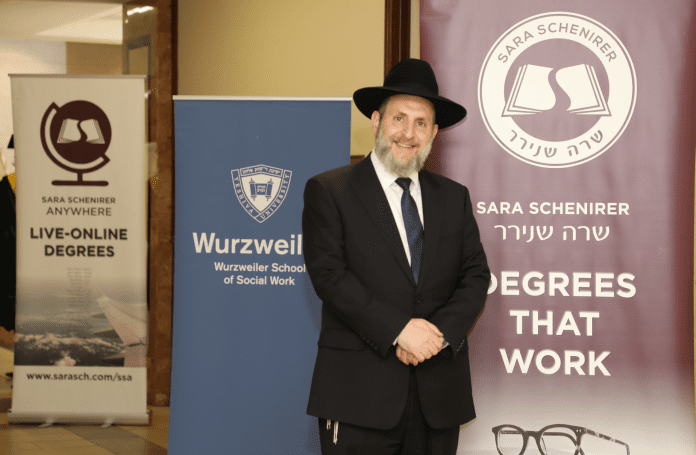 Ellen Geller Kamaras 
"Our students are our biggest fans. Sara Schenirer appeals to an expansive range of students: Ashkenaz, Sephardic, Chabad, Modern Orthodox, and even Jewish public-school students. Every student finds a place."  ~ Faigy Barth, Development Director ~  
"You can't imagine how "held" I feel in Sara Schenirer! Everyone wants the best for me! ~ Rachel, a Psychology undergraduate student ~ 
In 1981, a Brooklyn-based high school and seminary formed its first college partnership, allowing students to earn a degree in a Jewish environment without compromising their education or Jewish values.      
"We enrolled our first class in 1981," shares Dean Elazar Meisels, "and have been registering and educating students in record numbers since then. Currently we have more than 1,500 undergraduate and 400 graduate students earning more than twenty different degrees. We were once considered a niche program for the religious community in Boro Park, but that's changed. We now serve students from across the Jewish spectrum and our fastest growing demographic is the Sephardic community. They are an excellent match for our institution because they value quality education and appreciate the cultural sensitivity that underpins each of our programs." 
Humble Beginnings      
In 1967, the Sara Schenirer High School and Teacher's Seminary opened its doors in Boro Park, NY. Sara Schenirer was a typical religious girls' high school and seminary, but it distinguished itself with its warmth and support. Teachers were religious, devoted, and invested in providing quality education. 
Rabbi Yehuda Michoel Meisels, the Dean, had a vision. Having watched so many Jewish teachers struggling to meet the needs of students with disabilities, he partnered with the College of Staten Island and offered degrees in education and special education. Upon the advice of his rabbis, with whom he consulted at each step along the way, he chose only professors who were experts in their fields as well as observant Jews.                                                                                                                                                                                                       
"Rabbi Michoel was determined to prove that one could earn a well-respected college degree, yet still remain a committed Jew," shares Batsheva Shonek, Director of Sara Schenirer's program. 
Program Expansion                                    
Rabbi Michoel retired in 2008, and in 2009, his son, Rabbi Elazar Meisels, assumed the role of Dean. Rabbi Elazar is a dynamic educator and leader who also has a global following on TorahAnytime, featuring his many weekly shiurim. Rabbi Elazar credits his father for having the vision to create such an institution. Although the school has grown in leaps and bounds since he assumed the reins, he maintains that they've faithfully kept to their original goals. "Sure, we've added many more degree options, additional locations, and we're fully online too, but we still treat every student with the care and dignity that you won't find anywhere else," he explains. 
Sara Schenirer's Partners 
Sara Schenirer is not a college or university and does not grant degrees. Instead, they partner with respected local colleges to offer degree programs. They feature partnerships with Wurzweiler School of Social Work, Manhattanville College, Yeshivah University, and many more.  
All undergraduate degrees are conferred through The College of Mount St. Vincent (#11 out of 54 in ranking as Regional North in the 2022-2023 Best Colleges) and Saint Peter's University (#58 out of 181 Regional Universities North), affording Sara Schenirer the prestige associated with these respected institutions.   
According to Dean Meisels, this last point is very important. 
"Our students have gone on to Cardozo Law School, Columbia, Hofstra, Rutgers, and many other well-known universities for graduate school. Having such respected college partners makes this a reality." 
While each degree is awarded by the college partner, not by Sara Schenirer, the student's experience is shaped by Sara Schenirer. Fellow classmates and instructors are observant Jews and are thrilled to be in a religious environment where they can earn a stellar secular education. The class schedule follows the Jewish calendar and all hagim are off, including the days leading up to the hagim. 
Sara Schenirer Today 
I met with Faigy Barth, the vibrant Outreach Director, and with two young women from our own community who graduated from Sara Schenirer. 
Hearing about the robust support the graduates received from start to finish was especially impactful. It begins with help registering and choosing a career track and continues throughout the entire program and beyond. As a life and career coach, I am in awe of the fact that each student receives such valuable and consistent accountability support and coaching. This is especially unusual in higher education, where students can remain nameless for their four years of college.      
Faigy herself attended Sara Schenirer for her master's in education and special education and has experienced the very benefits that she speaks so passionately about.           
Faigy emphasizes:  A real relationship is created with each student. We want every student to succeed, and we give them honest feedback about their career choices and academic performance. We understand that they are grappling with life decisions and want to support them so that they make sound choices. There's a reason that our students pass NYS certification and licensing board exams at such incredibly high rates. The support and academic rigor prepare them so well that they can't help but succeed!"       
Programs and Campuses 
In keeping with its namesake's dream, Sara Schenirer's mission is to offer degrees in fields that are lucrative, yet practical and flexible.  The goal is for women to be given the opportunity to be mothers and professionals with rewarding and satisfying careers. 
To that end, they feature programs in classic areas such as education, accounting, business, and speech therapy, but also in cutting edge fields such as data science, ABA, occupational therapy, MBA, and more. 
Altogether, Sara Schenirer offers ten undergraduate and six graduate programs for women. The Men's Division currently includes two popular undergraduate programs in business and psychology and five graduate options, including cybersecurity, ABA, MBA, education and special education, and social work. "We're always adding new programs to fit our students' needs and to ensure that they have the opportunities they deserve," added Faigy.  
Unique Features – Acceleration and Convenience  
A unique feature of the program is its accelerated nature. Almost every undergraduate degree can be completed in just three semesters because Sara Schenirer allows students to transfer in college-level credits earned in high school and seminary.  Tuition is extremely affordable with most undergraduate programs coming in below $20,000.  Eligible students can receive the full array of financial aid grants and loans from FAFSA (Pell, TAP, and TAG).  
Faigy explains, "We have a goal-oriented approach where students can focus on the core subjects and their majors. That's why they can graduate in three semesters at such an affordable price without compromising on their education." 
The fact that classes are offered wherever students are located makes it especially practical for post-high school and seminary students who often need to relocate during their degree program.  
"We have in-class locations all over the tri-state area and all our programs are entirely online, as well. No student needs to worry about not being able to finish her degree because it can transfer to wherever she is located," adds Faigy.      
Another attractive perk is that students can work during the day since classes are held in the evenings and on Sundays, outside of working hours. "This allows them to gain valuable real-world experience and gives them a real foot in the door of the working world," says Faigy. 
What the Graduates Say 
Meet Sarah S., who attended Orot Sara, a Sephardic Bet Yaakov school.  After high school, she studied for a year in Bais Yaakov Intensive Seminary.  Sarah knew that she wanted to become a teacher and had heard of many people who had received their graduate degrees from Sara Schenirer and had a fabulous experience.  She worked very hard while in school but says it was worth it!  Sarah joined the program and especially enjoyed her fieldwork experience at the Pathways Study Center. "I learned a lot from observing the teachers and worked as a paid assistant teacher helping students with learning disabilities on a one-on-one basis." Sarah plans on attending Sara Schenirer's master's degree program in special education and is confident that she'll be supported in finding a position when she graduates. "I strongly recommend Sara Schenirer. They are there for their students in every way. I came early for my interview, and they told me exactly which Coopersmith tests I needed to take to get college credits. I was able to complete the tests even before starting the program."      
Rachel, a Psychology undergraduate student, added:           
"You can't imagine how 'held' I feel in Sara Schenirer! Everyone wants the best for me! I struggled in school, and you can imagine what that did to my sense of self. I love the warmth, the dedication, and the positive energy from the staff and professors! There is always an extension to dial and a caring person on the other end!"    
 
Sarah S.G. completed both her undergraduate and graduate degrees through Sara Schenirer with a bachelor's in psychology, and master's in special education.  A Brooklyn native who attended Magen David Yeshiva and Ilan High School, she refers to herself as a walking advertisement for Sara Schenirer.  "I found out about their programs at an Ilan College Fair.  Five of my friends joined me. I recommend Sara Schenirer to everyone. The staff supported me throughout and helped me figure out how to get a job!"      
Sara Schenirer's graduates fare exceptionally well in the job market. "Employers seek out our graduates because they are so well-trained," Faigy explained. "Many of our education graduates become Board of Education employees, and our ABA graduates are opening and staffing agencies.  When you are well-educated and accustomed to working hard, finding a good job will never be a problem."  
To learn more about Sara Schenirer and whether any of their programs are right for you, their online open houses are a great source of valuable information.  "At our Open House, we inform rather than sell.  We support each person through their decision," Faigy explained. "If we don't think Sara Schenirer is the best option for someone, we'll let them know that.  Many of our programs have strict admissions requirements and we discuss them openly and honestly." 
To find out more and register for an upcoming Open House, please reach out to Sara Schenirer's friendly admissions counselors through their website, www.sarasch.com, by telephone, 718-633-8557 ext. 37, or through email, information@sarasch.com. 
_________________________________________ 
Ellen Geller Kamaras, CPA/MBA, is an International Coach Federation (ICF) Associate Certified Coach.  Her coaching specialties include life, career, and dating coaching.  Ellen is active in her community and is currently the Vice-President of Congregation Bnai Avraham in Brooklyn Heights.  She can be contacted at ellen@lifecoachellen.com(www.lifecoachellen.com).