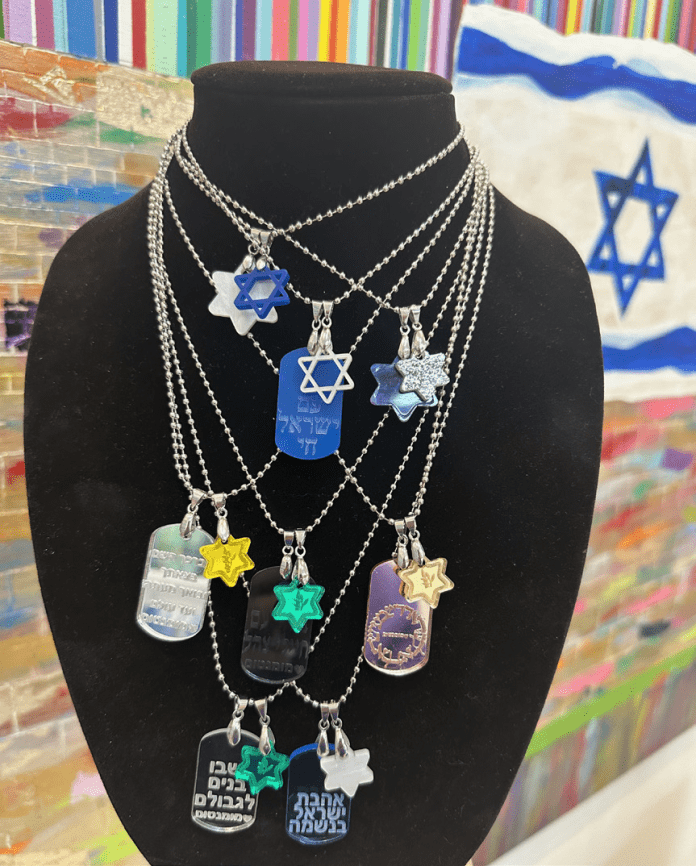 Hi everyone, I'd like to reintroduce myself. My name is Frieda Schweky. I'm a community photographer and each month I write a column in this magazine about topics that are trending in our community. This month I'll focus on some of the incredible achievements that our community has done for the war effort.   Before we get into that, I saw an awesome video by Ida Levy of @Kitchenaccomplished about  creative ways Israelis were helping each other. I'd like to share some of these things to try to inspire us to give more of ourselves.  
In Israel, veterinarians are locating and treating displaced domestic pets. Doulas are helping pregnant mothers give birth while their husbands are absent, having answered the called to reserve duty. Yeshiva boys are tying tzitzit for soldiers. Men and boys have gone door-to-door taking down sukkot for women whose husbands and sons went to serve. Whole communities are attending funerals and shivah houses to give support to bereaved families. Young girls are babysitting for mothers who either need to work or need a break, as schools have been closed around the country. This is our people, this is what we do, and our community is no different. Many from our community who served in the IDF as lone soldiers in the past have already hopped on planes to Israel to serve.  
Now, let's look at what is being done from afar, including in our community. Classes, fundraising, Tehillim events and group chats, the purchase and packing of goods needed for both the army and civilians, and lots more.  
Margalit Romano, Community Artist 
I created the initial line of Judaica jewelry in June 2021, when rockets were being shot into Israel and there was a rise in anti-Semitism. People were taking off their easily identifiable Jewish jewelry because they were afraid. The line was made  to get customers excited about wearing a customized Jewish star.  As a granddaughter of a holocaust survivor, I take special care with my Jewish identity.   
This past summer, I spent a lot of time with the IDF soldiers who came to our community to work at a local camp, All Sport. One of the soldiers, Ben Milman, helps head an organization called Momentum that helps IDF soldiers kickstart their civilian lives after the army. They assist former soldiers psychologically (dealing with  mental health issues), and practically (such as teaching them how to write resumes and understand Israeli  banking, etc.). This program is now mandatory for all soldiers. With the help of my new soldier friend Ben, I created a line of necklaces with Hebrew phrases and blessings significant to soldiers. Now I am selling both lines again, as well as more designs that I added to raise money for Sephardic Heritage Museum (that have been supporting Israel and the IDF with what they need for the war) and Momentum. All the proceeds go directly to organizations helping Israel. Hashem gave me this opportunity with the tools and the gift to be able to do it, I'm not looking to profit from it. Hashem gave us all something we can give to the relief and unity of our people and it's our duty to use those gifts to give back. Baruch Hashem, I was able to raise $5,000 in just a few days by selling my laser cut jewelry.  
Lynda Levy (age 18) 
Right as the war began, I, with the help of my mother, started making and distributing blue and white ribbons to friends, family, and people from my mom's popular Instagram page. We asked for an optional donation. We raised about $4,000, which was sent to United Hatzalah of Israel. Members of Chabad at Monmouth University (I'm VP and marketing coordinator) organized a program where we gave ribbons out to students. We also got the Monmouth University College Republicans and the Monmouth University College Democrats to collaborate with us. Both groups were eager and willing to help us in any way that they could. We raised about $625 from the college students and got lots of our blue and white ribbons distributed throughout campus! It's been crazy seeing the things that've been happening on college campuses throughout the country, but I'm glad I was able to make a difference on mine! 
Jacob Assouline and Benny Abady 
These recent Hillel Yeshiva graduates heard that although Israeli soldiers had been sent many first-aid supplies, they also needed high-quality medical equipment to treat serious medical injuries. They partnered with WeShoot and worked tirelessly calling different companies and put together the needed trauma kits for soldiers. They were able to raise over $10,000 to buy the supplies, packages, and send them out after only a few days of fundraising. We could not be prouder of the next generation of community leaders! 
@big_sy_organization 
Michael Harary, Frieda Cohen, Ronnie Kassin, and David Mizrahi – Enough Is Enough 
Enough Is Enough was founded three years ago to combat anti-Semitism, specifically through young people. We deal with high school and college students and young professionals, to educate, unite, and empower them. Our organization is also run by young adults, so all the ideas are fun, interactive, and cool. We teach young adults to be both proactive and reactive through education. Knowing a lot about history helps to combat anti-Semitism. We also help people to be comfortable with their Jewish identities and be proud of who they are and to be proud to say they stand with Israel. We do social media outreach, events, and fight campus battles (online and in person). We help students respond to social media messages and texts so they can give the most educated and impactful responses. We sent out an email campaign link for students to have an accessible email to send to all their universities to make sure they're condemning the attacks on Israel by Hamas, being very specific about it, voicing that the Jewish people are scared on campus. And we are constantly working on other  initiatives.  
Shelley Habob – Challah for Chayalim 
I joined a group of women in the Mill Basin community who got together and made a WhatsApp chat. We split up saying the perakim of Tehillim and finishing books together to help with the spiritual war. Also, I joined Challah for Chayalim., which gets women who are already baking challah to use that mitzvah to support Israel. When you sign up you can add a name of a soldier you want everyone to pray for and then you get an email with the names of ten different soldiers to pray for when you're doing the special mitzvah of taking challah, hafrashat challah. It's easy and it's the spiritual weapon we were given to fight this war together. 
I consider myself extremely privileged to live in a community that gives of themselves to help other Jews. It was incredibly inspiring to hear all the creative ways people have come up with to help. I myself have helped pack boxes of baby items for displaced civilians, joined in on a few days of dressing more modestly in honor of Israel, and listened to and attended classes. Normally, I try to keep my mitzvot to myself. However, I learned that the Lubavitcher Rebbe said we should publicize our mitzvot to inspire others. I went to a Rosh Chodesh class with Rabbi Norman Cohen. He basically said that  after the holidays (and especially this year) we're all so inspired to do more mitzvot, dress more modestly, learn more Torah, etc. but after a while the flame goes out and we're no longer inspired to do more. If, however, we keep up this momentum (even after the war), of raising money for those in need, of praying for one another, giving tzedakah, and this behavior becomes our new normal.   
Sending positive vibes, love, and prayers to my whole nation. May the hostages return and the bereaved families be consoled.