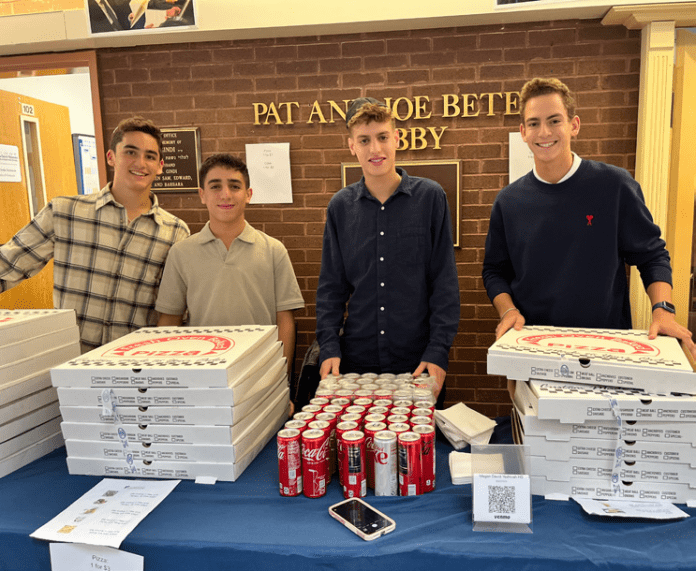 After the tragic events that occurred In Israel, Magen David Yeshivah students gathered to hear the words of their Rabbinical Leader, Rabbi Eli Mansour, as he reassured the students of the importance of their faith and trust in Gd. Rabbi Mansour led the yeshivah in reciting Tehillim and prayers for Israel.
Afterwards, the Associate Principal, Mrs. Audrey Abade, assured the students that they will be learning all the context and facts they need, as well as have their questions answered as best as possible, over the upcoming days.
The next day, the MDYHS students attended the New York Stands with Israel rally outside of the UN, representing MDYHS along with Klal Yisrael. A couple of days later, the MDYHS Student Committee for Israel sold breakfast in the atrium, with all funds going to the Sephardic Heritage Museum, to help the soldiers. The committee put together a Chinese Auction, with 13 packages of amazing prizes, raising $20,000 in half a day! They also helped move boxes for Ahava Baby, sending essentials to Israel.
SBH Offers Free Crisis Counseling
The last few weeks have been anything but normal as we watch our homeland under attack. Many of our community members have experienced the horror firsthand as residents, visitors, or frontline defenders of Israel.
With the help of the Sephardic Community Alliance, SBH will be reaching out to young adults studying in Israel and to their families to ensure they have the mental health support that they need during this time. SBH encourages the greater community to take advantage of these resources as well.
SBH is also offering drop-in crisis counseling for all members of the community. You can meet one-on-one with trained therapists to learn ways to cope with your feelings about the current situation in Israel.
Both in-person and virtual sessions are available at no cost. You do not need to be a client of the SBH Counseling Center to book a session. Book online: bit.ly/sbhcrisiscounseling.
For immediate support and more information, please contact mhr@sbhonline, or call 718 787 1300.
Ten-Tear-Old Boy Helps Rescue a Family with His Paddleboat
Reported by Pnina Souid
This year, the Friday of erev Sukkot will be remembered for the torrential rains and subsequent flooding. David Moses, of Long Branch, NJ, owner of DM Boat Transport, is a licensed boat captain and is accustomed to being called for water emergencies. David received a call at 4pm, two hours before the onset of Sukkot, that a family of seven was stranded all day in their house situated on the bottom of a hill.
David's younger brother, Yosef, was with him at the time and asked if he could come along to help rescue this family.
Yosef owns a paddle boat. He lives near the lake and loves anything to do with the water, be it fishing, canoeing, or boating. Most importantly, Yosef loves to help others.
When the Moses brothers reached the family, they found the father, mother, and five children all dressed for the holidays – but surrounded by several feet of water with no help forthcoming.
David guided Yosef. Yosef made two runs with his paddle boat. The first one was with the father, who wanted to make sure that the paddle boat could provide safe passage. Then Yosef returned to rescue the rest of the family. The water was up to four feet high.
Yosef started Sukkot with a huge mitzvah. The family involved was very grateful. Yosef's caring, quick thinking, and action saved the day!
Councilmember Inna Vernikov Arrested While Protesting "Pro-Hamas" Rally at Brooklyn College
Republican City Councilmember Inna Vernikov was arrested after allegedly carrying a gun to a pro-Palestinian rally outside the Brooklyn College campus last month.
Oren Yaniv, a spokesperson for the Brooklyn District Attorney, confirmed Vernikov is due back in court in November, and the charge was related to bringing a firearm near constitutionally protected protests.
Vernikov was one of several counter-protesters at the Midwood college to show their support for Israel and to oppose the students rallying in support of the Palestinians.
In a video she posted at the event, Vernikov called it a "pro-Hamas rally."
"If you're here today standing with these people you're nothing short of a terrorist without the bombs," she said.
After the event, photos began circulating on social media showing the Council member with what looked like a gun tucked visibly into her waist band.
While Vernikov has a firearm permit, it is still not legal to carry one to protests or rallies, or on college campuses, which are all considered "sensitive locations" under new legislation passed last year by the state legislature to accommodate a U.S. Supreme Court decision that struck down the city's more restrictive and long-standing gun laws.
Suspect in Midwood Simchat Torah Hate Crime Arrested
One of the suspects in a series of hate crimes perpetrated in Brooklyn over Simchat Torah has been arrested, according to Flatbush Shomrim.
Flatbush Shomrim received a call from a person who spotted the suspect, who fit the description of one of the teenagers caught on camera assaulting a Jewish young man on Simchat Torah night on Avenue N and East 12th Street.
The suspect was spotted by Shomrim members. They called police, who arrived and arrested the suspect on Avenue M and East 17th Street.
Stefanik Demands Harvard President Resign Over Refusal to Condemn Pro-Hamas Groups
Letter demanding Harvard University condemn anti-Semitism
House Republican Conference Chair Elise Stefanik called on the president of her alma mater, Harvard University, to resign after the academic again declined to condemn or punish students who blamed Israel for last month's Hamas terrorist attacks.
"Harvard continues to disgrace itself on the global stage," Stefanik, who graduated from the Ivy League university in 2006, posted on X, formerly known as Twitter.
"Anti-Semitism should be condemned and NEVER defended as 'free expression.' Claudine Gay should resign," Stefanik added after the Harvard president's third statement since Hamas launched rocket and ground attacks on southern Israel that slaughtered more than 1,300 people.
Gay in her statement made no mention of the 34 student organizations that co-signed a letter issued by the school's Palestine Solidarity Committee that held Israel "entirely responsible for all unfolding violence."
Stefanik and six other members of Congress who are also Harvard alumni wrote a letter to Gay expressing "outrage" that she had not yet repudiated the "dangerous anti-Semitism" expressed by the organizations that agreed to the letter.
"The Iran-backed terrorist organization slaughtered over 1,000 people on the first day of their attack, the greatest loss of life for the Jewish community in a single day since the Holocaust," Stefanik wrote alongside House of Representative members Dan Crenshaw (R-Texas), Kevin Kiley (R-Calif.), and Brian Mast (R-Fla.), as well as Senators Ted Cruz (R-Texas), Dan Sullivan (R-Alaska), and Mike Crapo (R-Idaho).
"Any voice that excuses the slaughter of innocent women, children, and babies has chosen the side of evil and terrorism," they told Gay. "Harvard University must publicly condemn this statement and make it clear that it opposes violence against Israeli citizens."
While condemning the "barbaric atrocities perpetrated by Hamas," the Harvard president said in a video statement that the "university embraces a commitment to free expression."