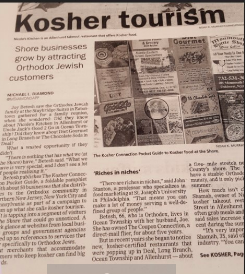 Ellen Geller Kamaras
"Stay focused and believe in yourself and your idea.  Don't let the naysayers get to you.   Start with smaller goals that will ultimately lead to completion of one's bigger goal."  ~~ Joy Betesh  
Meet Joy Betesh, a warm, resourceful, savvy, and passionate self-made successful entrepreneur who founded the Coupon Connection and the Kosher Connection Pocket Guide. Joy was able to create and expand these enterprises while staying committed to her number one priority, her cherished family.
The Wonder Years
Joy, the oldest of four children (Eileen, Jack, and Charles), was born and grew up in the Brooklyn Syrian community.  Her parents, Evelyn and Moe Rahmey, a"h, (her father passed away six years ago), were born in America.  Joy's grandparents, Grace and Jack Rahmey and Rabbi Matloub and Esther Abadi, emigrated in the 1920s from Aleppo and Damascus, and Syria and Egypt, respectively.  They were very proud that their children were American born citizens.
Joy was educated at PS 238, Lincoln High School, and Hunter College. She received a Bachelor of Arts degree with a major in History and minor in Education.  "I always loved going to school. I received the best attendance award for many years in a row.  Lots of my friends would cut class, but not me."
Joy's philosophy about "showing up" started in her youth.  She considers it crucial to make an effort – "being there is important even if you are late."
Then Comes Marriage
Joy met her naseeb, Joe Betesh, through mutual friends.  B"H, the couple will be married 50 years on January 21, 2020.
When Joe was two years old, shortly after WWII, he moved from Syria with his parents, Jamile and Albert Betesh, and his siblings.  Joe was involved in the wholesale apparel industry for many years and then opened a Cartridge World franchise that sold remanufactured ink and toner cartridges.
Hashem blessed them with four children, Jamie Bailey, Eve Matut, Danielle Hanan, and Albert Betesh, and 15 grandchildren.
When Joy graduated Hunter College, she was nine months pregnant and gave birth to Jamie, her first child, two weeks later.  Joy and Joe are very proud that their children attended Hillel Yeshiva Elementary School and High School in Ocean Township, NJ, and they all earned college degrees.
The couple moved from Brooklyn to Ocean Township at the Jersey Shore in 1978, and Joy refers to Joe and herself as pioneers.  "We moved out of Brooklyn when there was an exodus of community members that were relocating to the Deal area. We were pioneers in a sense, leaving Brooklyn and our families behind and embracing the suburban lifestyle!"  Joy feels strongly about her community, and is active in the Logan Road Shul, which is located inside the Ilan High School building.   She came up with the idea of holding a real estate breakfast in West Deal that encouraged people to buy homes in the area.
Here is another unknown fact about Joy, which demonstrates her commitment to the community. For the past six months she has been working with the Jersey Shore Orthodox Rabbinate to expand the kosher restaurant scene and to provide more choices and options for kosher diners.
Passions, Accomplishments, and Role Models
Talking to Joy and hearing her life story, I realized that Joy is an innovator, a connector, and as she defined herself, a "doer." When asked to describe herself, Joy came up with: resourceful, enthusiastic, optimistic, energetic, and a doer.  Her loved ones remark, "Joy says everything is great!"
Joy's passions include discovering and visiting new and different places;  she calls it diversity.  "It can be a vintage thrift shop, a museum or theater, or even a new neighborhood that has a unique charm to it. It is a diverse world, there is so much to see and there are so many different people doing different things."
Joy's enthusiasm for finding new places to visit is totally aligned with the companies she established, Coupon Connection and the Kosher Pocket Guide.  More about that later!
To relax, Joy enjoys reading, spending time with family, going to the theater, entertaining, and traveling.
Her most significant accomplishment and what she calls amazing? It was raising her children to become responsible adults, and they are now doing the same.
"When you think back to your own childhood and your relationships with parents and grandparents, you feel a continuance of the generations. In 1985, I filmed a video of my two grandmas making kanafe.  Who would have thought that 35 years later I am like my grandmas?"
Speaking of grandmothers, Joy learned so much from her role models including her mother, mother-in-law, and grandmothers.  They were all terrific cooks who hosted many family hagim and semahot.  "From them, I learned that to open your home is a gift to yourself.  It's hard work but always worth it. The moments and memories keep everyone together."
Joy's mother graduated from college when she was 50 years old, and she instilled in Joy a love of education.  Her father was an inspiration, as he changed careers in mid-life and was an adventurer at heart.
Joy's Entrepreneurial Journey
Joy sought out part time work when her youngest child Albert started school. Not knowing anything about sales or marketing, she bravely answered an ad for a local monthly Shoppers Guide, Together in Monmouth.  The key benefit attracting her to this position was the ability to make her own hours.  "I worked on a commission basis for ten years, learning the ins and outs of marketing and sales from the owner, Harold Bayard. When Harold sold the company, I did the marketing for my husband at Cartridge World.
"I came up with the idea of a direct mailed flyer, the Coupon Connection, that would hit five times as many homes as Money Mailer or Val Pak (my competition) at half a  penny per home vs. the competition's price of four cents per home!!"
Joy launched the Coupon Connection in December, 2010 and she just published the 100th issue!
The Coupon Connection is a colorful flyer that is mailed to 52,000 homes at the Jersey Shore. It  features coupons and discounts to local businesses.
The Kosher Connection Pocket Guide
Joy's "aha" moment and inspiration for the Kosher Connection Pocket Guide came five years later.
She noticed more and more Orthodox families visiting the Jersey Shore, not just from Brooklyn, but from all over the tri-state area and beyond.  "A kosher guide to the Jersey Shore would be a wonderful resource! What makes it so special is the size – it fits in your pocket. It is so portable that people keep it. – they actually call it "print that people keep!" She just celebrated the Kosher Guide's fifth anniversary.
Joy's resourcefulness resulted in her receiving a Cooperative Marketing Grant in 2018 from the NJ State Department of Travel & Tourism.
Joy's endless energy, ability to network with new business owners, and ability to develop new opportunities, are her secrets to success and drive her passion for her businesses.  Her business model is to help local businesses connect with consumers in a cost-effective manner, and Joy mentors them in marketing strategies.
Joy believes in growth and in keeping up with technology. "I love incorporating social media platforms with print marketing: they balance each other out, offering a more integrative marketing system."
Joy's Lessons Learned for Others
"Stay focused and believe in yourself and your idea.  Don't let the naysayers get to you. Start with smaller goals that will ultimately lead to completion of one's bigger goal.  For example, connecting with 10-15 prospects daily will ultimately lead to success because you have widened your prospect pool."  As a life coach, I fully advocate breaking one's goals into small achievable chunks.
You can connect with Joy at 732-241-6191.  Check out her website and download valuable coupons at www.couponconnectionnj.com.
Ellen Geller Kamaras, CPA/MBA, is an International Coach Federation (ICF) Associate Certified Coach.  Her coaching specialties include life, career, and dating coaching.   Ellen works part-time as an entitlement specialist at Ohel Children's Home and Family Services. She can be contacted at ellen@lifecoachellen.com (www.lifecoachellen.com).