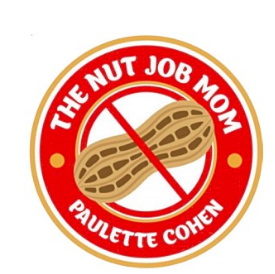 Frieda Schweky
Most people believe that if their child has a food allergy, to play it safe, they should only travel within the United States. While staying within the U.S. is a safe thing to do, there are ways to prepare for traveling with your food allergic child that can ensure a safe trip no matter where you are traveling! Below are some very helpful travel tips from Paulette Cohen, The Nut Job Mom.
PACKING
The first thing to do when preparing to travel is to know your options when it comes to food. If you are planning on renting a hotel room with a kitchen, an Airbnb, or an apartment, then the best thing you can do is make a list of foods that your child likes but that are also easy to travel with. Pack a lot of dry foods like pasta, cereals, oatmeal, and tons of allergy-friendly snacks like granola bars, chips, and cookies. Research beforehand if there is a supermarket nearby where you're staying to pick up basics. Thankfully, most of our local butchers are so accommodating with packaging products to bring with you on vacation. For example, when Paulette and her family went away for Passover, they went to I&D Glatt Butcher to shop, and they shipped their pre-cooked meals to their destination! The workers at the store were so accommodating and amazing with her daughter's allergies. If you feel more comfortable preparing everything from your own home, then it's a good idea to invest in a food saver machine and to vacuum seal your food. You can even label it by day and Breakfast, Lunch, Dinner.
CALL AHEAD
If you are not planning on bringing your own food, call the hotel you are planning on staying in and explain all about the food allergy. Ask if they have ever accommodated such allergies before, and research what the menus are at the hotel restaurants and any restaurants you plan on going to. The good news is: most resorts are becoming more family-friendly, and consequently, more allergy-friendly. Cruise ships are also trying to be more accommodating to different food allergies. Calling and speaking to managers of hotels or cruise lines in advance is imperative to make sure going with them is the right thing for your family.
FOREIGN LANGUAGE PRECAUTION
If you are traveling somewhere that you do not speak the language, Paulette recommends purchasing Medical Travel Cards. You can purchase them on selectwisely.com. They come in over 65 different languages. The cards can be used for Food Allergies, Drug Allergies, Asthma, Skin Contact Allergy, Vegetarian and Special Diets, Health Emergencies, Diabetes, and Airport Security. The cards are made of PVC plastic, like a credit card. You can customize it to your need and add multiple medical alerts to one card in whatever language you will need. These are just what you need to accurately convey your restrictions and are perfect to give to chefs at restaurants!
AIRLINE POLICIES
Before booking your flight, it's important to know the policy for food allergies for that specific airline. Many airlines will post their policies clearly on their website, but Paulette always recommends calling as well, to confirm. Whether you are booking your flight on the phone or on the computer, if you look in the disability section there should be a tab that says, "NUT ALLERGY." Make sure you add that to your reservation. Most airlines will let you pre-board to wipe down your seats, but you must request this when you get to the gate. Inform them of the allergy as well so they can tell the flight crew.
TIME TO FLY
When you get on the plane be sure to wipe down your seats and trays well with Clorox wipes. As an extra precaution you could also purchase reusable seat covers on Amazon.com from a company called Seat Sitters. They are perfect for protecting children and adults from direct contact with the seat. Although there are many allergy-friendly, kosher snacks to purchase at the airport, it's safer and smarter to bring snacks with you for the plane.
TRAVEL ANXIETY
It's totally normal to have anxiety about traveling somewhere new with your food allergic child. If you are organized and prepared, there should be nothing to worry about! If you find yourself overly stressed and worried, talking to your child's allergist and going over your emergency plan might be a good idea. Sometimes going over how you prepared can calm you down and help make sure there isn't anything specific you are missing. It is also a good idea when traveling out of the country to get a *note from your doctor*, detailing your child's allergies and what the plan is in case of an emergency. Additionally, details like medication doses your child would need should be listed. Just remember, it's easy to get caught up in the stress, but it is important to be grateful you are able to go away and to think positively. Paulette is a huge believer that positive thoughts bring positive results. Your child will pick up on your attitude, so try and stay positive, calm, and confident! Speak to your child about the things you're doing to ensure their safety. Children are always scared of the unknown! Traveling somewhere new can be scary for them too, but if they see their parents are calm and prepared, they're more likely to be excited instead of scared. Let them know you are there for them if they have any questions. Explain to them how important it is to be extra careful when you're away not to eat anything without asking you first. Good communication is the most important and effective tool you will always need to have with your children.
Allergy-Friendly Sunscreens
Elta MD
Blue Lizard
Badger Balm
All Good
QUICK TIP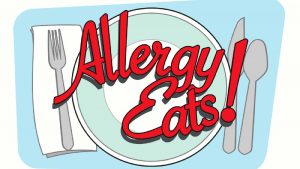 Download the app Allergy Eats for allergy-friendly restaurant recommendations.
COVER YOUR BASES BEFOREHAND
* Ask the hotel if there is a doctor or nurse on-site at the hotel.
* Research how far away the nearest hospitals and pharmacies are.
* Make sure your EpiPens and Benadryl are not expired and be sure to bring several!
* If you're traveling to Mexico – EpiPens are not sold there!
* Be sure that no matter where you are traveling, you have enough medication for your child in the event of an emergency.
* It's a good idea to make sure your medications are clearly labeled from the pharmacy. Familiarize yourself with the labeling laws for wherever you are traveling to. Different countries have different labeling laws, so this needs to be researched beforehand as well, so you know what to look out for.
What's in your bag?
EpiPens – Make sure to bring a few as some counties do not sell EpiPens
Benadryl – Carry liquid Benadryl in tubes made by Allergy Superheroes. They fill up to 12 ML of Benadryl each and are super convenient! (Great for any time not just travel!)
Medical Travel Cards
Doctor's Note* (see details in Travel Anxiety)
Allergy-Friendly Food
Allergy-Friendly Snacks
SPECIAL ANNOUNCEMENT
The Nut Job Mom has recently joined Amazon's Influencer Program and now has her own Amazon store where you can purchase allergy-friendly products and more! Head to www.amazon.com/shop/thenutjobmom to find all the products Paulette has shared on her Instagram page and more! She adds new products every day! For more information and support, follow her on  Instagram @thenutjobmom for more on everything allergy, asthma, and eczema.
Wishing all of you a safe and amazing winter break!