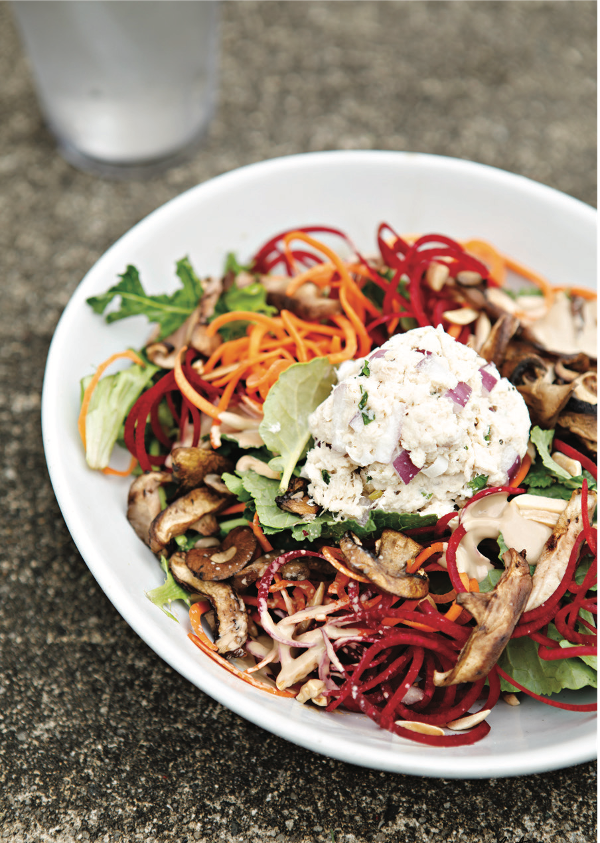 We originally called this recipe "Lunch for Mom by the Pool," because it happens to be that kind of healthy and delicious dish that you'd want to enjoy for lunch when you're relaxing on your off day (and moms today definitely deserve a day like that!)
But we've also served this many times for seudah shelishit and it was always just the perfect thing and always a hit. It's special enough that if you're having a lot of company, this can be the main, starring item on the table. It's light, but also substantial enough that it works as a meal. And it happens to be beautiful too.
We also love it because there's absolutely no chopping involved as long as your local
supermarket sells the pre-spiralized veggies. Sauté some mushrooms, make the dressing,
mash some tuna, and you have this show-stopping salad that's also delicious and very special.
Tuna Salad Lunch for Mom by the Pool
1 five-ounce container baby kale or desired greens
1 container spiralized carrots
1 container spiralized beets
8 ounces sliced baby Bella mushrooms
2 tablespoons white or red wine vinegar
Tuna salad (1 can prepared with 1 tablespoon mayo, 1 tablespoon lemon juice, pinch onion
powder, chopped red onion, parsley, or however you like)
2 tablespoons slivered almonds
Creamy Balsamic
¼ cup light mayonnaise
1 tablespoon balsamic vinegar
1 tablespoon lemon juice
1 tablespoon water
1 teaspoon Dijon mustard
1 teaspoon or packet sweetener
½ teaspoon salt
Directions
Prepare the dressing. Whisk together all ingredients until smooth.
Prepare the mushrooms. Grease and heat a frying pan. Add mushrooms and vinegar.
Cook until mushrooms are browned, 3-4 minutes.
In a bowl, combine kale, shredded carrots, shredded beets, and mushrooms. Top with
tuna and slivered almonds. Drizzle with balsamic dressing.