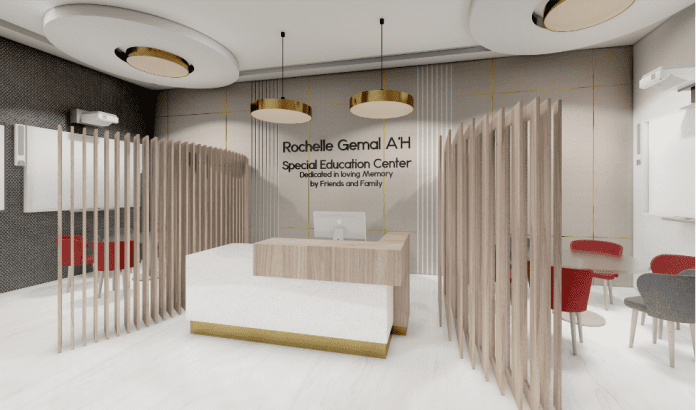 Long before the modern-day special education system was created, Shlomo Hamelech, in Sefer Mishle (22:6), recommended individualized instruction: "Teach the child according to His way."
Many commentators explain this to mean that one should educate the child in Hashem's way – the way He wants us to conduct our lives. But others explain this to mean that a child must be raised in his – the child's – way.  As the Stone edition of the Tanach writes, "…the effect of a proper upbringing is lifelong but in raising a child parents and teachers must take careful account of his ability and character." No two children are the same, and so no two children should be educated in precisely the same way.
Rochelle Gemal, a"h, exemplified both meanings of this verse.
She dedicated her life to the service of Hashem through her innumerable acts of hesed, and by educating each and every person she taught according to His ways. And while she was taken from our world before we were ready to say goodbye, her legacy will live on in the state-of-the- art Rochelle Gemal A"H Special Education Learning Center and Resource Room at Yeshivat Keter Torah.
A Thirst for Knowledge
Together with her husband, Mitchell, Mrs. Gemal built a beautiful Torah family, and they were blessed with many grandchildren. Her daughter, Sara Bijou, relates that while growing up, she and her siblings had limited access to television, and by the time she was in high school, the television was gone. "Not for religious reasons," Sara explains.  "My mother just didn't believe in it." Instead, Mrs. Gemal spent hours reading to her children, and later to her grandchildren.
"We learned that education, and reading, in particular, was a fundamental value to my mom and influenced everything she did in her life," Sara reflects.
Rochelle's thirst for knowledge was evident in the sheer number of classes she attended. Rabbi Shlomo Diamond recalls how Rochelle attended his classes consistently for 40 years.
"In the beginning, she took copious notes which made the class better than it was," Rabbi Diamond says. "She made xerox copies and shared them with her friends." Later, she made cassette tapes and distributed them to friends in Deal and Brooklyn.
Mrs. Gemal's daughter, Adele Cohen, recalls a story told by her grandmother.  "Apparently, my mom loved school so much that when she was told she couldn't go to school because she had the chicken pox, she cried and cried all day.  My mom loved school so much, she always said she made it her 'lifelong profession'."
And what an illustrious profession it was, spanning 48 years, during which time Mrs. Gemal taught students of all ages, including newly-arrived Russian immigrants, in almost every educational institution in our community.
A Love for Knowledge
After graduating from Brooklyn College, Mrs. Gemal began her teaching career at Magen David Yeshiva in Brooklyn, where she was beloved by her students. In fact, when her daughter was approached to babysit, she was told by the mother looking to hire her, "You come with a great recommendation from my husband."
"But I never met your husband," the babysitter said, perplexed. "How could he recommend me?"
To that the woman replied: "Well, you are Mrs. Rochelle Gemal's daughter, and she was my husband's favorite teacher, so you come recommended!"
As much as Mrs. Gemal loved her profession and enjoyed teaching, her first priority was her own family. And so when the family moved to Deal, she did not immediately pursue a full-time teaching position. Her passion for teaching was satisfied in her position as a substitute teacher at Hillel, where her own children attended school. She also pursued her own educational goals by studying and receiving a license to teach special education.
She later began teaching at Ilan High School, where her versatility and vast knowledge allowed her to teach both AP courses as well as special education students. "Rochelle had the ability to bring out the best in all her students," her husband, Mitchell, describes. "I watched her work with a student who was clearly having difficulty with the material. By the time she was finished, the child not only knew the material, but had a newfound confidence that Rochelle instilled."
When she believed in you, you believed in yourself.
Rabbi Yaakov Yosef Reinman, who worked with Mrs. Gemal extensively at Ilan High School, and later, on several proofreading projects, says of her: "She had a relentless thirst for personal growth through knowledge. According to Rabbenu Yonah in Avot (4:1), the measure of a wise person is not how much knowledge he has accumulated, but how much he loves knowledge. Rochelle had knowledge, but even more important, she had great intellectual curiosity."
Aside from teaching, Mrs. Gemal took on the role of proofreader "par excellence" of every yearbook and publication that the school produced. Mrs. Hena Diamond, principal at Ilan High School, describes Mrs. Gemal's work as "meticulous, catching every mistake, be it grammar, context, font size, and more."
But where Mrs. Gemal made the most impact was in her keen sensitivity to others. Mrs. Diamond says it most succinctly: "She had the intuition to be there for people in a deep and consistent way…in a way that they can gain true hizuk [encouragement]."
In a speech she gave to high school students about the importance of hesed, Mrs. Bonnie Mansour spoke of her "best friend," Mrs. Gemal, and the "one small gesture that gave me the confidence to become who I am today." That small gesture took place in the lunchroom at Boody Middle School in Brooklyn, and it was quintessential Rochelle – intuitive and sensitive. Seeing Bonnie, a fellow student who had just moved from out of town and looking a little lost, Rochelle, all of 14 years old, waved to Bonnie and patted the seat next to her, inviting her to sit with her and her friends, thus making her an established member of the group. It was this character trait that informed every aspect of Rochelle's life and career as an educator.
"Powerhouse"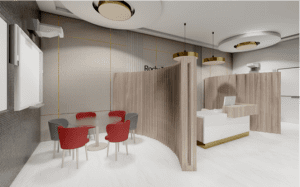 After working at Ilan for many years, Rochelle took on the role of support teacher at Yeshivat Keter Torah.  She would enter a classroom and work alongside a student who needed extra guidance during the lesson. This allowed the student to remain in the classroom with his friends and peers, while receiving the extra coaching and assistance he needed.
Rabbi Aharon Yanai, the yeshiva's menahel, describes Mrs. Gemal as a "powerhouse" dedicated and devoted to her students.  "Education meant everything to Mrs. Gemal, a"h, and the students sensed her seriousness about learning and took their learning seriously because of that."
Her message to the students was twofold: This is important, and you can do this.
The Rochelle Gemal Learning Center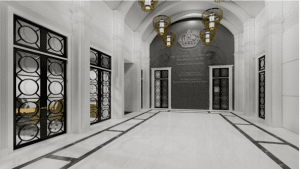 With her limitless devotion, commitment to her students and compassionate intuition, Mrs. Gemal created a legacy of learning that Yeshivat Keter Torah continues to embody.  How befitting it is that the yeshiva is honoring the memory of this exceptional woman by establishing the Rochelle Gemal A'H Learning Center and Resource Room. The room will be designed to look and feel pleasant and fun for the student. Through its trained professionals, who will utilize individualized and small-group instruction, targeted assessments, multi-sensory learning, and strong teacher-student relationships to address the specific goals of the individual student, the Learning Center will enhance the academic and general growth of all its students.
"At Keter Torah, we passionately believe that every child can succeed," says Mrs. Chaya Sima Wahrman, Director of Special Services at Yeshivat Keter Torah. "In the Learning Center, our goal is to provide each child with the tools he needs to attain the foundational skills necessary for academic success."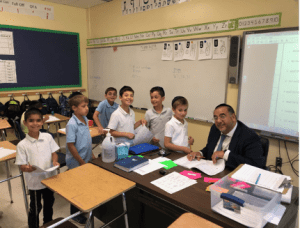 Research shows that when a child has strong foundational skills, those learned in pre-school through third grade, he has the best chance of academic success. The Common Core Standards, developed in 2009 by state leaders, including governors and state commissioners of education, addressed the need to ensure that critical thinking skills, reasoning, skills, and evidence collection skills in both math and reading, were achieved. In the same way that we monitor an infant's milestones in baby steps – crawling, standing, walking, running – foundational skills are milestones that every student should reach in grades pre-k to 3 in order to become a strong reader. The standards emphasize that when it comes to these foundational skills, "Instruction should be differentiated: good readers will need much less practice with these concepts than struggling readers will. The point is to teach students what they need to learn and not what they already know – to discern when particular children or activities warrant more or less attention."
Without realizing it, this committee put into practice the advice of Shlomo Hamelech – "Teach every child according to his way."
The Keter Torah faculty and administration are committed to identifying student challenges while they can still mold skills and make sure the basics are mastered.  As Rabbi Yanai, menahel, explains, the assessment process is thorough and ongoing.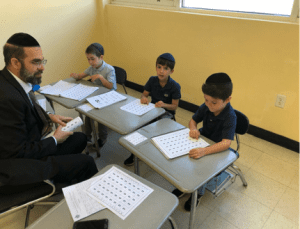 "Each student is assessed for strengths and areas of challenge.  For instance, a student may be strong in reading but requires support in math or vice versa, or a student may be strong in both but needs support for his reading comprehension. Our goal is to assist in areas that are needed while keeping the child in his regular class for all other subjects. This reduces the stigma sometimes associated with the resource room and does not compromise the child's socialization with his peers. The child gets the message that 'I have needs that need to be met, but I can still be part of the regular class'."
Weekly assessment meetings are held by the classroom teacher and resource room professional working with the student. When it is determined that the student has mastered the necessary skills, he is mainstreamed back into the classroom. But not without the support he needs.
The Rochelle Gemal Tutoring Fund
To that end, the Gemal family is spearheading a second initiative that addresses the financial burden borne by the families of students requiring supplemental support, or tutoring, outside the resource room. Most tutors receive as much as $80 an hour, which can impose an extraordinary financial burden on a family already paying yeshiva tuition.
"Special education needs special attention, and no child should be denied the opportunity for success because of lack of funds," Mr. Gemal explains. He says that Rochelle believed this and set a personal example of selfless devotion to help struggling students and their parents. "When Rochelle identified a student who was falling behind in class and in danger of being left back a grade, she would offer to tutor them in our home. Many times, knowing the family could not afford to pay, she would not charge them for her services. Her main concern was making sure the child succeeded."
Following in the tradition of Mrs. Gemal a"h, her family has set out to create the Rochelle Gemal A"H Tutoring Fund. The model they envision is simple but ingenious – tutoring services for children who cannot afford the fees, provided by teachers or tutors requiring supplemental income.
"Our gemach [charitable fund], will not only give the parents who cannot afford the cost of tutoring the ability to provide their children with the much-needed support, but also address the parnasah needs of the families of teachers," Mr. Gemal explains. "We help the child, his parents, and families that can use a few extra dollars to cover their expenses."  Truly a win-win-win situation.
The initial funding for the program will be endowed by the Gemal family, and it will be replenished by donations.
Rabbi Shlomo Diamond describes Rochelle as "a lady who in her quiet, modest way influenced so many others," and who "left the world hidden, without any fanfare, and that was the way she was her whole life."  She was a woman deeply committed to education, knowledge, and personal growth, devoted to hesed and lovingkindness, and who lived by the guiding principle, "When you save one neshamah (soul), you save the world." Her smile, her reassuring words, and her gracefulness, will be sorely missed.  But through the Rochelle Gemal A"H Resource Room and the Rochelle Gemal A"H Tutoring Fund, her legacy of education and hesed will continue for many years to come.
Even when Mrs. Gemal became ill, she kept to her teaching schedule as best as she could. It was always a top priority for her. The following touching poem, presented to her by the administration, faculty, and students of Yeshivat Keter Torah, illustrates her singular dedication:
Each Tuesday and Thursday
And some Wednesdays, this year
Our school was so privileged
Because you were here
You'd peek into the classroom
And then kindly enter
Circulating to aid each student
In the front, back and center
With clarity you'd explain
Grammar, reading and math
You'd teach and elucidate
Setting each student on the right path
And so Mrs. Gemal,
We thought you should know
Our best wishes are with you
And WE MISS YOU SO!
Thank you for touching the lives of our students
An Opportunity to Share in this Mitzvah
Rabbis have taught us that providing funds for a child's Torah education is considered an admirable outlet for a person's ma'aser kesafim (charitable tithe). Anyone interested in sharing in this mitzvah and donate to the Rochelle Gemal A"H  Special Education Learning Center, Resource Room, and Tutoring Gemach FUND, is invited to send an email to Mgemal@keter.org.