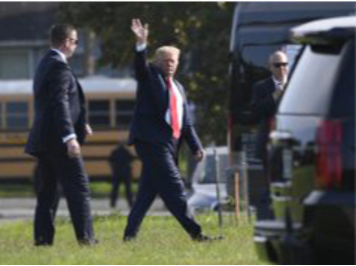 Last month, President Donald Trump visited Deal, NJ to attend a fundraiser at the estate of his late friend, Stanley Chera, a"h. The fundraiser took place on the Chera estate on Ocean Avenue.
Two days after Stanley Chera's passing on April 11, Trump tweeted, "My deepest sympathies go out to Frieda Chera and the family of the late, great, Stanley Chera, one of Manhattan's most brilliant real estate minds. Stanley was charitable, kind, and a wonderful friend. He will be truly missed!"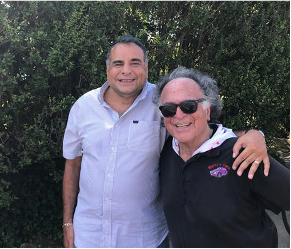 President Trump landed in Marine One, the helicopter which transports the president, on a field of the public local school opposite the Park Avenue Synagogue. On the short drive to the Chera estate, Trump was met with an enthusiastic crowd waving pro-Trump signs along the way, as well as several protesters with anti-Trump signs. At 2pm, hours before Trump's anticipated arrival, protesters for and against his administration squared off  on either side of South Lincoln Avenue, trading chants – "Dump Trump!" and "Four more years!"
The event was closed to reporters, but an RNC official said the event raised over $5 million.
Senator Gounardes Announces Community-Led Graffiti Removal Program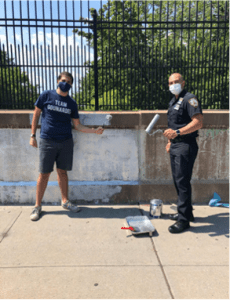 Following the city's cuts to the $3 million graffiti removal program, State Senator Andrew Gounardes announced a local volunteer initiative to remove graffiti. Gounardes' program partners with the 61st, 62nd, 63rd, and 68th police precincts to take graffiti reports from residents and deploys community volunteers to clean up the graffiti. He encouraged all who notice graffiti to call his District Office number – 718-238-6044.
The program is part of his "3 for Community Initiative," a volunteer program where southern Brooklyn residents commit to at least three acts of kindness or volunteerism each week. Through 3 for Community, Gounardes has led several community clean ups and neighborhood improvement projects.
"Keeping our neighborhoods clean is part of keeping them such great places to live. Every New Yorker – no matter their background – deserves to be able to enjoy our streets and open spaces. We have a responsibility to one another to maintain and improve our shared spaces so that we can ensure our community continues to thrive, no matter the circumstances," said Senator Andrew Gounardes.
The Deal Misaskim Volunteers Need Your Help

The Misaskim delivery vehicle that has serviced the Deal Community has broken down beyond repair. There isn't a shivah home in the area that hasn't been provided for by the Misaskim volunteers of Deal in the past. They need to purchase a new truck and more equipment in order to continue servicing our community uninterrupted. If interested in giving a donation – go to the following link: https://www.rayze.it/deal2020  or call  718 854 4548.
Tizku L'mitzvot!