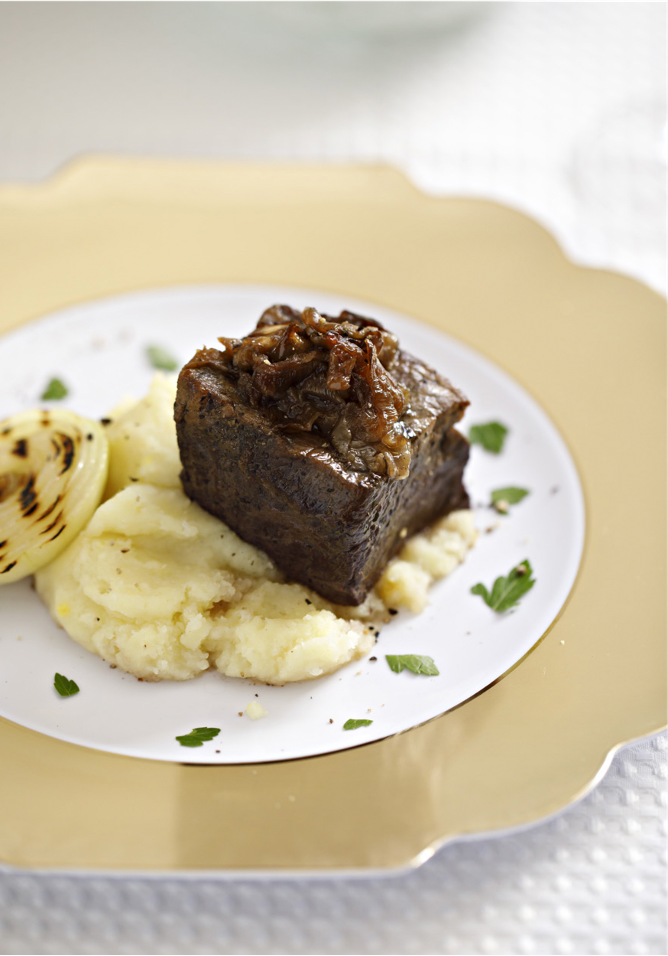 Rather than preparing ribs, you can use a brick or French roast, cut into rib-like cubes so they have the appearance of short ribs on the plate or in the serving dish. You'll get more meat for the money, but then there's no roast to slice! Everyone just takes a large "rib" or two.
This time we're using the recipe that we use to prepare the pulled beef for our Pulled Beef
Tacos (this meat will also shred beautifully!), but you can use any rib recipe to prepare roast this
way!
2 tablespoons vegetable oil
5 pounds brick or French roast, cut into 3-inch cubes
1 teaspoon kosher salt
1/2 teaspoon fresh ground black pepper
4 garlic cloves, coarsely chopped
1 (16-ounce) can tomato sauce
1 cup house made barbeque sauce
1 cup beef stock
1/4 cup apple ci ​der vinegar
1/2 teaspoon ground mustard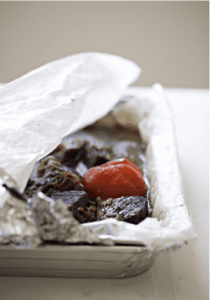 Preheat oven to 325 degrees Fahrenheit.
Heat oil over medium heat in a large, heavy, oven-safe pot or Dutch oven, and
brown the mock ribs on all sides, about 5 minutes, working in batches if
necessary. Sprinkle mock ribs with salt and black pepper as they brown. Transfer
cooked ribs to paper towels to blot up extra oil.
Stir in the garlic, and cook until fragrant, about 1 more minute. Mix in tomato
sauce, barbeque sauce, beef stock, apple cider, and mustard. Bring the sauce to a
boil, and simmer for 1 minute to blend flavors. Stir in the browned mock ribs.
Cover the pot, and bake in the preheated oven until the rib meat is very tender,
about 2 1/2 hours. Turn the ribs occasionally while cooking.
Season with salt and pepper.
At this point, you can remove the meat and reduce and sauce a bit (cook it over
medium-low heat) to let it thicken. Then return the meat to the pan and warm
when ready to serve.