Served in a hearty broth, these wontons are filled with savory, melt-in-your mouth succulent beef and aromatic fresh ginger. Folded wontons may look laborious, but they're actually quite easy and fun. If you can fold samboosak, you can certainly fold a wonton. But if pleating your food sounds too complicated for you, simply folding them in half will work too. While the components of this soup can be prepped in advance, the wontons may only be cooked immediately before serving.
Serves 6
1 tbsp oil
1½  lb beef chunks
1 tbsp salt
½ tsp black pepper
6 cloves minced garlic
2 tbsp fresh minced ginger
2 inch piece of peeled ginger
1 cup soy sauce
24 circular dumpling wrappers
1 lemon
1 tsp toasted sesame oil
1 bunch Swiss chard or bok choy
1 bunch Scallions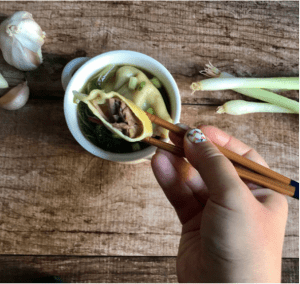 In a large pot, heat oil. Sprinkle beef with salt and black pepper and cook both sides for about 4 minutes each, stirring often. Add 3 cups water, minced ginger,  ½ cup soy sauce, and 3 cloves minced garlic and bring to a boil. Reduce to a simmer and cover. Let cook for 30 to 45 minutes until beef is tender and soft.
Separate beef from the broth. Place beef chunks in a large bowl, and gently pull apart beef with two forks and set aside.
Place beef broth on a low fire and add 6 cups water, sesame oil, chunk of ginger, and remaining garlic and soy sauce into the pot. Bring to a boil and then simmer for ten minutes. Discard the ginger.
To make the wontons, place a wrapper in one hand and place about one teaspoon of beef in the center. Dampen the edges of the wrapper by dipping your finger into a bowl of water and moisten the edges of the wrapper with the water.
Fold the dumpling wrapper in half in a taco formation, pinching it together lightly at the center. fold a small portion of the top dumpling skin towards the center seam. Continue pleating until the edge of the dumpling. Repeat on the other side. Press the edges together to seal it well, adding water if it gets dry. Press out any air bubbles. Repeat until all wontons are filled.
Bring broth mixture to a low boil and place wontons in boiling broth, being careful not to overcrowd. Once the wontons float to the top, cook two minutes more. The wonton wrappers should look semi-transparent when done. Transfer them to a bowl immediately.
To serve, place wontons in soup bowls. Pour in broth mixture on top, squeeze in juice from the lemon, and top with scallions. Serve hot.
Recipe, Photo, and Styling By Adina Yaakov, Dietetic Intern and Recipe Developer For more recipes follow @OnceUponAThyme__ on Instagram NEW!  Find more recipes on www.OnceUponaThyme.co