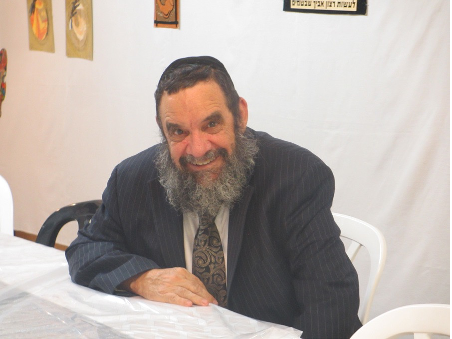 SARINA ROFFÉ
Rabbi Michael Seixas (1952–2019), was a beloved religious leader in Madeira and Belmonte, Portugal. He lived a full and inspiring life, that was tragically cut short last year. Rabbi Seixas was born in California and was the eldest of six children. Without quite understanding why, he was drawn to Israel.
Discovering His Passion
Rabbi Seixas researched his genealogy and discovered that his Portuguese paternal ancestors had an impressive Jewish lineage. This fantastic discovery helped Rabbi Seixas understand his deep love for Judaism.
His neshama led him to the deep faith of his ancestors. On his first trip to Jerusalem, Rabbi Seixas realized his heart longed to be there. His interest in Judaism grew and he constantly studied until he discovered that teaching about Judaism was his tafkid (role in life).
Rabbi Shlomo Kassin, the Rosh Yeshiva of the Shehebar Sephardic Center, helped Rabbi Seixas and accepted him as a student in his yeshiva in Jerusalem.
Israel
At the Shehebar Sephardic Center, Rabbi Seixas received extensive religious training. He made Jerusalem his home. Despite being ill with kidney problems, his greatest happiness was studying the Torah.
In 2018, Rabbi Seixas was overjoyed to receive his rabbinical ordination from the Abe M. and Geri Cohen Rabbinical College at the Shehebar Sephardic Center. He was appointed to serve as rabbi on Madeira Island, Portugal.
Rabbi Seixas was a humble , educated man who possessed great kindness. His smile was always present, as well as a word of hope. He always used to say this phrase in Portuguese: "Tudovaiserbom," which means "everything will be fine."
Rabbi Seixas' wife, Batya Pontas, was from Venezuela and her mother lived in Madeira, Portugal. The Seixas family moved to Madeira and Rabbi Seixas became rabbi of the Jewish community there. He organized Friday evenings with the community, tourists, and Anusim, and he worked to rebuild the synagogue.
Belmonte
Rabbi Seixas came to know of a group of B'nai Anusim in Belmonte, Portugal, who lived there since the time of the Expulsion. They lived in a secluded area, had never assimilated, and only married within their community. Many of them have returned to rabbinic Judaism. Rabbi Seixas spent time with them, saw their needs, and taught them the Talmud. Upon returning to Israel, Rabbi Seixas promised to return to Belmonte, and did so twice a year, forming a strong and affectionate bond. He even taught himself Portuguese.
From Israel, Rabbi Seixas taught Skype classes to his Belmonte students. If there was no internet signal where he was, he would look for an appropriate place, sometimes in a town square and sometimes even in the rain. He would sit there with his laptop and would give a Torah class. Passersby often stopped and supported him with words of encouragement.
Once, at night (due to the time difference), Rabbi Seixas had a class scheduled. Although he felt weak and very ill, he still got out of bed, grabbed his laptop, and went to another room to give his shiur. Whenever a student could not be present for some reason, Rabbi Seixas felt very sad. His teaching method consisted of capturing and holding the student's attention, and, at the same time, he presented varied topics in an attractive way.
The story is told of a boy from Belmonte who did not know anything about Hebrew. With patience and dedication, Rabbi Seixas worked with the boy for several months to prepare him for his bar mitzvah via Skype. Rabbi Seixas taught him to read from the Torah. The success was resounding! This young man currently reads the Torah just like an Israeli. In fact, many of Rabbi Seixas' students have made aliyah to Israel.
Rabbi Seixas' Last Visit to Belmonte
Rabbi Seixas traveled to Belmonte in 2019 to teach for a week before returning to Madeira. As soon as he got to Belmonte, he went from home to home motivating the men. He prayed with them every morning, donning tefillin with them and infusing them with love for their Jewish heritage. Rabbi Seixas dedicated the last days of his life to the Jews in Belmonte, tirelessly teaching Torah, praying, teaching classes, and helping people. Rabbi Seixas' work was done purely out of love for the Torah.
The rabbi's failing health did not allow him to work so hard without proper rest and nutrition. In early September 2019, his health was seriously affected, and he had to be hospitalized. Sadly, he suffered a massive stroke and died on 20 Elul, 5780 (12 September 2019), two weeks after his arrival in Belmonte. Within just a few hours, the Shehebar Sephardic Center, under the leadership of Rabbi Sam Kassin, arranged for Rabbi Seixas to be buried in the Holy Land.