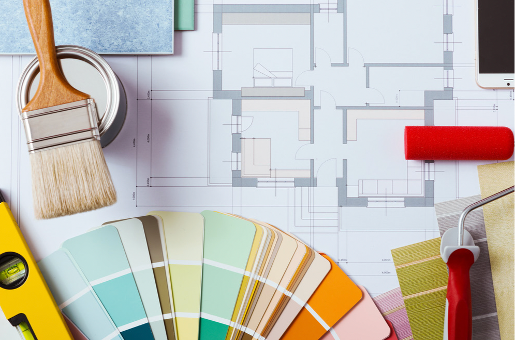 It's December, the last month of 2020, which also includes the first day of winter, December 21. Winter evokes cozy memories of blankets, snow days, and hot cocoa with floating marshmallows. But it also means a lot more time spent indoors. It becomes dark early, the wind is strong, and ice is slowly creeping everywhere. This makes it a perfect time to work on the interior of your home. Now's the perfect chance to spruce your home up.
Are your walls peeling? Are they covered in scribbles? Or are you ready for a new color?
Here are some tips to ensure your painting is splatter free.
First off, paint brushes are great for edges and details, but if you do not want to be painting forever, invest in a roller and a roller tray. This will speed up your painting and will give you a smoother wall.
If you want to paint like a pro, first paint the trim, then the ceiling and then finally the walls. While painting the trim and ceiling don't worry about painting within the lines, focus on getting a nice finish. Remember you are going to paint the walls after so any mishaps will be covered up. Once the trim and ceilings are done, don't forget to cover the edges with painters tape and then paint the wall. And don't pull off the tape until the paint is COMPLETELY dry. You don't want all your hard work ruined by gummy paint at the edges.
If you are painting over grimy, oily surfaces, clean the area well before painting. The dirt will get in the way of the paint bonding with the wall and it will mess with the texture and sheen of your wall. A little soap and elbow grease goes a long way in ensuring beautiful walls.
Color of the Year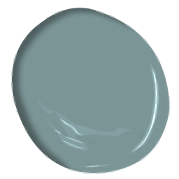 Need inspiration for your paint color? Look no further than the 2021 paint color of the year. According to Benjamin Moore, the color is Aegean Teal, a blend of blue and green, with grey undertones. It is described in Benjamin Moore's catalogue as "an intriguing mid-tone that creates natural harmony." This color creates an organic and sun baked look, perfect for kitchens and other living spaces.
Sometimes I get asked, "Do I have to paint before I sell my home?" It depends on your house. If your house is older and not newly renovated and the buyers will anyway do work on the house, as long as the house looks clean there is no need to paint. But if you have a nicely done house and the walls are a bit dirty, you will definitely benefit from painting. And paint the house neutral colors that are appealing to everyone.
Broker vs. No Broker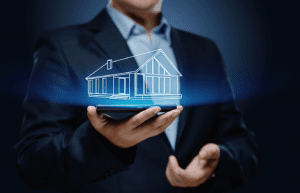 There are many benefits to having a broker. I will address only one in this article, but please feel free to reach out to me with any questions.
I understand that when selling a house there is a lot of money at stake and sellers may think, "cheaper agent = more money in my pocket." But a good real estate agent will look at the house and see how to net the seller the most money. Numerous times I have lost listings to agents who take half the commission that I do or to agents who have a flat fee. Everything is min hashamyim. But I didn't do a good enough job of educating my clients if they only look at the commission. There are certain things in a home that need to be taken care of, and if these things are done, they will increase the value of the home. It may be a leak from 20 years ago that is no longer active but there is water damage. Or there is asbestos in the basement, or active termites. There are numerous scenarios that come up that I look for that I then explain to the seller.
We then have to work out between the buyer and seller who will fix what and what terms they are agreeing upon.
The highest offer is not necessarily the best. The highest offer plus good terms equals a good buyer. There are a lot of issues that come up and having a broker can solve many of them.
Hopefully, you understand a bit more the value a broker brings to the table. In general, the broker will make the process of selling your home a lot smoother. They make sure you end up with the most money in your pocket, and your home is bought for a great price with great terms.