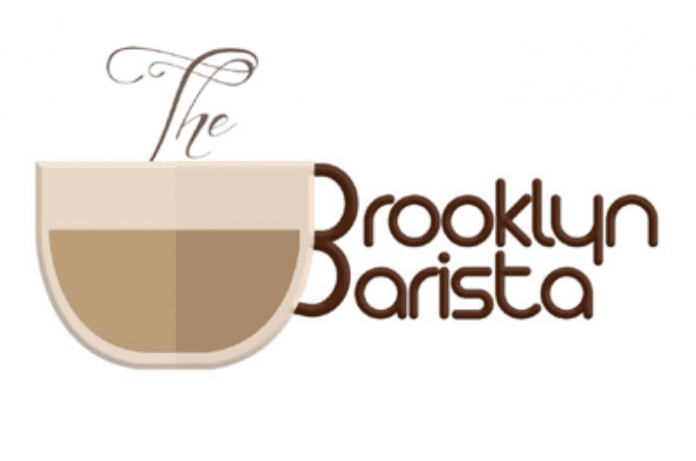 Ellen Geller Kamaras
"I feel blessed to have built The Brooklyn Barista through word-of-mouth. Our community has supported me wholeheartedly since day one, and I am honored to return that support through hesed." ~ Alisen Chazanoff
Who is Alisen Chazanoff? Alisen was born in Brooklyn, NY and raised in Hollywood, Florida. Her loved ones describe her as real, brave, compassionate, and funny. She considers herself "authentic" and prides herself on always "following her heart." Our conversation gave me a glimpse into her essence, passions, and loving and laid-back nature. I immediately sensed Alisen's genuine warmth and enthusiasm. She had cleared her day and reviewed her journals in advance of our interview. Alisen has been documenting her feelings and major life events for almost 30 years. "Writing in my journal helps me become more aware and find solutions to problems. I journal before I go to bed to plan my schedule/priorities for the next day."
Raised with "unconditional love and encouragement," it is not surprising that Alisen, affectionately known in the community as "The Brooklyn Barista," went from "doing good to brewing good."
Creating a Coffee Niche
Alisen's daydream about connecting with people through the experience of a beautifully crafted cappuccino became a reality when she was inspired to support her friend and cancer survivor Lynda Levy. Upon learning about Lynda's annual fundraiser to benefit Sephardic Bikur Holim and the Lymphoma Society, Alisen drew upon her entrepreneurial spirit and proposed the idea of setting up a coffee bar as an event sponsor. The event was a major success! Alisen sold hundreds of cups of coffee. Customers assumed she had a retail business and asked for her card. That day, her close friend Aliza Salem aka "The Ghetto Gourmet," encouraged her to begin promoting her concept and to create business cards right away. And it was her younger sister, Lorie, who immediately coined her "The Brooklyn Barista." Alisen explained that "an unexpected business was now organically and officially launched. "
The calls to book The Brooklyn Barista for affairs started rolling in and Alisen received requests to host everything from milestone events and bridal showers to teacher appreciation events and medical conferences.
One might ask, why coffee? Alisen used to prepare a perfect cup of coffee with just the right amount of milk for her mom every morning since she was seven. "This is the best coffee I have ever tasted!" her mom would declare each time. "Over 30 years later, the positive memory of making my mom so happy through a simple cup of coffee came back to me."
Alisen had observed the magical way her grandmothers and her husband's grandma would connect over a cup of coffee. "I shared so many precious moments with my Nonna Esther, a"h, over a cup of Turkish coffee. I witnessed my Safta Alice, a"h, gathering friends and family over countless cups of coffee. I had the honor of spending priceless times with my husband's Grandma Jane, a"h, when she imparted her life's wisdom over coffee."
Her vision for The Brooklyn Barista is rooted in the experience of coffee – "It's a personal experience, it's about friendship, it's about connecting."
Not Just Coffee

Seven years into her journey, Alisen continues to develop new recipes, maintain strong relationships with her clients and community partners, and consistently strive for a quality product with impeccable service. "I always had the entrepreneurial spirit in my heart and it came to fruition with The Brooklyn Barista. I enjoy creating and offering different options depending on the event and the season." The Brooklyn Barista offers artisan coffee catering featuring hot and cold brew, cappuccinos, lattes, cold-pressed herbal tea, hot chocolate, and more. Alisen also sells her signature cold brew and cold-pressed herbal tea on her social media platforms.
Through her fundraising efforts, Alisen has supported and created awareness for many nonprofit organizations including SBH, Hatzalah, Sephardic Food Fund, Masbia, Morris Franco Cancer Center, Chai Lifeline, IDF, and Chai for Lyme, among others.
In addition to bringing her traveling coffee bar to private parties, varying from five to five hundred guests, Alisen's clients are diverse and range from yeshivot such as Yeshiva University, Yeshivah of Flatbush, Magen David, Barkai, and Mazel Day School, to notable caterers including Claudia Bildiricci, Grace Sitt, and Batya's Kitchen. Upscale retail boutiques such as The Yellow Door, Wishing Well, and Paris Pop often enlist The Brooklyn Barista for their customer appreciation events. The Brooklyn Barista was also an official sponsor of Kosher Food Media.
Alisen's biggest professional challenge? Her goal of living up to her gold standard and never outsourcing an event has proven to be taxing at times. She has made so many friends through The Brooklyn Barista, being a part of everyone's smachot is not always feasible.
Her Roots
Alisen is a first-generation American, whose Sephardic roots began in Egypt. Her parents and grandparents on both sides were born in Cairo. With different journeys to the U.S., her parents, Joseph Setton and Rachel Balassiano, ultimately met in Brooklyn. They married and moved to Florida shortly thereafter.
The oldest of four girls, Alisen is ultra-close with her sisters and says their individual accomplishments inspire her. Eileen Alkabes is a respected public relations professional, Jaime
Galapo is the owner of Galapo Group Design, an interior design firm, and Lorie Ofir is an award-winning teaching artist at the Perez Art Museum Miami.
Alisen's parents were the most incredible role models. "We were my mom's treasured gems and she made sure we knew it every single day."
Alisen's father, Joseph, grew up in Israel, was a paratrooper in the Israeli Army, and fought in the Six Day War. Through his army experiences, he developed resilience and determination which shaped him into a successful self-made entrepreneur. His war stories are what continually drive Alisen to overcome challenges – both personally and professionally. "My dad always displayed courage and integrity."
Childhood summers were spent in Wildwood, NJ, where the Settons owned a popular fine jewelry and souvenir shop. Alisen and her sisters began helping in the family business at a young age, acquiring a strong work ethic and understanding the value of a dollar. "Whether I was organizing hair accessories or putting price labels on merchandise, our parents made us feel that our contributions were so valuable."
Alisen learned how to connect with people during those summers in Wildwood. "When I stood behind the jewelry counter, it wasn't about sales tactics; I discovered how to engage with people and to never judge a book by its cover."
She earned her Bachelor of Business Administration in International Finance and Marketing from the University of Miami in 1996. Upon graduating, she was offered a position in New York City in the finance industry and eventually accepted a position working for the World Headquarters of Republic National Bank in Manhattan.
As Fate Would Have It…
While living in New York, Alisen's cousin Joyce Matalon suggested she meet Isaac Chazanoff. It was hashgacha pratit (Divine providence) that he would turn out to be the namesake and grandson of Isaac Mavorah, a"h, Alisen's grandparents' guardian angel. It was Mr. Mavorah who had personally guided and offered tremendous emotional support to her grandparents, Joseph and Esther Balassiano, through their first and most difficult years in America. Hashem most definitely arranged that date with Isaac Chazanoff, who is now her husband of 20 years.
Alisen and Isaac live in Brooklyn with their three children who "mean everything" to them. Freddy, 18, is a business student at Baruch College; Norma, 16, is a sophomore at Yeshivah of Flatbush; and Raquel, 14, is a freshman at Ilan in New Jersey. Alisen is mindful about parenting and life balance. She encourages her children to "do life with passion."
Isaac and their kids are so proud and supportive of Mom's thriving business. Isaac is a managing director for a major wholesale company and, fortunately for Alisen, is quite tech-savvy. He also founded Times of Your Life Slideshows and used his knowledge to create a logo and catchy digital ads on Instagram to promote The Brooklyn Barista. "Isaac's endless support and love
have been extraordinary. None of this would be possible without him. Even with his own workload, he has helped with everything from picking up the pieces at home to sourcing bottles and supplies. He has shown up for me in every way. My children were also motivated to experiment with their own businesses."
And Then Covid-19 Hit…
Determined to use her time meaningfully during the pandemic, Alisen reassessed her life and business. She focused on her family and stayed in touch with loved ones. Alisen also donated a portion of proceeds from her cold brew sales to SBH Crisis Fund, among other pandemic-related causes.
When she's not brewing, Alisen treasures her family and personal time.
"I am so grateful that my journey came full circle and that Community Magazine asked me to share my story!"
You can connect with Alisen at: thebrooklynbarista18@gmail.com, (917) 533-6340, or on Instagram @thebrooklynbarista.
Ellen Geller Kamaras, CPA/MBA, is an International Coach Federation (ICF) Associate Certified Coach. Her coaching specialties include life, career, and dating coaching. Ellen works part-time as an entitlement specialist at Ohel Children's Home and Family Services. She can be contacted at ellen@lifecoachellen.com (www.lifecoachellen.com).