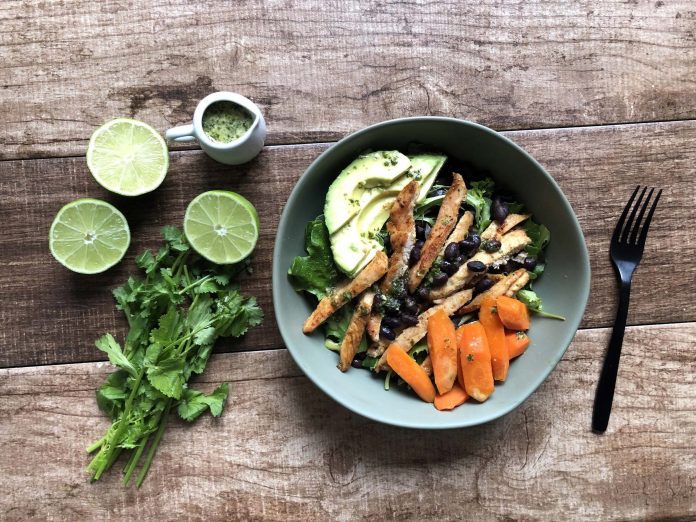 Does eating a salad sometimes leave you wanting more? Leafy greens are a great side dish or snack, but including a source of protein, fat, and carbohydrates turns it into a balanced meal. Protein choices like beans and grilled chicken keep you satisfied and helps with muscle growth and repair. Fats boost your body's ability to absorb nutrients and vitamins, and are usually found in avocado and savory salad dressings. Complex carbohydrates like whole wheat croutons or quinoa can be added to increase fiber and keep you feeling full. Finally, adding a variety of roasted vegetables adds even more nutrients to complete your salad.
Ingredients:
3 cups Lettuce of choice (spring mix)
2 lbs Cooked southwestern chicken
Julienned carrots
1 ripe avocado
1 can black beans
Juice of half a lime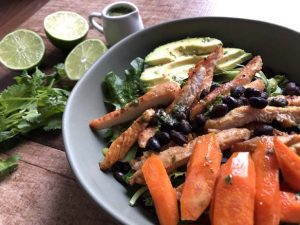 Drain the can of beans and set aside. Peel and slice avocado and add lime juice.
Southwestern Chicken:
1 tbsp Smoked paprika
1 tbsp cumin
1 tbsp Chile powder
1 tbsp salt
2 tbsp brown sugar
¼ cup olive oil
2 lbs chicken cutlet strips
1 lime
1 tsp black pepper
1. In a Ziploc bag mix the first six ingredients. Add in chicken and shake well coat chicken.
2. Spread chicken evenly on a pan, and squeeze lime on top. Sprinkle with black Pepper and bake on 350 degrees Fahrenheit for 15 minutes uncovered.
3. Turn the oven on high broil and broil for 5 more minutes. Remove from the pan and let cool.
Julienned Carrots:
1 lb carrots, peeled
2 tbsp brown sugar
3 tbsp oil
1. Slice carrots on a slant, julienne shape. Toss on a pan with oil and brown sugar.
2. Bake at 350 degrees Fahrenheit covered for 40 minutes and broil for an additional 5 minutes.
Cilantro Lime Dressing:
6 cloves garlic
1 bunch cleaned and stemmed cilantro
1 tbsp salt
2 tbsp honey
Juice of four limes
In a processor, blend garlic and olive oil until minced. Add the rest of the ingredients until blended.
Assemble: Add lettuce to a bowl. Add cooked chicken, julienned carrots, sliced avocado and drained black beans. Add cilantro lime dressing on top and serve immediately.