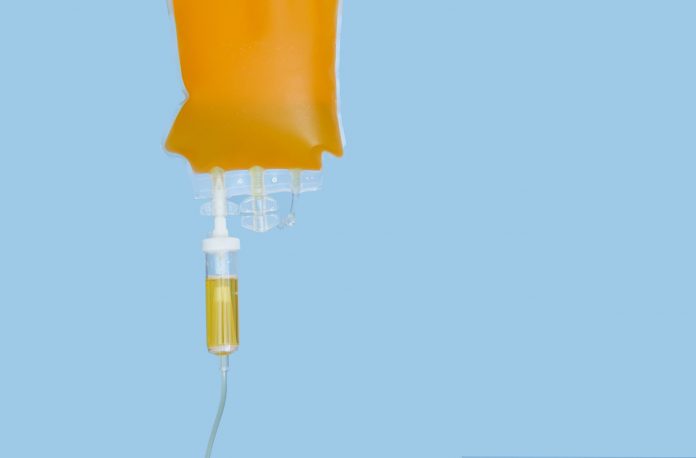 "As soon as you become symptomatic, and have a positive COVID test, get an infusion. Most patients' symptoms subside in less than two days."
DAVE GORDON
When the Coronavirus hit the U.S. a little over a year ago, there was no sense of how far the virus would spread, how devastating it would be, and whether there would be any treatment in sight.
But as Jews, hopelessness is not in our vocabulary. That could not have been more evident when a small group of individuals rose to the occasion to help fight the virus with as-yet-untapped medical treatments.
A group of just a few volunteers vigorously pursued a far-reaching program that eventually brought much-needed antibody treatments to the masses, potentially staving off worsening infections for thousands of people.
These treatments came in the form of donated blood plasma from recovered COVID patients. The grassroots effort launched in New York has shown tremendous success in mobilizing both donations and infusions, saving thousands of lives.
Modest Beginnings with the Action of Two Men
Dubbed the Covid Plasma Initiative (CPI), it originally began in April 2020, when two men, Abba Swiatycki and Mordechai Serle separately sought treatments for ailing family members.
Serle, a lawyer from Flatbush, coincidentally spotted a report in the media about "convalescent plasma therapy," and desperately wanted it for his father-in-law, who was fighting COVID from a hospital bed. The therapy – quite an old concept in medical practice – is to take the plasma from someone who has recovered from an illness (and thus had built up antibodies to the illness) and infuse this plasma to someone else fighting that illness, so they too would have the immunities.
Serle connected with Chaim Lebovits of Monsey after reading an article about his involvement in the WSJ. When the outbreak began violently spreading in the U.S. in March of 2020, Lebovits had set up a plasma drive in New Rochelle and encouraged community members to donate.
Plasma Drives Take Off with Community Support
Lebovits worked to network religious leaders and organizations, medical and health professionals, and hospitals, in an effort to coordinate resources. With the help of Swiatycki and Serle, plasma drives were set up in a variety of venues, including the Jewish Children's Museum in Brooklyn, a Baltimore synagogue, and an industrial park in Lakewood.
Many medical professionals with a vested interest in the treatment were involved in this project including Dr. Shmuel Shoham – who led a Johns Hopkins University study on plasma treatment, as well as Mayo Clinic's Dr. Michael Joyner.
The New York Jewish community had been one of the hardest hit and was the quickest to jump into action to donate, and to help others. Several thousands of donors have participated in plasma drives across the country. Covid Plasma Initiative says it is "the primary donor pool of convalescent COVID-19 plasma in the New York region, and among the largest in America."
From a tiny cadre of involved individuals, the initiative grew to a wide-reaching coalition that included major hospitals such as Mount Sinai Hospital, New York Langone Medical Center, Memorial Sloan Kettering, Maimonides (Brooklyn), Monmouth Medical Center Southern Campus (NJ), the Mayo Clinic, and Northshore Hospital System.
CPI's Huge Impact
The Covid Plasma Initiative Foundation, now a registered 501(c)(3) non-profit organization, has made such an impact that it has relieved the burden of already-crushed hospital wards, and has facilitated plasma donations that likely would not have been obtained on such a large scale. In fact, in just a few short weeks after CPI was started, their donors reportedly supplied half of the country's plasma, so streamlined and efficient was their operation.
The initiative says it "directly continues to impact hospitals' ability to treat coronavirus patients in an unprecedented way, alongside other emerging treatment methods."
They boast the "widest network of medical affiliations in America for plasma donations." Its network also includes dozens of organizations and religious institutions, such as Orthodox Union and Agudath Israel.
Chaim Ozer Dessler Steps in, Creates Vital Hotline
Chaim Ozer Dessler joined the CPI team last November when monoclonal antibody treatment received its EUA from the FDA. CPI's goal was to educate and bring awareness of this lifesaving treatment to our communities in the effort to lower hospitalization and death rates.
"The sooner you get the treatment, the more effective it is," he insists. "As soon as you become symptomatic, and have a positive COVID test, get an infusion. Most patients' symptoms subside in less than two days."
To streamline what was once a time-consuming and confusing multi-step process, Dessler created and set up a 24/7 hotline to facilitate the monoclonal antibody treatment. "When somebody calls, within the next few hours they're getting their infusion. It's absolutely incredible. We work with all of the treatment centers that offer it throughout the country. It's a very complicated area to navigate, and we've got it down to a science. We match each patient to an infusion center based on time, location, and qualifying risk factors. Physicians themselves are asking how they can get it for their own patients," he says.
The impact of this initiative has been that thousands of lives were saved, thousands who could have gotten very sick did not, and thousands of potential hospital patients were able to remain at home, Dessler reports.
To those men and women who have volunteered their time to bring even one donor in, or made a single infusion possible, kol hakavod – you have, as in the famous words of the Talmud, saved an entire universe.
Hotline Information
For information on how COVID positive patients can access monoclonal antibody treatment, please contact the 24/7 CPI hotline at 828-4-PLASMA or visit them at Plasmaheroes.com.