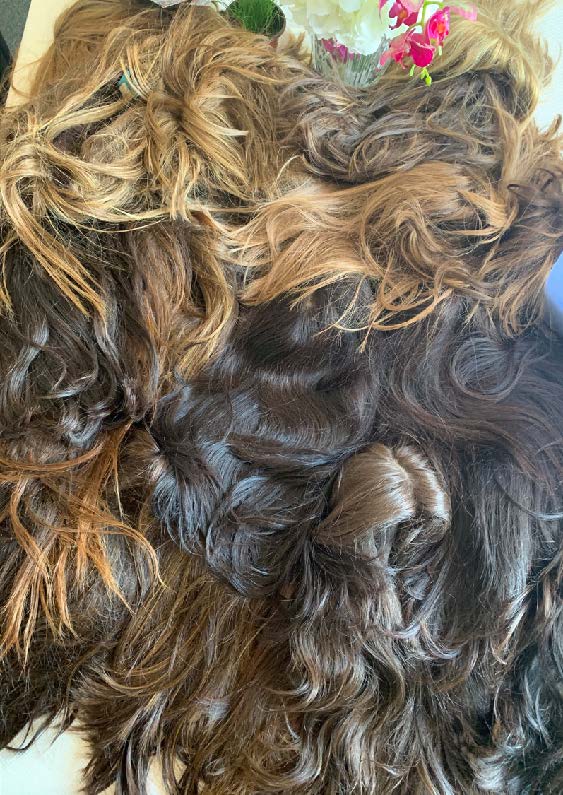 Frieda Schweky
The "wig world" – the term we might use for the industry of wigs for observant married women – has become very large, offering many outstanding options to choose from. It is also a very expensive operation, when we consider not just the price of a wig, but the costs of cutting, styling, coloring, and other adjustments, which all together can amount to thousands of dollars.
Recently, a new gemach (free loan organization) has been established to make it easier for women in our community to find a wig that is right for them without having to spend a fortune. This new organization joins the ever-growing list of wonderful gemachim that help countless community members with things from medicines to tablecloths to everything in between.
A Simple Idea – an Overwhelming Response
The gemach is the brainchild of Berta Thkifati and Margo Chalouh, who decided to launch the operation this past January, in memory of Louza Aliza bat Henriette. The idea is simple – to take wigs that women have, for whatever reason, stopped wearing, and put them to use. Many women can't afford the wig of their dreams, or even a lower-end wig, and so Berta and Margo decided to collect unused wigs in good condition and make them available.
"We started out calling many wig shops and salons in the Tri State area to see if they had any wigs they wanted to donate," Berta explained. "We were amazed by how many were eager to donate. With these generous donations from wig shops, the gemach was open for business.
The response to the new endeavor was overwhelming. Women from throughout the Tri State area reached out and drove to Brooklyn for appointments. These included new brides who couldn't afford a wig, married women who never covered their hair before and decided to take the step, and women with both financial and health issues.
Women from vastly different backgrounds and with vastly different needs and tastes have been helped by the gemach. Berta and Margo work very hard to accommodate everyone, while making visits strictly confidential. They graciously volunteer their time to help each client find a wig that suits her, and patiently show her how to properly care for it. They serve approximately 15-20 women each week.
Accommodating Everyone
The wig gemach requests a small fee to offset costs – a fee which amounts to a tiny fraction of the regular price of a wig – and limits each client to two wigs to assure fair distribution.
Serving so many women requires constant replenishing of the supply. Fortunately, generous women have donated wigs or money. Donations are often made in honor of somebody or in memory of a loved one.
"Sometimes people give a wig and specify that the wig be given to a woman who has only now decided to start covering her hair, or to a bride who cannot afford a wig," Berta says. "We are happy to accommodate such requests, as we know a donation can be quite personal."
They were once approached by a single mother who was diagnosed with a serious illness and needed to undergo emergency brain surgery. She was left with scars all over her head which made her son petrified to look at her. The bruises made it impossible for her to wear any of the wigs that the gemach had in stock, and so Berta and Margo set out to raise money. Within just 24 hours, they had received enough donations to buy this woman a brand new, lace top wig which was comfortable enough for her to wear. This is how far they were prepared to go to help a woman in need.
Another woman served by the gemach had not been able to purchase a wig in over 15 years due to financial constraints. The gemach enabled her to obtain a quality, brand-name wig, and she was overjoyed.
Berta and Margo feel privileged to help so many women fulfill this mitzvah without bearing a crippling financial burden. And they are proud – as we should all be – of the outpouring of support and donations by individuals and businesses in the community.
In order to help ensure a constant supply of quality wigs, the gemach is welcoming donations. The demand is high, and the gemach is eager to meet it. So, if you have a wig that you haven't worn in months, consider donating it – it may change a woman's life.
For more information about donating, please Venmo @berta-Yazdi with a note that it's a donation to the wig gemach, or text Margo at 917-478-5619. To make an appointment to pick out a wig from the gemach, please email bertayazdi@gmail.com.