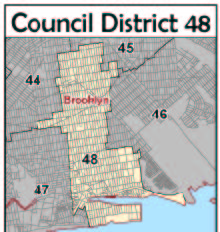 With Your Help
"Mariya Markh has worked year after year to solve neighborhood problems. She truly understands our neighborhoods and the issues we face everyday. She already knows how to do the job and will be able to make a difference right from the start. Join me in voting for Mariya Markh on June 22." Assemblyman Steven Cymbrowitz
My name is Mariya Markh and I'm running for City Council in the 48th Council District. I hope that I can count on your support in the June 22 Democratic Primaries, but first I would like to earn it by telling you my story.
I was born in Belarus, a country in Eastern Europe which, until 1991 was under the Soviet Union. In 1990, I immigrated to the United States like many other Jewish refugees. First we moved to Queens where I attended Yeshiva for a year, but the tuition was a financial burden on my family, so I was enrolled in public school, and was educated there until graduate school.
At age 8, my family moved to the Midwood section of Brooklyn – in the 48th Council District, where I have lived since. Today I live in Homecrest. I strongly believe that my familiarity with the district and the community of which I am rooted, gives me unparalleled knowledge, and understanding of it's needs.
While attending Brooklyn College, I got involved in politics after hearing a professor talk about a local race. I caught the political bug and worked on many campaigns. It brought me joy to work with the community.
I started working for the government over a decade ago, for City Councilman Lew Fidler. Councilman Fidler suggested that if I ever wanted to be a Council Member, I would need to learn every facet of the job. I worked on legislation, budget issues, events, scheduling, and most importantly, on constituent services. I was able to help thousands of people apply for safety net programs like food stamps, helped seniors freeze their rents or lower their property taxes, helped with missed trash pickups and the dismissal of unfair violations. I discovered that I enjoyed righting the wrongs of problems within government.
Community service was how I met my husband, Lenny Markh, whose passion for civic life matched my own. We married in 2016 in Sheepshead Bay, and were blessed with our daughter, Rebecca, soon after.
When Councilman Fidler was term limited, I accepted a position in Councilman Chaim Deutsch's office where I handled hundreds of constituent matters. My knowledge of City agencies, my compassion for people, and my skills, helped resolve some of the most difficult issues. I also helped train my coworkers on the best way to resolve the challenges our neighbors faced. I was fortunate to work with many community leaders to make the district a better place.
While working for the Council, my reputation for helping people and expertise led me to a job within the Administration where I was the liaison to the Russian-speaking community for the entire city and in Community Boards 13 and 15 in Brooklyn. This area covers Coney Island, Brighton Beach, Manhattan Beach, Sheepshead Bay, Gravesend and Midwood. I was not a believer in the Administration and would never describe myself as progressive, but having the ability to advocate, even as a voice of dissent, and to bring back resources was far more important than ideological differences. At no point was that more important than during the pandemic, when I was able to bring over half a million masks to the area, including to many Sephardic synagogues, businesses, and community organizations like the Sephardic Community Federation and the Sephardic Community Center.
I have worked with many synagogues and other houses of worship to make sure they get police patrols during holidays. I have made sure our houses of worship receive property tax exemptions so that congregants can worship in the same place for generations. I have ensured that synagogues have face masks so they can reopen their doors safely.
Now I am running for the City Council with the support of the people who I have long supported and who have seen my capabilities firsthand. My endorsements include the Sephardic Community Federation, Assemblymembers Steven Cymbrowitz and Helene Weinstein, District Leader Ari Kagan, State Senators Diane Savino and Andrew Gounardes, and many others.
I will work alongside the police, not against them. I will improve the school system to make sure every student gets the services they need, including special education, security, and school buses for both public and nonpublic schools. I will help property owners access programs to lower their property taxes. I will work to make sure businesses, senior centers, and our community facilities have the tools they need to reopen fully and safely.
I am running because I'm uniquely qualified in this race. I have the experience and compassion to make sure every member of our community is heard and respected. I understand how the City works and how to make it work for you. I'm running because I'm on your side and I'm ready to improve your quality of life from day one.
Paid for by Markh 2021