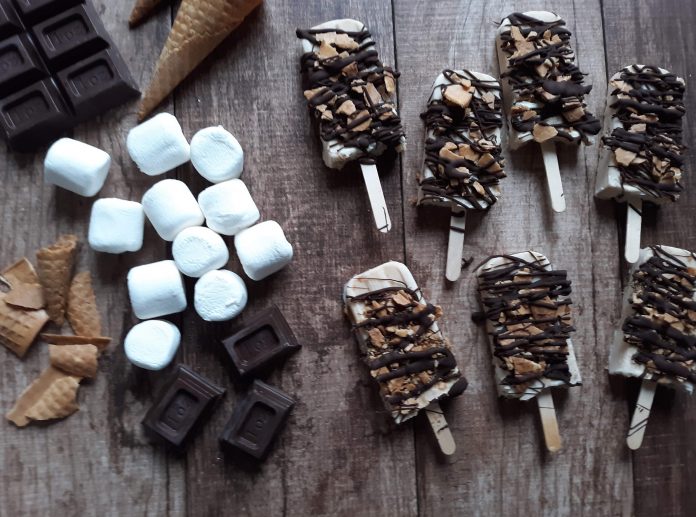 A fluffernutter is a sandwich made with peanut butter and marshmallow fluff and usually served on white bread. You can't go wrong with the classic combo of peanut butter and marshmallow. These popsicles are just like sinking your teeth into the creamiest peanut butter and fluff sandwich you can imagine. Plus, its topped with a crunchy layer of cracked sugar cone pieces and melted chocolate. What better way to usher in summer with this decadent and fun dessert that tastes like the fluffernutter sandwiches we loved growing up!?
Recipe:
2 cans coconut milk
1/2 cup sugar
1 cup fluff
1 cup peanut butter
1 tsp vanilla extract
4 sugar cones
1 cup mini marshmallows
6 oz. dark chocolate
1 tsp oil
Popsicle sticks
1. Place coconut milk, sugar, fluff, peanut butter, and vanilla in a food processor and blend until smooth
2. Crack the cones into small pieces with your hands. Save half on the side for garnish and use the remaining cracked pieces to place inside the popsicle molds along with the mini marshmallows.
3. Carefully pour the ice cream mixture inside the molds. Place popsicle sticks inside each mold and freeze for 7 hours or overnight
4. Melt chocolate with oil. Drizzle melted chocolate on top of the popsicle and sprinkle with remaining pieces of the sugar cone.