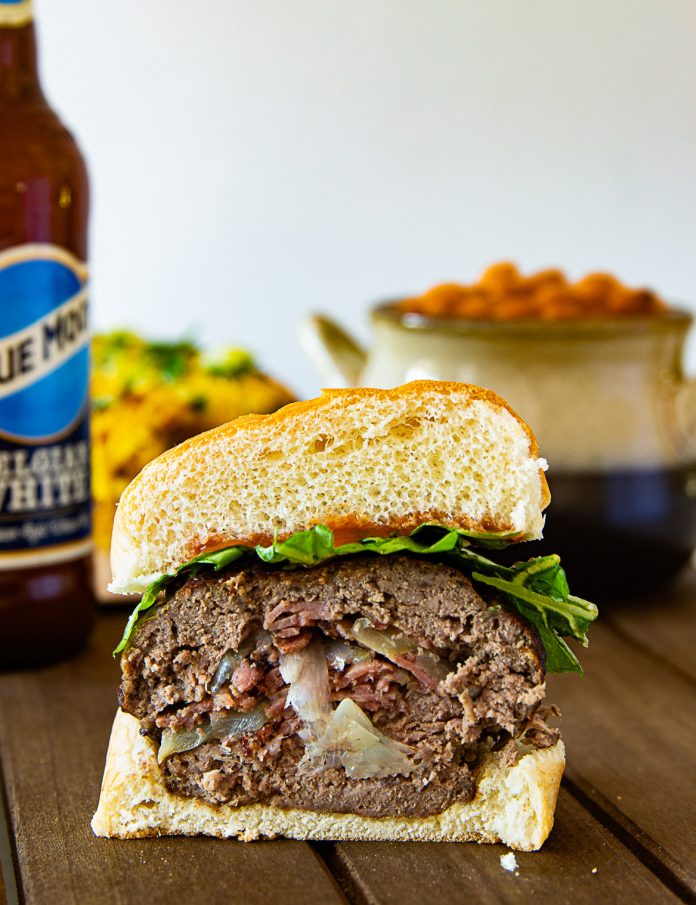 There is nothing like a nice BBQ after a long summer day. BBQ is one of my favorite dinners ever! And a BBQ leaves you with such warm memories. Here are some ideas to take your BBQ dinner to a whole new level.
Now, you can stuff your burgers with whatever you'd like. A few Ideas are: sautéed onions, jalapeños, and sautéed mushrooms. I usually make my own burgers, but you can use store-bought and then reshape them yourself.
For the Burgers:
1 lb. chop meat
1/2 grated onion
1.5 tbsp. Worcestershire sauce
1 tbsp. teriyaki sauce
2 tsp. parsley flakes
A sprinkle of allspice
Salt
1. Add all ingredients together in a bowl or foil pan and mix well.
2. Form patties to the size you'd like your burgers – but make sure half of them are a little thicker (you can probably make 4 patties from this amount of meat, which will be enough for 2 burgers).
3. Make a well (small indentation) in half of the patties (the thicker ones).
4. Sauté half an onion with approximately 4 slices of deli pastrami. Once sautéed, place the mixture into the well that you made in the patties.
5. Place a thinner patty on top and pinch together all around to close. Try to smooth out the outside to form a nice looking patty.
6. Grill based on how well-done you like your burgers.
Grilled Corn with Garlic Herb Oil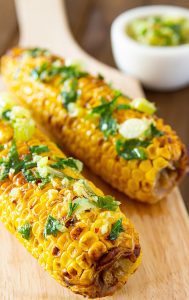 Boil fresh corn on the cob (that has been husked and cleaned of all silk) for around 10 minutes. Remove corn from the water, wrap individually in foil, and grill the ears for 10 minutes, flipping occasionally.
For the Garlic Herb Oil:
1. Heat up 1/3 cup oil.
2. Add in 2 cloves of crushed garlic and 1/2 tsp. crushed red pepper flakes.
3. Once the mixture becomes fragrant remove from heat and add in 2 sliced scallions, 1/4 cup chopped parsley, lemon zest, and lemon juice.
4. Brush the oil mixture over the grilled corn when ready to eat.
Baked Beans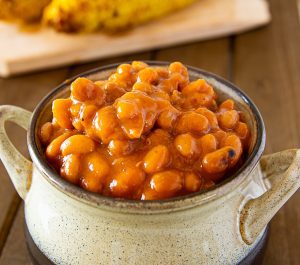 This recipe is really simple but takes hot dogs, hamburgers, and smoked brisket to the next level. Trust me!
1. Sauté a chopped onion in a little oil.
2. Add in a can of vegetarian baked beans (Heinz are my favorite).
3. Add in 2 tbsp. ketchup and 2 tbsp. BBQ sauce. Give it a good mix and let it cook on the stove for around 10 minutes to get the flavors incorporated.
4. Make sure to mix every few minutes to prevent burning.
____________________________________________________________________
Photo styled and photographed by Sarah Husney.
Sarah Husney is a food photographer servicing NY & NJ. She has clients from the food businesses in the community, upgrading their photos for Instagram and websites. She also takes photos for restaurants on UberEats, and is featured on Kosher.com for styling and photography. Contact info- 917 626 2991 /
@sarahhusney_foodphoto