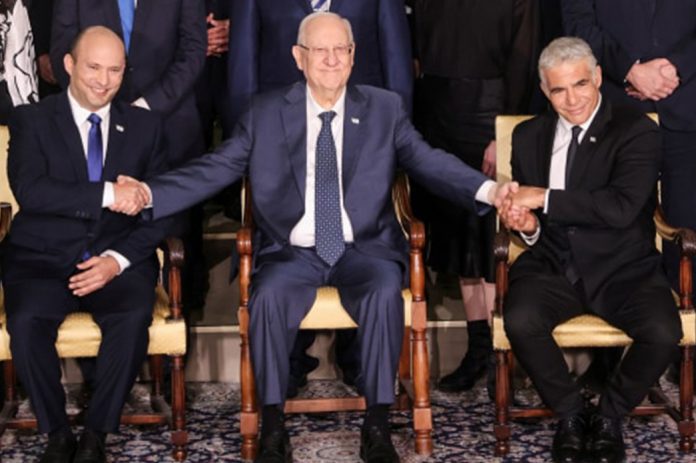 DAVE GORDON
"Israeli politics are pretty messy, actually." So said Israeli Prime Minister Naftali Bennett during a CNN interview, about a month before he became the new prime minister, ousting long-time leader Binyamin Netanyahu, by cobbling together the most unlikely coalition Israel has ever seen.
In May 2021, Israel was still fending off attacks from Hamas. In the midst of it all, the new government was formed, with a coalition comprised of members from the left, the right, Arab parties, centrists, and even former rivals. After four elections in two years, the Knesset finally had a majority, with the following parties: Yesh Atid, Blue and White, Yamina, Labor, Yisrael Beiteinu, New Hope, Meretz, and United Arab List. Bennett is scheduled to hand off the prime minister position to Yair Lapid in two years in a scheduled rotation.
There has been speculation whether this motley group came together to knock Netanyahu off his perch, to avoid another election, or to further a different path. One thing is certain: it tied a bow around what has been forty-five years of Netanyahu's political life.
Netanyahu's History Rising to the Helm
Netanyahu eloquently defended Israel in the court of public opinion since 1978.
Twenty-eight -year-old Netanyahu debated the conflict between Israel and the Arabs for a Boston television broadcast. He said that "self-determination" for the Palestinians was a fiction fed to a gullible public. "The real core of the conflict is the unfortunate Arab refusal to accept the State of Israel. For 20 years the Arabs had both the West Bank and the Gaza Strip, and if self-determination, as they now say, is the core of the conflict, they could have easily established a Palestinian state, but they didn't," he said. "What we're talking about here is not the attempt to build the state, but to destroy one." This could have easily been said in 2021.
In 1984, Netanyahu was Israel's representative to the UN. He later held various positions in the Israeli government; and in 1996 defeated Shimon Peres, serving three years as prime minister.
On Netanyahu's watch, Israel became "The Start-Up Nation." The water deficit turned around into a water surplus. Israel's petrol dependency ended, and the country became energy self-sufficient. And its military gained the upper hand with the Iron Dome.
Netanyahu lost the 1999 election to Ehud Barak, but a decade later won again, becoming the longest serving prime minister in Israel's history.
In 2001, in the midst of the Second Intifada, Netanyahu stated, "It is not a war of armed brigades, it is a war of bombers, snipers, murder, and terror. We are not engaged in a peace process. We wanted peace. Arafat wanted an entirely different agenda. He wanted a peace with no Israel. Not a peace next to Israel."
This became fully evident after the Camp David failure in 2000, when Arafat set off a wave of terror. "We will not yield territory to somebody who overtly espouses the destruction of Israel and teaches hatred and fanaticism to the Palestinian children," Netanyahu declared at the time.
"If this were really a dispute about territory, then it would have been solved long ago."
In 2012, Netanyahu gave a memorable speech at the UN, reprimanding the world for turning a blind eye to Iran's nuclear ambitions. Netanyahu brandished a cartoon drawing of a bomb with a lit fuse, and a red line drawn through it, an illustration of how close the Islamic Republic could be to building an atomic bomb.
One of Netanyahu's last major initiatives was the Abraham Accords. The United Arab Emirates and Bahrain have normalized relations with Israel, and closer relations were forged between Morocco, Saudi Arabia, and Sudan. These new improved relations with Arab countries demonstrated that peace between Israel and her neighbors is possible, and need not be predicated on solving the Palestinian issue.
Naftali Bennet – The Rival Successor
Bennett, 49, began his political career as Chief of Staff to Netanyahu until 2008. As a member of the Knesset, Bennet moved through various portfolios, from Minister of Diaspora Affairs, Minister of Education, Minister of Defense, and leader of the New Right party.
Shortly before formally signing the coalition agreement, Bennet took to the podium to assure Israelis the following, "Some people might think this won't be a right-wing government. I assure you; this will be a very right-wing government." Some might be comforted to know that he was able to find common ground with disparate factions. Also, it is a good sign that he is the first Torah-observant PM, and will hopefully apply Jewish religious values to his leadership.