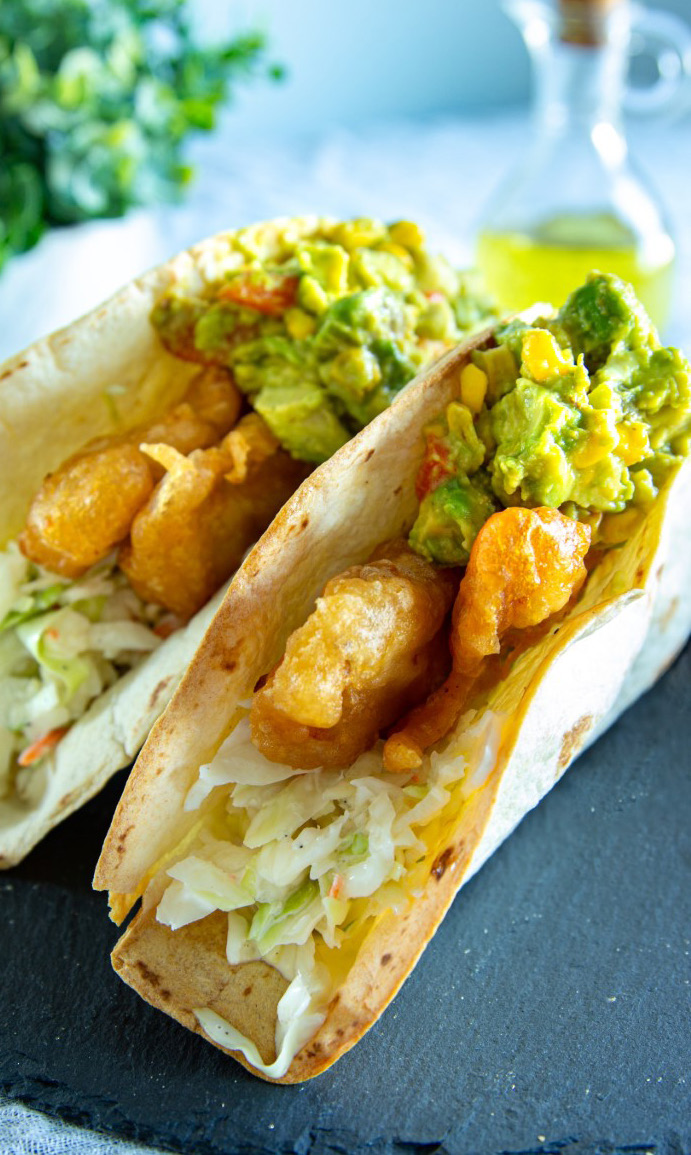 This meal just screams summer! Nothing better than these beer-battered fish tacos. I always pair them with avocado corn salad and coleslaw.
Beer-Battered Fish
1. Use either flounder or tilapia and cut into strips.
2. For the batter start by combing all-purpose white flour with seasonings. I like to use chili lime spice. Or you can season with salt, garlic powder, and paprika instead.
3. Add in any beer you have on hand until your batter reaches the consistency of pancake batter. You do not want it to be runny. It should be more on the thicker side.
4. Marinate the fish until you're ready to fry them.
Avocado Corn Salad
1. Roast a bag of frozen corn. Lay the corn (no need to defrost) on a tray sprayed with Pam.
2. Drizzle 1 tbsp. oil on top, and season with 1 tsp. salt and 1/2 tsp. garlic powder. Mix it all together. Bake at 350 degrees Fahrenheit for around 35 minutes until the kernels look nice and roasted.
3. Now for the red pepper. You can use the jarred ones but I always prefer to make them myself. Cut a red pepper in half the long way. Take out the seeds and bake face-down on a tray lined with parchment paper. Bake at 450 degrees for around 20 minutes until the outer skin starts to get black and blistery. Cool and then peel off the skin. It comes off very easily. Cut the roasted pepper into small pieces.
4. Mix all ingredients together (you won't need all the corn – leave the rest to snack on). You can also add in a seeded cubed jalapeño pepper for a little extra heat.
5. Dress the salad with 1/2 cup lemon juice, 2 tbsp. olive oil, 1 tsp. salt, 2 tsp. garlic powder, and 2 tsp. cumin.
Coleslaw
Make a basic coleslaw. I use the ready-bagged coleslaw mix and dress it with 1/2 cup mayonnaise, 1 tbsp. sugar, 1 tbsp. white vinegar, 1 tsp. salt, and my secret (or not-so-secret) ingredient is 1 tsp. celery seeds. Mix together and let it marinate until you're ready to assemble!
Taco Shells
You can use a regular corn taco shells but I like to make my own. I use my favorite tortilla wraps and put them in the oven in between the oven racks to make the taco shell shape.
Bake wraps at 350 degrees for around 15 minutes until they start to harden.
Now assemble your tacos right before serving and enjoy!
_____________________________________________________________
Photo styled and photographed by Sarah Husney.
Sarah Husney is a food photographer servicing NY & NJ. She has clients from the food businesses in the community upgrading their photos for Instagram and websites. She also takes photos for restaurants on UberEats, and is featured on Kosher.com for styling and photography. Contact info: 917 626 2991 / @sarahhusney_foodphoto.