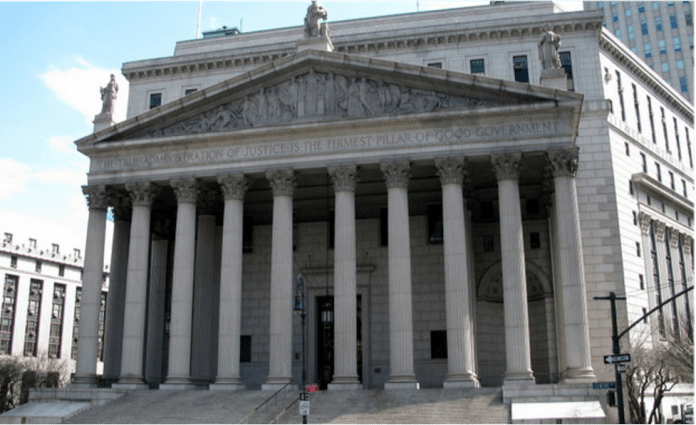 Judge Gina Levy Abadi, an Orthodox woman, will be the newest judge to join the Kings County Supreme Court. She says she is the first in this position to be the child of parents who both were Jewish refugees from Arab lands.
"I think it was very important for the Orthodox community to get an Orthodox Jew in," Levy Abadi says, "because there were so many that left the bench." She proudly adds that her deep understanding of her community's practices and beliefs "help me make a better decision than, maybe, someone else would have made."
"They Put Every Penny Toward Our Education"
Justice Levy Abadi credits her professional accomplishments to her parents' passionate commitment to education. Originating from authoritarian Middle Eastern countries, they wanted for her what they could not receive.
Her father, David, a native of Egypt, and her mother, Ivette, originally from Syria, both fled the persecution in the 1970s, arriving in the United States as refugees.
As youngsters, neither was afforded the opportunity to complete high school. Ivette's school burned down, and classes discontinued after that. David's father died at an early age, and David was tasked to find gainful employment in ninth grade to help the family.
"Education was very important to give their children, because they were never able to complete even high school," the justice says. "My father came to this country and took a very humble job. He didn't have the education to go work in an office and 'wheel and deal.' They did what they could. They put every penny toward our education. That's always in my mind, what he and she both sacrificed for us."
About a quarter-century ago, Levy Abadi graduated from Brooklyn College, and later, from Brooklyn Law School, something she says bucked the norms at the time, when women in the community mostly focused on family over professional life.
"I'm proud to say, now, more women go to college… Again, because my parents didn't finish school, they wanted me to have something to fall back on."
Helping, Instead of Imprisoning
She worked as a law clerk for 17 years under Justice Donald Kurtz in the Civil Court, and later in the Supreme Court. She then became a judge of the Kings County Civil Court, a position she filled for six years. In 2019, she served as a civil court judge, and later that year, as criminal court judge.
There were times, Levy Abadi noted, where she was especially proud of rulings that were less punitive and more compassionate. In one example, a serial thief with a drug abuse problem kept returning to her court, and rather than cycle him in and out of prison, she steered him towards counseling.
"I'm proud of the times we can get people help, so they aren't coming back to court every week. Sometimes, throwing them in jail – we try that, and they go out and steal again, because they have to pay for their drugs. That's a lot of cases that I saw. So, I'm proud when I can help them."
Juggling Career, Family & Religion
Over the course of the Levy Abadi's career, being religiously observant required some skillful scheduling maneuvering.
During her stint as a criminal court judge, she was assigned Saturdays as a work day, which she then switched with colleagues in exchange for the night shift. Or, her supervising judge would cover for her. On occasion, she said she had to take chunks of Fridays off to cook for her family, and hop in a cab the moment Shabbat ended to get to court in time. She also noted there were female Orthodox attorneys who had to rearrange court dates because of Shabbat preparation or Jewish holidays. The more exposure the public has to these religious observances, she says, "it becomes less strange" to them.
"It Turned Out Better Than I Thought"
Upon the passing last year of Judge Noach Dear (also an Orthodox Jew), a seat opened on the New York Supreme Court, and Levy Abadi pursued the position. The application process for a Supreme Court position is lengthy and detailed, she says, and includes outlining the minutia of cases, and an intense interview process. Then the prospective candidates are voted on. Councilmember Mark Treyger, who represents Coney Island, Gravesend, and Bensonhurst, put forward the nomination, which was supported by Brooklyn Democratic Party Chair Rodneyse Bichotte.
"You can't do something like this on your own; you need the support from all of Brooklyn," she says. Justice Levy Abadi credits many people with helping through their support and lobbying efforts, such as Ari Kagen, District Leader David Schwartz, Sam Sutton, Ron Tawil, local neighborhood leaders, and leaders of the Sephardic Community Federation.
And, of course, there is somebody else whom she thanks.
"I have to tell you, if not for Gd, I would never be where I am," she says. "I feel like Hashem always had a plan for me, even when I didn't see it, or I was down." Last Rosh Hashanah, the justice recalls, she prayed for a good year, and to be able to serve on the Supreme Court. "It turned out better than I thought. I got better than what I asked for."
Now, it has come full circle, as she feels it her duty to inspire her own children to follow their passions, and pursue their goals – and showing them that the work/family balance is possible.
"I have three kids. I brought them to the court to see me. Honestly, it was a shock – in a black robe, making decisions that affect people's lives. It's the same lady that is rolling the grape leaves so they can have a wonderful Shabbat. That's the same lady in the robe. That is something important, I think, for young women to see in any community across Brooklyn."