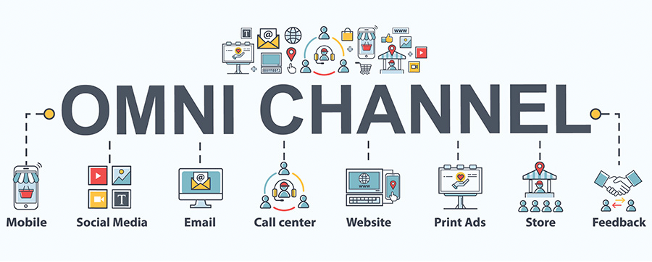 SAMUEL HADRIYE
For the past few years, big-box retailers such as Kohl's, Walmart, Macy's, and others have been taking a beating, while, on the other hand, Amazon sales have been booming, due to consumers flocking to Amazon's revolutionized online shopping. The online retail market has been growing exponentially every year, seeing increases in the numbers of people shopping online, while brick-and-mortar retailers have been feeling it, with decreasing amounts of in-person visits to their stores.
The concept of buying something from the comfort of your own home, while relaxing on your couch, using your phone, and then having it delivered free of charge the next day – sometimes even the same day! – is a strategy that has helped grow Amazon into the big retail monster that it is today.
Now factor in the fears and restrictions people faced during the recent pandemic. The reality of people staying at home and not being able to go out to shop freely pushed down the already dwindling in-store shopping stats. The enhanced online shopping experience made the way for online giants to take over. To put things into perspective, online sales during Memorial Day in 2020 jumped 75%, from $2 billion in 2019 to $3.5 billion in 2020 according to Forbes Magazine. In the first three months of 2021, Amazon sales were up 44% from the same period last year according to the NY Times.
Retailers Jump on the Online
Marketing Bandwagon
In an infamous purchase back in September 2016, Walmart acquired Jet.com for $3.3 billion, stating that they would be utilizing Jet.com's infrastructure for their own online selling. This attempt was meant to jump-start Walmart on to the path to compete with Amazon. But while classic retailers have always had the model of holding physical stock for their stores, how could they compete with Amazon if they have so much overhead, and most of their money is tied up with inventory?
Enter vendor-fulfilled programs. Every retailer might call it something else. Walmart has its DSV program – Drop-Ship Vendor. Boscov's would call it SDF – Supplier Direct Fulfillment. Retailers have their vendors post their inventory to the retailer's site and the vendors must be able to retrieve the orders themselves and fulfill them on behalf of the retailer. Great idea! However, this now needs an infrastructure for the retailer to be able to monitor and manage this partnership. Some retailers have created special teams or expanded their buying and IT departments to help accommodate this new opportunity, building out EDI, or API connections for their sites to help automate the fulfillment process and all that goes along with it. For example, Kohl's partnered up with DSCO in 2019 to handle this infrastructure for them. Other big retailers such as Best Buy, Chewy, and Staples partnered up with a company called CommerceHub, which acquired DSCO this past November.
Vendors Challenged to Get Inventory
Out and Meet Retailer's Demands
Going into the 2021 4th quarter has not been easy. With ports being shut to import goods, and containers being docked in the water for weeks longer than anticipated, vendors are struggling to have inventory ready. This is evident if you stop by your local big-box retailer, where you will notice a lot of empty shelves. Even so, the forecasts for the 2021 4th quarter predict an overall 2.7% increase in sales compared to last year's 4th quarter, and Forbes predicts that 18.9% of this will be accounted for by e-commerce/ online retail. E-Marketer.com anticipates that e-commerce sales will rise 11.3%.
There are a growing number of options available to help vendors meet their retailer's demands for direct drop-ship vendors. But there is not a one-size-fits-all solution for everyone. Some platforms such as Shipstation (a Stamps.com subsidiary) allow a vendor to collect and bring in their orders, process them, and send back shipping information to the retailer's site for consumer access, via their third-party partners, but Shipstation will not maintain other aspects such as updating real-time inventory. Other programs can update and maintain vendor inventory on one retailer site but may not give the option of sharing that information across all of the retailers they are set up with. Finding the right solution is critical in order for companies to maintain a good relationship with their customers, take advantage of this wildly growing trend and increased sales, and not hurt their basic day-to-day operations. Depending on how the vendor company operates, it will take time and experience to find the right solution to make this opportunity a successful venture.
YJS Solutions empowers organizations to embrace new strategies in marketing, distribution, and E-commerce. They can be reached at 646-437-8879.