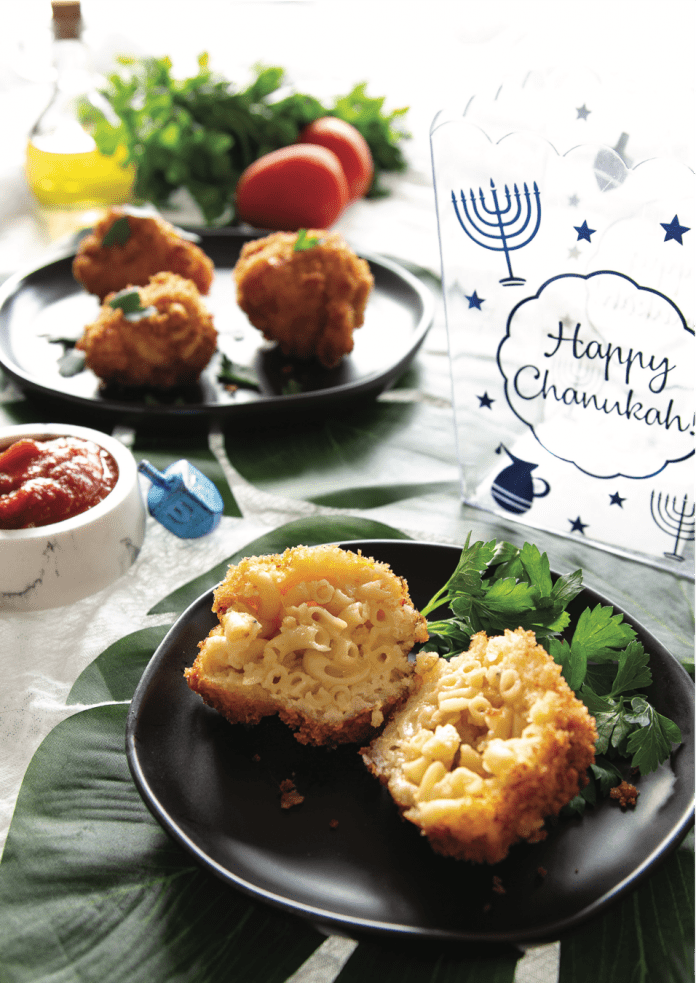 By Susan Zayat
What's a Hanukah meal without some yummy fried food? Here is a fun twist to a classic dish that's perfect to enhance any Hanukah meal! Best part is, they can be made in advance, up until the last step. I hope you enjoy!
1 box elbow noodles
Butter
Flour
Milk
Cheddar cheese
Eggs
Marinara sauce
Boil a box of elbow noodles. Drain, and set aside. In a separate pot melt ¼ cup butter. Add ½ cup of all purpose flour and mix until it turns a light brown color. Add 1 cup of milk and mix until thick. Add ¾ cup of shredded cheddar cheese adding a handful at a time mixing in between. Mix until mixture is melted and smooth.
Add the sauce to the cooked noodles and mix well. Transfer to an airtight container and place in the refrigerator for at least 1 hour.
Roll cold noodles into tight balls. If it's not sticking together, then put it back in the fridge for a little while longer and roll them out again.
Once rolled, put on a parchment lined paper for at least one hour.
At this point you can make these in advance and do the following step before serving.
Beat 2 eggs with ½ cup of milk. Dip the frozen Mac N Cheese balls into the egg mixture, then into panko crumbs, back into the egg mixture and then again into the panko crumbs. Making sure it is covered really well.
Now for the fun part, deep fry! Leave them until they turn a nice golden color. Drain the excess oil on a cooling rack, heat up your favorite marinara sauce and use as a dipping sauce, and enjoy!
Recipe by Susan Zayat. For more recipes and ideas follow @Hungrymom on Instagram. Check out her amazing homemade spelt sourdough for sale.
Photo styled and photographed by Sarah Husney. Sarah Husney is a food photographer servicing NY & NJ. She has clients from the food businesses in the community upgrading their photos for Instagram and websites. Contact info: 917 626 2991 / @sarahhusney_foodphoto.