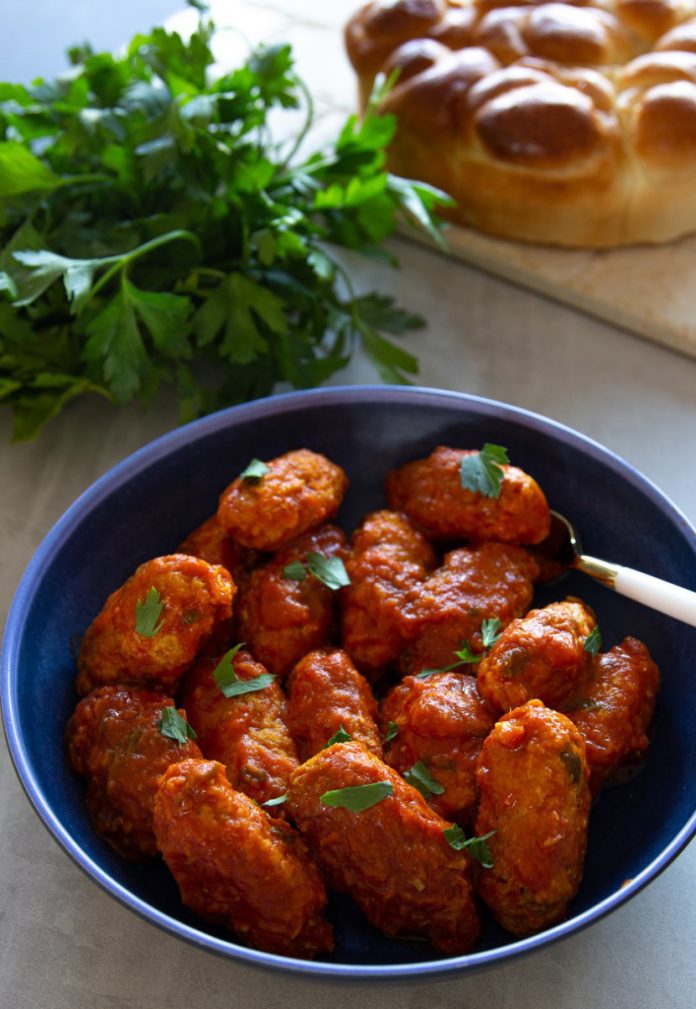 Growing up, we used to eat by my Nono and Nona (grandpa and grandma) almost every Friday night. My Nona is one of the best cooks I know! She always has a beautifully set table with the most delicious foods. One of my favorites (but it's so hard to say that, because really everything she makes is my favorite) are her fish patties. It was such a treat when we saw it coming to the table. Last summer I asked my Nona to teach me in person how to make them. She made sure to measure out each ingredient for me so I can have the exact recipe. I'm happy to share it with all of you. It will definitely enhance your Shabbat meals!

This recipe needs ground fish. You can either order it ground or Nona gave me an excellent idea to do if you can't get the fish already ground.
Boil 3 lbs of flounder until fork tender. Drain the fish and mash. Add the ground fish to a bowl and add in:
3 eggs

1/2 a bunch of cilantro (I used parsley)

1.5 tsp cumin

2 tsp salt

1/2 tsp crushed red pepper flakes

6 tsp matzo meal

Sprinkle of paprika

Sprinkle of turmeric

8 cloves crushed garlic

Mix well and form into little logs.

Pan fry them and set aside



At this point you can freeze the fish and take out when needed. All you have to do is prepare the sauce. However, you can also freeze the fish in the sauce already. I've done it, and it stays fine!

Now for the sauce:
5 cups of water

6 tbsp lemon juice

1 can of tomato paste

Sprinkle of crushed red pepper flakes

1 tsp cumin

1.5 tsp salt

Sprinkle of turmeric

Sprinkle of paprika

Bring to a boil and add in the fish logs.

Lower to a simmer for 35 minutes.
Recipe by Susan Zayat. For more recipes and ideas follow @Hungrymom on Instagram. Check out her amazing homemade spelt sourdough for sale!
Photo styled and photographed by Sarah Husney. Sarah Husney is a food photographer servicing NY & NJ. She has clients from the food businesses in the community upgrading their photos for Instagram and websites. She also takes photos for restaurants on UberEats, and is featured on Kosher.com for styling and photography. Contact info: 917 626 2991 / @sarahhusney_foodphoto.