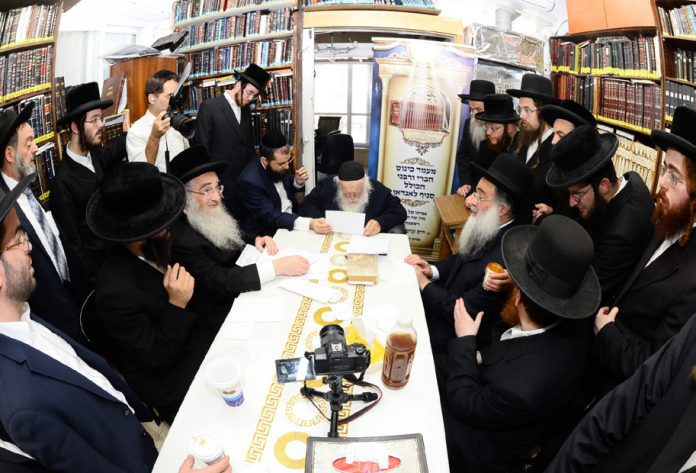 Special Lechaim held in the home of Rav Chaim Kanievsky, shlit"a
One of the highlights of this year's annual gathering of Shas Yiden, which included oral exam on the entire Shas as well as an emotional Siyum Hashas celebration, was the participation, for the first time, of the contingent from London, UK. Shas Yiden-London was opened a year-and-a-half ago by the Pozna Rav, founder of Shas Yiden, with the encouragement of HaRav Chaim Kanievsky, shleit"a, Nasi of Shas Yiden.
The London Shas Yiden geonim landed in Israel together with the patron of Shas Yiden-London, the honored philanthropist Reb Yisroel Moskowitz, shlit"a. Two of his sons-in-law are among the Shas Yiden geonim – HaRav Avrohom Dov Olevsky, shlit"a, formerly one of the top scholars in Shas Yiden in Jerusalem, who now serves as the Rosh Kollel of Shas Yiden-London; and HaRav Yisroel Shvirtz, shlit"a, who learns in Shas Yiden in Jerusalem.
The London scholars joined all the other Shas Yiden geonim from Jerusalem, Bnei Brak, Beit Shemesh, Beitar and Kiryat Sefer at the incredible public exam on the entire Shas. Just a few minutes into the exam, it became clear to everyone in attendance that they all shared a comprehensive knowledge of all tractates of the Talmud. Their remarkable achievements have earned them great acclaim in the Torah community, and have dispelled the misconception that thorough knowledge of Shas lay only with scholars of bygone times. The addition of Shas Yiden-London, whose members faced the same rigorous testing as their colleagues in the five Shas Yiden kollelim in Eretz Yisrael, has shown that such achievements are possible also in the Diaspora.
A special and unforgettable moment for the Shas Yiden-London avreichim during their Israel trip took place the morning after the exam and siyum celebration, when they were invited to a special lechaim in the home of HaRav Chaim Kanievsky, shlit"a. Maran expressed his great excitement at the establishment of Shas Yiden branches in the Diaspora, and made an exception to his normal practice by drinking a "lechaim" with the distinguished visitors. Thereafter, each of the young scholars was privileged to meet with Rav Kanievsky individually. He blessed each avreich that he should continue rising to ever greater heights of Torah scholarship.