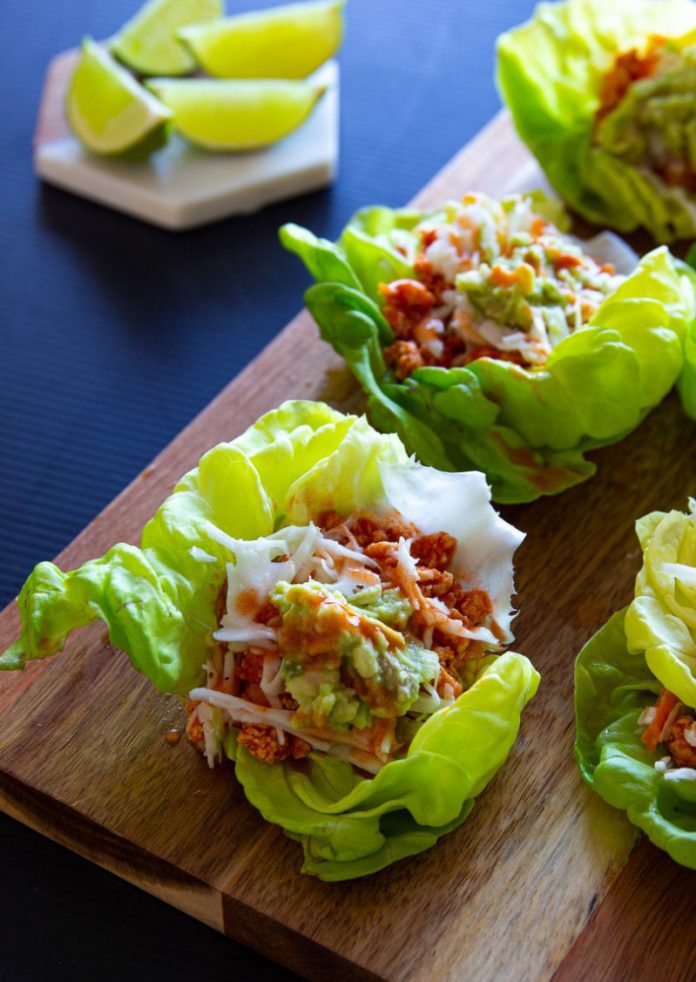 By Susan Zayat
This is a fun way to change up the basic Asian type chicken lettuce wraps!
Ground chicken

Tomato sauce

Brown sugar

Vinegar

Frank's hot sauce
Brown 2.5 lbs. chop meat until cooked through. Add in two 15-ounce cans of tomato sauce, 4 tbsp brown sugar, and 1.5 tsp white vinegar. Cook for around 20 minutes on medium heat, mixing every few minutes. I usually serve it to my kids at this point. When I'm reheating it to serve to my husband I add in around 2 tbsp of Frank's hot sauce. It takes these tacos to the next level. (Add more or less depending on taste.)
Assembly:
I like to use Butter lettuce. The soft smaller leaves make it easier to eat and serve.
Lay some guacamole on the lettuce, a spoonful of the buffalo chicken mixture, some Cole slaw, more guacamole, and you can finish off with a drizzle of hot sauce. You can have fun with the toppings and also add jalapenos, pickled onions, parve sour cream etc.
This chicken mixture can also be served over rice, in a taco, or sloppy joe. Either which way it is always a hit!
Recipe by Susan Zayat. For more recipes and ideas follow @Hungrymom on Instagram. Check out her amazing homemade spelt sourdough for sale.
Photo styled and photographed by Sarah Husney. Sarah Husney is a food photographer servicing NY & NJ. She has clients from the food businesses in the community upgrading their photos for Instagram and websites. She also takes photos for restaurants on UberEats, and is featured on Kosher.com for styling and photography. Contact info: 917 626 2991 / @sarahhusney_foodphoto.