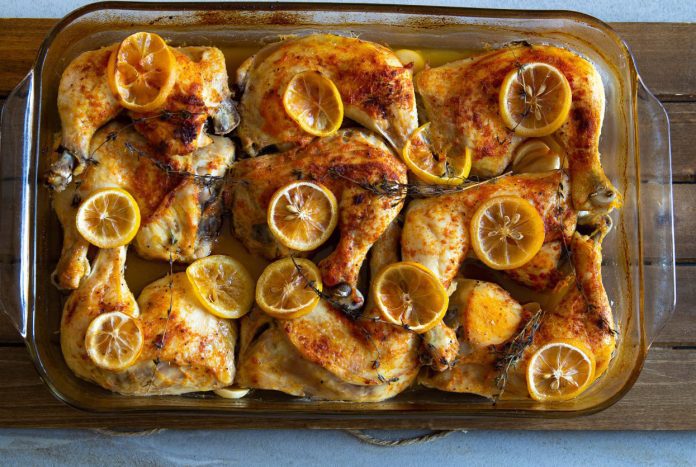 This is one of my favorite chicken recipes. It's light, easy, and just so fresh tasting! The garlic cloves on the bottom get so soft and yummy, adding great flavor! 
Chicken thighs 
Garlic cloves 
Salt 
Garlic powder 
Paprika  
Onion powder 
Black pepper 
Lemons 
Thyme  
Put around 30 cloves of peeled garlic on the bottom of a roaster.

 
Make a spice mixture of 2 tbsp salt, 1.2 tbsp paprika, 1.5 tbsp garlic powder, 1 tbsp onion powder, and 1 tsp black pepper.

 
 Drizzle chicken breasts with olive oil, and then rub some of the spice mixtures all over. Try to get it under the skin. Lay the chicken legs over the garlic cloves.

 
Slice lemons thin and randomly scatter them over the chicken thighs. Do the same with some fresh sprigs of thyme. 

 
Drizzle 1-2 tbsp olive oil over the chicken, and a freshly squeezed lemon.

 
Cover and bake on 375 degrees Fahrenheit for 1 hour and 45 minutes. Uncover and bake an additional 10 minutes.