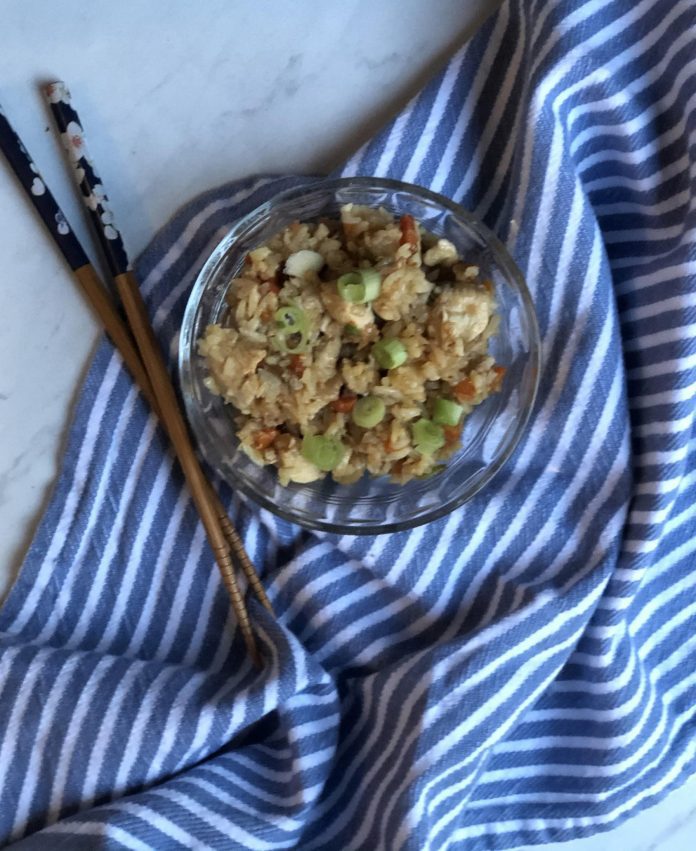 Have leftover rice? This Chinese inspired dish is a perfect way to repurpose rice into an entirely new dish. In fact, chicken fried rice works better with leftover rice that's been refrigerated. Working with cold rice ensures less clumps and sticky balls of rice. If you're in a rush, you can make fresh rice, place it on a flat baking tray and place it in the freezer or fridge until chilled. The addition of chicken in this one-pot-meal recipe serves as the protein, but feel free to skip if you want to keep it parve. This recipe is quick, easy to make, and  bursting with flavor.  
3 tablespoons oil  
1 lb. chicken cutlets, diced 
2 medium carrots, peeled and diced 
2 onions, diced 
1/2 cup frozen peas 
3 cloves garlic, minced 
Salt and black pepper 
4 cups cooked and chilled rice  
5 scallions, thinly sliced 
3-4 tablespoons soy sauce 
1-2 teaspoons toasted sesame oil (optional) 
INSTRUCTIONS 
Heat oil in a large sauté pan over medium-high heat. Add diced onion and cook for about 5 minutes until caramelized. Add carrots and cook for another five minutes until soft.

 
Add diced chicken and sauté for 5-10 minutes, until cooked through. 

 
Add peas and garlic, and season with a generous pinch of salt and pepper. Add cooked rice, scallions, and soy sauce, and stir until combined. Continue sautéing for an additional 3 minutes to fry the rice, stirring occasionally. 

 
 Remove from heat and stir in the sesame oil until combined.  Taste and season with extra soy sauce, if needed.

 
Top with some more scallions, serve warm.