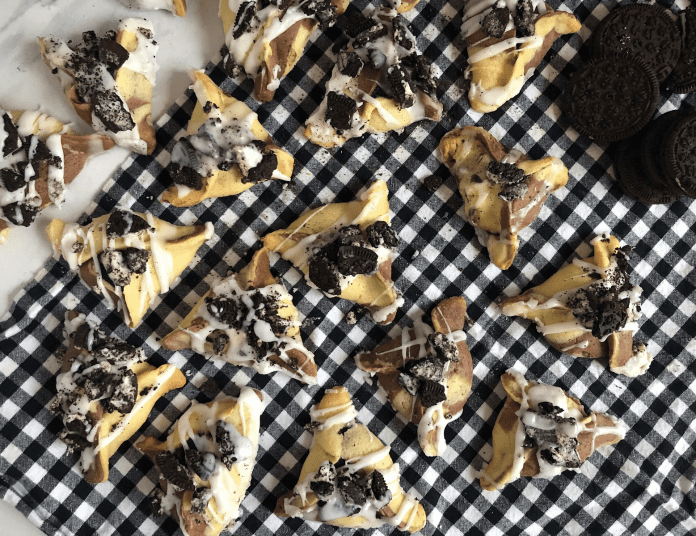 Hamantashen is the triangular filled pastry connected to the Jewish holiday of Purim. The name refers to Haman, the villain in the Purim story. In Hebrew, hamantashen are also known as "Oznei Haman" which mean Haman's ears. While the oldest and most traditional filling is poppy seeds, with prune butter and assorted jellies coming in second and third, recent years have bakeries selling every flavor under the sun. This recipe uses a vanilla and chocolate marbleized dough with Oreo butter inside, virtually creating a cookie within a cookie once baked.
Dough Ingredients:
5 cups flour
4 eggs
1 cup sugar
1/2 cup oil
1 tsp vanilla
2 tsp of baking powder
½ cup cocoa powder
Filling:
15 Oreos
¼ cup almond milk
Topping:
2 tbsp hot water
1 cup confectioner's sugar
6 Oreos, crushed
Beat together eggs and sugar. Add flour, oil, vanilla, and baking powder and mix well.
Remove half the plain dough and set aside. Add cocoa powder to the remaining cookie dough and mix well.
To create the marbleized black and white dough, alternate placing both chocolate and vanilla cookie dough side by side on your rolling surface, and roll out together.
Use the edge of a glass cup to cut dough into circles.
Blend Oreo filling ingredients in a processor and then place 1 tsp Oreo butter in the center of each and pinch three corners to create the hamantashen shape.
 Bake for 10 minutes on 350 degrees Fahrenheit.
When hamantashen are cool, mix together 2 tbsp hot water and 1 cup confectioner sugar until clumps are gone. If consistency isn't thick enough, add one tsp hot water at a time. If it's too thin, add one tbsp confectioner at time until its thick enough to pour..
Drizzle frosting on top of cooled hamantashen and sprinkle with crushed Oreos.