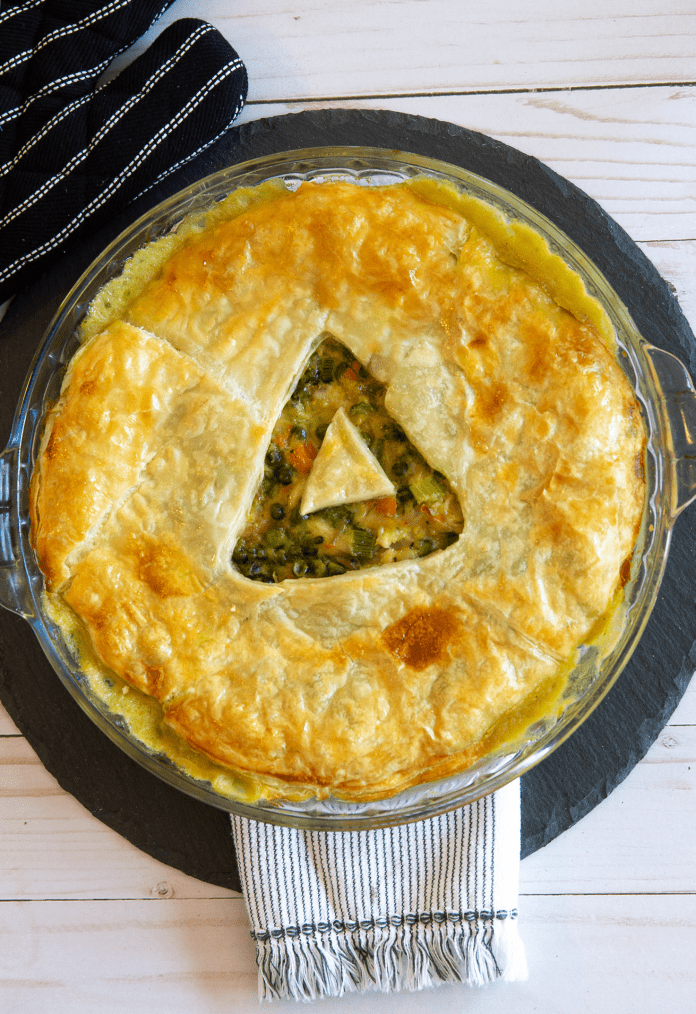 Here's a classic, delicious dish, that can be added to your Purim Seuda, adding a little festive touch to it.
3 tbsp oil
3 cloves crushed garlic
1 bag frozen peas and carrots
1 diced onion
3 stalks celery
1/3 cup all-purpose flour
1 ¾ cup imagine no chicken, chicken broth
½ cup soymilk
2 lbs. boneless skinless chicken breast
3 tbsp salt
Puff pastry dough
1 beaten egg
In a pot sauté an onion, once translucent add in peas, carrots, celery, and garlic. Cook until the carrots are tender. Stir in the flour and mix until the vegetables are coated. Mix for a few minutes. Slowly add in the chicken broth a little at a time, and keep on mixing to avoid clumping. Once its smooth finish pouring in the broth and add in the dairy free milk.
Cube the chicken breasts and sauté in a separate pan. Once cooked through add it to the mixture and simmer over  medium heat until thick like gravy. Season with salt and pepper.
Transfer to a Pyrex. I used a round over here, but you can put it into a savory pie crust. Roll out a sheet of puff pastry, cut out a triangle as a hamantashen, and carefully cover the Pyrex, where the filling is in. Cut another small triangle and lay inside of the bigger triangle to resemble a hamantashen. Brush with egg wash. Bake on 375 degrees Fahrenheit for 30-35 minutes until crust is golden brown.
Recipe by Susan Zayat. For more recipes and ideas follow @Hungrymom on Instagram. Check out her amazing homemade spelt sourdough for sale.