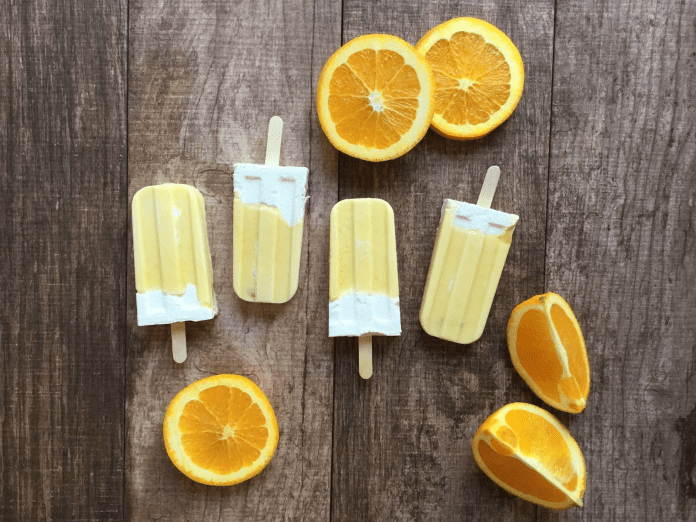 ADINA YAAKOV
Nothing beats the summer warmth quite like a refreshing cold treat. This creamsicle recipe uses 
tangy orange juice concentrate along with sweet vanilla cream, which results in a satisfying 
combination of sweet but tart. Be sure to make a double batch to keep in your freezer for 
whenever your sweet tooth strikes. Please note that the orange juice concentrate in this recipe 
is not reconstituted, it is blended with coconut milk and sugar to make the orange sorbet. 
 
Recipe:
2 cans coconut milk
1 cup sugar
1 can Pure Frozen Orange Juice Concentrate with No Pulp
1 8 oz container of non-dairy topping (like RichWhip)
1 tsp vanilla extract
 
Directions:
1. Whip non-dairy topping according to instructions with vanilla extract until stiff peaks form.
Set aside.
2. Place coconut milk, sugar, and slightly thawed orange juice concentrate into a food
processor and blend.
3. Carefully pour orange/coconut mixture into about ¾ of the ice pop molds. Place Whip on
top of the coconut/orange mixture, being careful to fill and press down to prevent any air
pockets.
4. Place the popsicle stick inside and freeze for 7 hours or overnight. Run warm water over
the mold to remove ice pop.  
Keep frozen in an airtight container separated by parchment paper until ready to serve

.