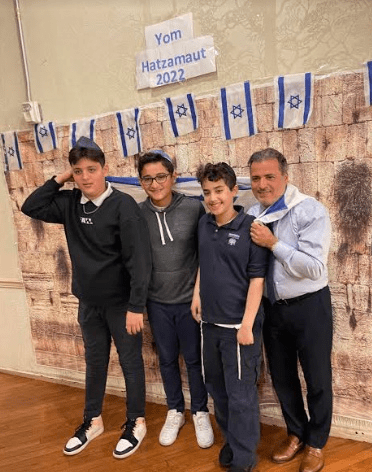 For nearly 50 years, the Yeshiva of Belle Harbor (YBH) in the Rockaways served as a beacon of high-level Torah education combined with secular studies. Since its inception in 1963, YBH strove to equip each and every student, from kindergarten through eighth grade, with the skills needed to live a successful and fulfilling Torah life. 
Originally a school for local students, YBH gradually began attracting students from the Syrian community of Brooklyn. Its reputation for excellence, and for providing individual care and attention for each and every student, spread, drawing the interest of many families in our community, particularly when the yeshiva came under the leadership of its dynamic, multitalented principal, Rabbi Dr. Boaz Tomsky.  
The yeshiva was dealt a devastating blow in the autumn of 2012, when Hurricane Sandy literally sent it underwater, demolishing the building. Everything from the desks to the books to the computers were completely destroyed. YBH's students suddenly found themselves without a home.  
What happened next was nothing short of miraculous. An emergency meeting for parents was held just several weeks after the hurricane, where it was decided not to allow Sandy's furious winds and rain to put an end to YBH's spectacular work. Under Rabbi Tomsky's leadership, the parent body regrouped, and, with Hashem's assistance, a building was found in the heart of Flatbush's Jewish community, at 1649 E. 13th St. The building was renovated, and the institution was renamed Yeshivat BitaHon – maintaining the acrostic YBH. The new name was conceived by Mr. Sol Wahba, a parent at YBH, and currently President of the Board. It expresses the power of faith in Hashem, and trust in YBH's staff and administration, that fueled the parents' resolve to persevere and continue the yeshiva's tradition of excellence. 
Working Together a Family 
A visitor who walks into YBH during the school day will encounter the beautiful, heartwarming scene of happy children learning, growing and thriving. 
A small school with a big heart, YBH makes it a priority to ensure that everyone is on the same page. All staff members – the para and the P3, the primary classroom teacher, rabbi and principal – work closely with one another to create an upbeat, energized academic environment. They also work closely with the parents, acknowledging that education is a joint effort between the school and the home. 
Rabbi Tomsky serves as the school's Rabbinic and Educational leader and Advisor. He meets regularly with each and every student, carefully monitoring his progress. He also guides his devoted staff, together with the Educational Administrator, Leeora Bernstein. The faculty and administration work hard to ensure that no student slip through the cracks. 
 "Yeshivat BitaHon is a kind, excellent school. I had two children attend this school and was and am very happy with their approach to children and their needs. I currently have one child attending the school and he is very happy. They cater to their needs by providing services like P3, OT, and PT for the children with IEP mandates. We are proud to say they are not a school; they are a family." – Mrs. Mirav Lavi 
Yeshivat BitaHon educates boys and girls from grades K-8, and is reasonably priced.  
At the Cutting-Edge of Education 
In additional to teaching all standard subjects included in a mainstream Jewish day school curriculum, YBH places a strong emphasis on the development of middot tovot (fine character traits). Jewish subjects are taught in Hebrew ("Ivrit be'Ivrit"), and cutting-edge educational technology programs are utilized to make learning effective and fun. The school's well-rounded educational program includes trips, athletics, music and art. The wide range of activities ensures that every child can find an area to enjoy and in which to thrive. 
Yeshivat BitaHon provides a warm and lively environment, and is run by a staff of highly-trained and passionately-devoted professions. The faculty, staff, parents and students all work together as a warm, close-knit family. 
Registration is still open for the 2022-2023 school year. Educational administrator Leeora Bernstein interviews prospective students and their parents to review each applicant's needs, and to explain the yeshiva's program and philosophy in detail, in order to determine whether YBH is indeed suitable for the child and his or her family. 
For more information about Yeshivat BitaHon, or to arrange an interview, please call the office at 718.474.0045.