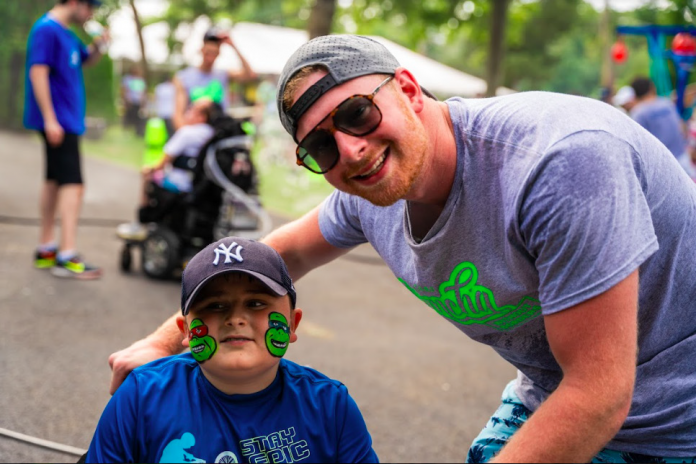 Deal Community Hosts Chai Lifeline Kids for Simcha at the Shore
Once again, the Deal community came out in strong support of the children of Chai Lifeline as "Camp Simcha Without Borders – Simcha at the Shore" came to town.  Launched in the midst of the COVID-19 pandemic, Camp Simcha Without Borders was developed to bring the magic of Simcha to children and communities across the country through day camps and special programs and events in cities across the globe.
Jack Tabbush, director of Camp Simcha Without Borders, describes a particularly close bond between Chai Lifeline and the Deal community. "We are delighted to partner with the community here in Deal to bring Simcha and joy to children who need it most," he said. "The Sephardic community members have been longtime supporters of Chai Lifeline and Camp Simcha, and we look forward to strengthening that bond and doing more to help all children and families in need."
The boys day, hosted at the home of Shmuel and Victoria Kairy, was held on July 21 while the girls day took place later in the summer at the home of Ricky and Jamie Cohen. Simcha at the Shore opened with a series of activity stations and carnival games located across the outdoor gardens of the homes, ranging from caricature artists to cotton candy and cookie booths, exotic car rides, art booth, laser tag, and much more.  
"Aside from giving these kids a great time at the Jersey shore, Camp Simcha Without Borders helps showcase the impactful and critical programs of Chai Lifeline," said Lee Cohen, a Chai Lifeline liaison to the Syrian community. "It's important for our community to not only support this wonderful organization but to be aware of all they have to offer should any family require their professional services."
After a fully catered lunch and concert featuring Uri Davidi and Nechemia Katz, the water activities came out, followed by a ventriloquist show and barbecue. Tables filled with gifts, toys and games donated by the community made sure that children didn't leave empty-handed.
"Programs like Camp Simcha Without Borders and Deal Day exemplify Chai Lifeline's community-based approach to care and services," said Rabbi Simcha Scholar, CEO of Chai Lifeline. "We are able to accomplish all that we do for children and families impacted by illness and crisis because of the support of our community, and there has been no better friend to Chai Lifeline over the years than the Syrian community."
Chai Lifeline is an international children's health support network, providing social, emotional, and practical support to children, families and communities impacted by illness, crisis, and loss. To learn more about Chai Lifeline, visit www.chailifeline.org.