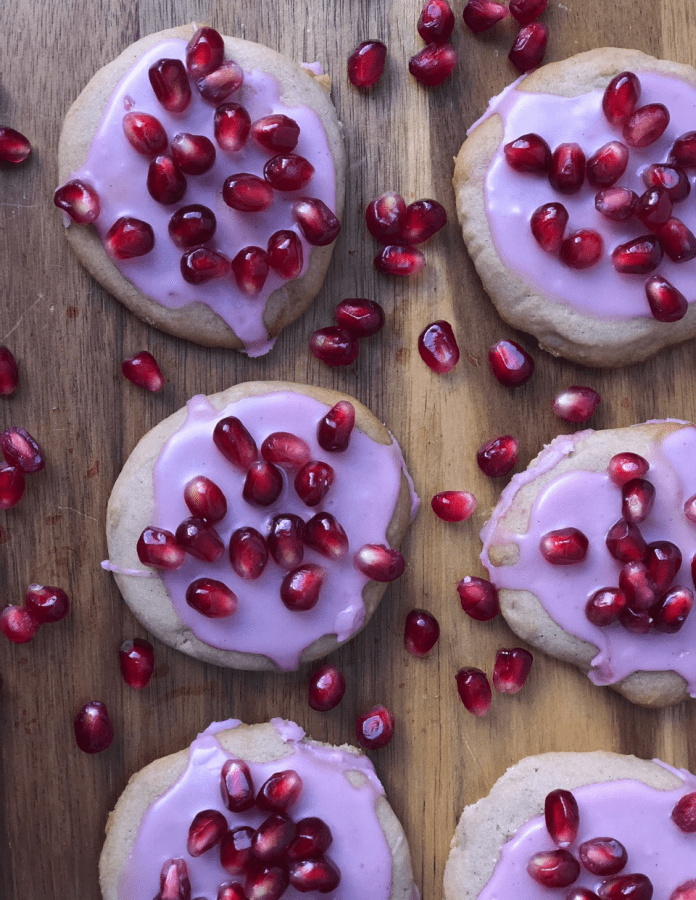 These cookies melt in your mouth! Shortbread cookies are made with five ingredients that you probably already have in your kitchen. While you can get away with using pure vanilla extract, vanilla bean paste has a richer, more robust vanilla flavor than the latter. It also leaves minuscule black dots scattered throughout the cookie which sends a clear message that you take your baking seriously. You can find kosher vanilla bean paste on Amazon.
Shortbread Cookie Ingredients
1 cup unsalted margarine, softened
½ cup confectioner's sugar
1½ teaspoons vanilla bean paste (or extract)
2 cups all-purpose flour
¼ teaspoon salt
Icing ingredients
½ cup pomegranate concentrate
¼ cup hot water
1 tsp vanilla extract
2 ½ cups confectioner's sugar
Topping
1 cup pomegranate seeds
In a large mixing bowl, cream butter and sugar. Add vanilla and mix until fully blended.
Add flour and salt and mix well.
Place dough on a lightly floured counter. Roll into a 12-inch log. Wrap in plastic wrap and place into freezer for at least 30 minutes.
When ready to bake, slice dough into thin slices with a sharp knife. Place on a baking tray and bake for 15 minutes in a 350 degree oven, until cookies begin to lightly brown on edges.
Meanwhile, mix icing ingredients in a small bowl and set aside. You may add a bit more of confectionery sugar to thicken or more pomegranate concentrate to thin the icing
Spread a small amount of icing onto each cookie when cooled and add pomegranate seeds promptly
Allow to set, about 15 minutes. Store in a covered container in a refrigerator for up to 3 days. ENJOY!