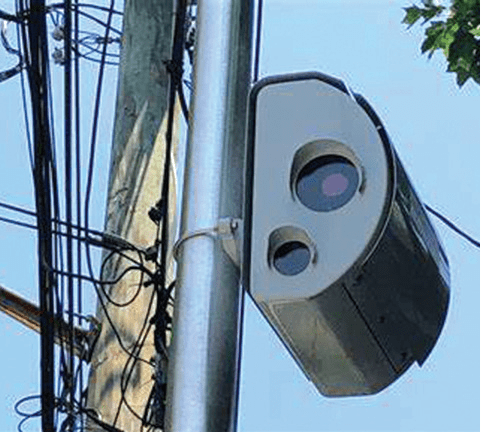 As of last month, New York City's speed cameras are operating 24/7. The city's 2,000 automated speed cameras, which are only situated in school zones, were previously authorized by the state to operate only on weekdays, between 6am and 10pm. But a new state law allows the cameras to operate 24 hours a day, seven days a week, and the City Council subsequently passed a bill to indeed have the cameras run 24/7.
The city says that since the start of the speed camera program in 2014, speeding violations are down 72 percent on average at camera locations in the 750 school zones citywide during the hours they operate.
Opponents of the speed cameras argue that government simply uses them as a revenue source.
"New York should just be honest with people that this has nothing to do with safety and everything to do with a cash grab," said Councilman Kalman Yeger, who voted against the bill. "A reckless driver doesn't get stopped by getting a bill in the mail. Cameras don't target recklessness. They target wallets."
"The speed cameras initially were a money grab, and just another way to tax New Yorkers," said State Senator Simcha Felder, a fellow conservative Democrat whose district overlaps with much of Yeger's. "Now the city has figured out a way to take their money 24 hours a day."
A speed-camera fine is $50
Governor Hochul Signs Assemblyman Simcha Eichenstein's Legislation Protecting Holocaust Survivors
Photo attached.
Caption: Assemblyman Simcha Eichenstein speaking at the bill signin
Last month, Governor Kathy Hochul signed a legislative package to honor and support Holocaust survivors in New York State. The legislation addresses Holocaust education, Holocaust art stolen during the Nazi era, and the requirement of the state's Department of Financial Services to publish and annually update a list of banks that voluntarily waive transaction fees for Holocaust reparation payments
The new legislation, sponsored by Assemblyman Simcha Eichenstein and Senator Zellnor Y. Myrie, will require that the NYS Department of Financial Services publish a list of banks that have agreed to waive their processing fees, post the list publicly on its website, and update it annually. This will ensure that survivors, many of whom live in poverty, can choose to avoid paying these fees, which can add up to substantial amounts. Additionally, this will persuade the banks that have yet to agree to waive these fees to do so.
"Our Holocaust survivors are a precious gift and it is incumbent upon us to assist them in any way we can," said Assemblyman Simcha Eichenstein. "This bill, which I sponsored with Senator Myrie, will make sure that our Holocaust survivors are aware of which banks are waiving fees on reparations payments, fees that could add up substantially. Thank you Governor Hochul for recognizing the significance of this bill and signing it into law today."
Monthly Update from Assemblywomen Kim Eulner and Marilyn Piperno
Use same photo as last month
We are happy to announce that Assembly Bill 4075, which we proudly supported and sponsored, recently passed unanimously through both of New Jersey's legislative houses and was signed into law by the governor. The bill focuses on school safety and requires school districts to assemble "threat assessment teams."
Unfortunately, the state's mental health crises in the youth population necessitates this type of legislation. The isolation of the pandemic has weighed heavily on school-aged children, as, tragically, one in five New Jersey children now suffers from some mental health issue.
This epidemic of mental illness has led to an uptick in horrible tragedies, such as those that occurred in Uvalde, Texas. There were at least 26 other school shootings this year alone.
This bill aims to stop these events from happening by bringing together a team of experts who can help identify possible threats before it's too late. These teams would consist of a psychologist or counselor, a teacher, a school resource officer, a school safety officer, and a principal or administrator. This multifaceted team will be able to monitor each district and work with law enforcement to communicate possible threats. The members of the team will have a strong understanding of the signs that precede violence in our schools.
The bill was bipartisan, with assembly members from both sides of the aisle agreeing that more must be done to protect our schools. The willingness to work together is a welcomed sign, and we'll keep working to keep our children and community safe.