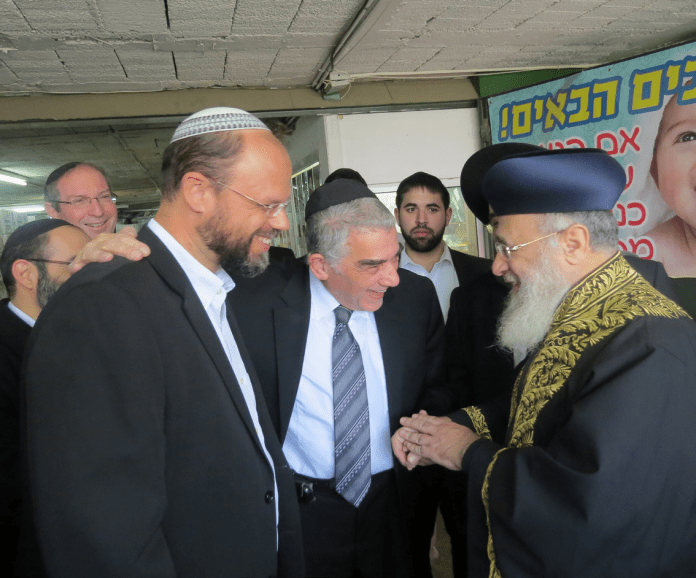 Surprisingly, economic distress is the most common reason women in Israel give seek abortions. Very often it is the people closest to them – the spouse or parent – who insists that there is no alternative. Tragically, close to 40,000 Israeli babies are lost each year, primarily due to dire financial straits.
Additionally, for each baby lost there is also a woman who mourns the unborn child, and who is forced to bear a burden of guilt for the rest of her life.
"EFRAT founder Dr. Eli Schussheim, zt"l, coined the slogan "You don't end a life for lack of funds." He worked for over four decades to empower women and to save Jewish babies. Through providing information, emotional support, and financial assistance, EFRAT has helped generations of women deal with their unexpected pregnancies, and ultimately, make the best decision for themselves and their families.
"Our mission at EFRAT is to show women that they have a choice," explains Nir Salomon, Executive Director of Efrat. "There are situations where a woman feels trapped. Everyone around her says that having a child in her circumstances is unfeasible."
The rationale at EFRAT is that women who are pondering abortion have the right to receive the most updated information relating to all aspects of their physical and emotional health. Ruthy Tidhar, Efrat's head social worker points out, "The women who come to us are pitifully unaware of the ramifications – medical, physical, and emotional – of such a drastic decision. We will never try to sway women one way or another with arguments based on ideological, moral, or religious grounds. Rather, our goal is to empower them through information and assistance. We show them that other options exist."
They Are Not Alone
EFRAT manages an army of trained volunteers who are active across Israel, providing women with the support they desperately need. Some of these special volunteers were themselves past recipients of EFRAT's hesed who want to give back. The volunteers continue to be an active presence in the women's lives for as long as necessary.
In addition to moral support and counseling, EFRAT provides practical assistance in the form of a complete package to cover all of a new baby's physical needs: a crib, stroller, bathtub, infant seat, layette, etc. What's more, for the first two years of her baby's life, the woman receives monthly deliveries of diapers, wipes, infant formula and more. Often EFRAT will provide staple food items for the mother and the rest of the family.
Last year, EFRAT incorporated a new service aimed at solving the problem at its source and breaking the cycle of poverty. The Working Moms Vocational Support Program, headed by Cintia Beinichis Remeney, empowers women to enter the workforce and become self-respecting breadwinners for their growing families. In addition to vocational testing, which identifies each woman's strengths, preferences, and aptitudes, the program helps them access professional training and subsidized childcare, positioning them on the path toward financial independence. In the few months that the program has been operational, about 100 women have begun training for gainful employment in fields such as cosmetology, hairstyling, business management, and even law.
Giving Hope to Birth
Today EFRAT has become so efficient that the cost of saving a life, including the entire package, amounts to a mere $1,500. Each donor who saves a life is given the name and date of birth of the child they saved.