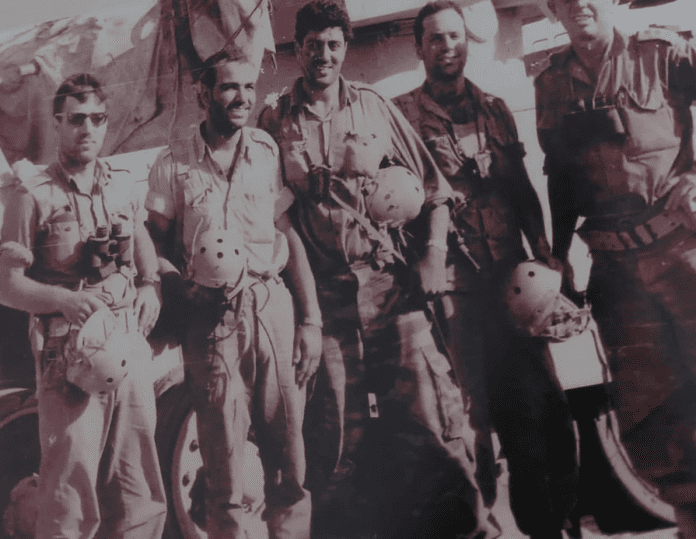 – Avi Kumar
David Caspi was born David Zilberman in 1938 in Izmir, Turkey. Caspi's father's paternal ancestors were Ashkenazim who moved from Ukraine to Turkey. His mother was of Ladino-speaking Sephardic heritage. In 1948 his family moved to Israel, in the middle of War of Independence.  
During the Six Day War in 1967, Caspi served in a tank unit along the Egyptian border. His battalion boasts having deployed the first tanks to reach the Suez. During that war, he was promoted from Captain to Major. 
After the war ended, Caspi returned to civilian life, and regularly was called to reserve duty, which was routine for Israeli citizens. He lived in Ramle and worked as a high school principal at a school he had founded.  
Called Again – to Serve in the Yom Kippur War 
When Israel came under attack on all sides in 1973, at the start of the Yom Kippur War, Caspi again received the call to return active service. He and his wife had three children and his wife was five months pregnant at the time. "It was a very difficult moment," Caspi recalled in an exclusive interview with Community Magazine. "I can never forget my pregnant wife's face as she was waving goodbye from upstairs at the balcony, while I looked on from outside. That memory still stands out as if it were yesterday," he related with a sigh. Caspi continued, "Two familiar faces I knew from the Six Day War were in the car that came to pick me up." His comrades were Tuvia Toren from Haifa and Rami Givoni from Kibbutz Mabarot. "It was such an ordeal, being called up again, after a very recent miraculous victory. It would be very emotionally taxing for anyone, especially for fathers, again separated from their children, not to mention their wives. In fact, nobody in the vehicle that headed from Ramle to Jerusalem said a word along the way. We were all sitting there, pensive with our own thoughts and emotions. I cursed to myself, 'lazazel!' literally 'to hell' as we drove."
The team then climbed into the tanks and were off to Golan heights. The British-made Centurion tanks of Division 205 had to reach the Syrian border to face the enemy to the North. The other vehicles on the road were mostly tanks and other support vehicles. Caspi recalls how they carried a lot of equipment and ammunition. "We left with 95 tanks, but only 55 reached the Syrian border in time because they would fall apart or get stuck along the way. Rami and Tuvia went ahead of me on the outbound journey, and both would, alas, not return to the tale." Monday, the eighth of October the battalion first faced the Syrians in battle at the Golan Heights.  "It was mostly armored tanks vs. armored tanks. The Golan is a very hilly and rocky terrain. There was not much infantry against us because the Syrians had a nearly unlimited amount of artillery and Soviet-made weapons, so spending too much time outside would be risky. That's how our battles ensued. Monday, Tuesday, and Wednesday just went on like this. Wave after wave of Syrians came through relentlessly but we managed to push them away from the border-zone. After those three days, every inch of Ramat Golan was finally under our wing."   
Headed into Syria 
Instead of a jubilant smile, when the 84-year-old Caspi continued, he dropped his head and his voice fell into a solemn tone. "The next set of orders were to go inside the border to hunt down the Syrian troops that had not penetrated and 'to use our success to get more success.' This was a very bad decision. We should have just finished it then and there. Instead, we went in for so much unnecessary loss of life."  Caspi stated that he believes that a good soldier knows when to pick his battles.
He continued, "So, on the 10th, we breached the Syrian interior. But we were overconfident, and it took a massive toll. Many of our comrades were killed or gravely injured in front of us in this theater. Going into Syria was just a big mistake. The Syrians had a huge advantage of being on the home turf and on higher ground. The Syrians also had superior numbers and brought forth tons of Soviet-made equipment. They had an added edge at night, with Russian provided night-vision glasses, something that we were unfamiliar with.  
"I lost many comrades in the fateful fighting, and we accomplished nothing. The Soviet-made AT-3 Sagger nicknamed 'Sagger missile' was perhaps the most dreaded weapon in the Syrian arsenal. It took out many Israelis. I witnessed firsthand how my friend Rami fell in combat. As the rest of the tank crew managed to escape, Rami was stuck inside a crumbling tank. He was injured, and he slowly succumbed to his wounds. It was very painful to witness the Syrians salvage the tank and capture Rami's corpse. They would return the body some eight months later. 
My regiment was 25 km away from the Israeli border inside Syrian territory, and his battalion, as well as Division 205, were edging very close to Damascus. We were in the most northern theater of the Yom Kippur War. Yes, the Syrians had so many Russian made gadgets, but we were fortunate that they did not have the best training and knowledge as to how to use them efficiently. Had they had that advantage, things would have been worse for us, undoubtedly." Caspi was second-in-command during this surge of events. 
Promotion in the Midst of Battle
Inside Syria, Tuvia fell after being hit in the neck by an artillery shell on the 16th. His commander, Yossi Peled, turned to Caspi and announced "David, you are now in charge. Don't say anything!" Caspi shrugged with a very serious air. "Of course, I could not say anything. We had hundreds of burned-out tanks piled up in front of us and so many dead commanders. Inside the battle I just got promoted up the chain of command in an instant. I had no time to ask or think. I got the order to continue and so I did. I had been a Major, and was now a Lieutenant-Colonel. I commanded through five days of intense shelling, as Iraqi expeditionary reinforcements arrived with planes, artillery, and waves of fresh battle-ready troops. They seemed to be advancing closer and closer – but we would not go down so easily. We had to endure. From morning till nightfall, we would fire away, and we were never sure if we would live another day. But we managed to hold our own.  By the 21st of October they announced a ceasefire." 
From the Far North to the Far South
"Initially, I felt relief and assumed that the war was over, and we could finally go home to our families. But, alas, this was not the case. I was then summoned to Sinai, escorted by commanders Yossi Peled, Moshe Meler, and Guy Yakobson. It took two days for our tanks to arrive, and in the meantime, I was given a helicopter tour to scout and plan our battle strategy before that attack. I then remember sitting in the tanks near the Suez between the Egyptian's Second and Third Army Divisions waiting for the orders. Then we got the order that my regiment had to cross the canal and get 101 km from Cairo and hold the military there. 101 is a technical term! The goal was to give a message that we were a formidable opponent."
"This was my second time in the Suez and, yet again, I was not there for a vacation," Caspi smiled. He reminisced how his squadron's tanks were the first to arrive in the Suez in the Six Day War. And this time he crossed the canal once more and got into Egyptian territory – another victory! Caspi continued, "We had won after Kissinger had negotiated a ceasefire! I stayed in the Suez for five months after the war." When Caspi went home for one of his breaks from service, his wife gave birth to their baby (who they named Golan). He told his officer about the well-timed birth, and the officer replied in disbelief, "How did you make such an arrangement?!" Caspi laughed. "He wondered how I could 'order' a woman to deliver a baby on a certain date, but that was Gd's work!"   
Caspi enjoys his well-deserved retirement in Israel. His riveting book, When Grandpa Was at War – The Story of the "Iron Fist" Brigade in the Yom Kippur War, has been published in Hebrew.