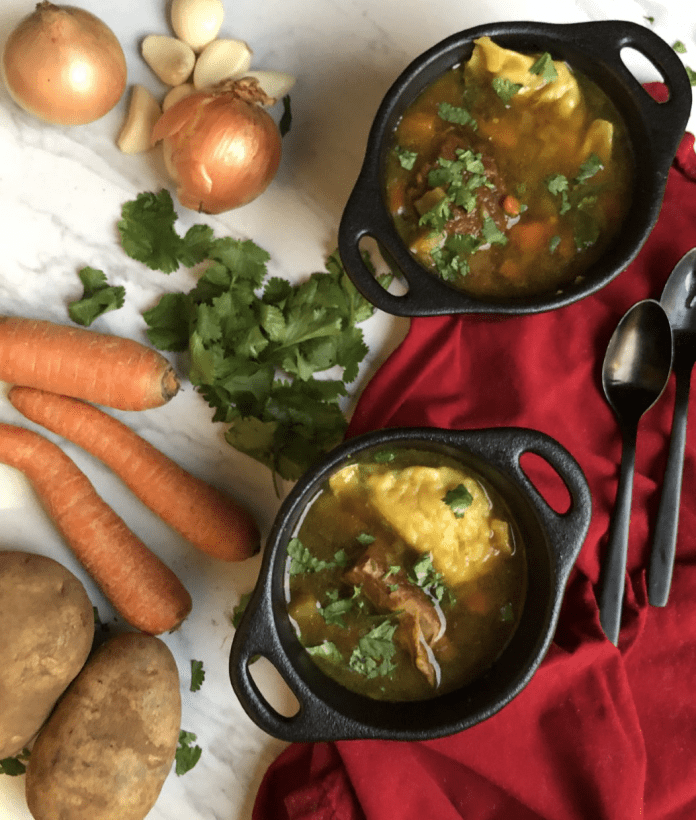 This Yemenite soup with flanken is the epitome of hearty. The buttery flanken, wholesome vegetables, and rich broth will keep you yearning for another bowl. The clear broth is achieved by cooking the cilantro in a removable mesh bag – which is key to getting picky eaters to try something new. Warm, filling, and nutritious, this soup is perfect as a first course on Sukkot, or during the week as a one pot dinner.
Serves 8
3 tbsp oil
2 onions peeled and diced
2 lbs boneless flanken
½ tsp turmeric
½ tsp coriander
½ tsp cumin
½ tsp cardamom
8 cloves minced garlic
1 bunch fresh cilantro
4 potatoes peeled and cubed
Optional: frozen wontons or dumplings
Salt and pepper
In a heavy 6 quart pot, heat oil and add the chopped onions. Let the onions cook for several minutes until they are softened and brown, then add carrots and cook for another 5 minutes.

Sprinkle the flanken with salt and pepper. Make a well in the middle of the carrot and onions and add the meat to the pan and sear, stirring occasionally, until browned on all sides.

Add cubed potatoes and spices and cover with 14 cups of water.

Clean cilantro while keeping leaves and stems intact. Place most of the cilantro in a cheesecloth and tie into a knot. Set aside remaining leaves for garnish.

Add cilantro bundle and garlic to the pot and bring to a boil. Lower to a simmer and cook for 3-4 hours.

Remove the cilantro bundle and add salt and black pepper to taste.

Optional: bring soup to a boil and add frozen wontons or dumplings. Cook soup for 10 more minutes and remove immediately so they don't get soggy or break.

Top with chopped cilantro and serve.