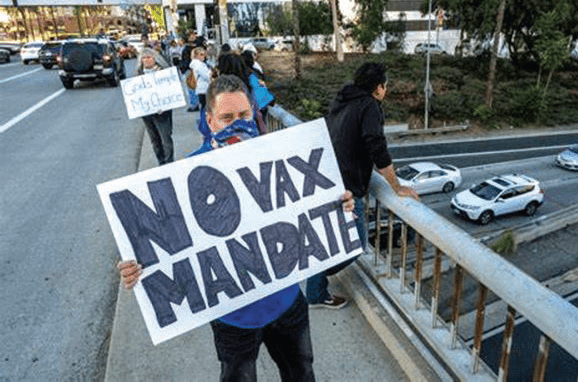 Last month, Mayor Eric Adams announced that New York City will no longer have a COVID-19 vaccine mandate for municipal employees.
The policy was among the strictest employee vaccination mandates anywhere in the country, and while that has ended, the lawsuits have not.
"The number of cases, hospitalizations, and deaths have remained relatively stable over the past months, without the dramatic peaks that we saw during the winter of 2021 into 2022," said NYC Health Department Deputy Commissioner Dr. Celia Quinn.
Many city employee unions are celebrating the change. However, a number of public sector unions remain in ongoing litigation against New York City as they try to get their members' jobs back.
The mandate – imposed on all municipal workers – prompted angry demonstrations and a blizzard of lawsuits. Nearly 1,800 workers, including sanitation workers, police officers, and firefighters refused the vaccine and were fired.
Last month's vote means the city will do away with the requirement that workers show proof of vaccination. It also means that visitors to city schools do not have to show proof of at least one dose.
Health care workers still have to be vaccinated because of separate state and federal mandates.
However, state officials will allow masking requirements in health care facilities to lapse, lifting a requirement that had applied to staff, patients, and visitors in hospitals and health care settings, regardless of vaccination status.
HGTV Team of MDY Visits New Project Site
The HGTV teen team of Magen David Yeshivah High School Club, led by Mrs. Beth Goldberg, hit the ground running last month as they made their way to a highly regarded rehab facility, the Triboro Center in the Bronx, to visit their upcoming project site. Mrs. Goldberg described the club's current project. "This facility houses over 400 residents and the hardworking staff surely deserves a great deal of appreciation for ALL that they do each day. Our team has decided to 'gift' the staff with a renovated coffee and break area in which they can enjoy a few minutes to relax, refuel, rewind, and recharge."

"Our creative team met with the administrator of the facility as well as the Director of Maintenance to discuss some of our ideas as well as to be briefed on certain requirements. While we were there, two professionals came into the area and we were able to hear from them some of their requests for the updated space. We are so proud of our students that are reaching out and helping those who give selflessly to a special group of individuals," said Mrs. Goldberg.
Senator Felder, Assemblyman Eichenstein, and Councilman Yeger Welcome the Installation of All-Way Stop Sign at 46th Street and 11th Avenue
Community Board 12, Senator Simcha Felder, Councilman Kalman Yeger, and Assemblyman Simcha Eichenstein appreciate the NYC Department of Transportation's installation of a long advocated for stop sign at 46th Street and 11th Avenue in Boro Park. For years, DOT's response to their efforts was that "traffic conditions did not meet nationally recognized traffic engineering standards required for installation of a traffic control." They sought clarification as to the "standards" DOT would consider sufficient to make the intersection safer. In June 2021, DOT advised that the standards were dependent on reported accidents.
In January, Senator Felder renewed efforts to bring a traffic calming device to that intersection and joined by Councilman Yeger, Assemblyman Eichenstein, and District Manager, Barry Spitzer, fired off a letter to the Commissioner of Transportation demanding an on-site visit so the commissioner can see the dangerous conditions for himself. The letter made such an impact that instead of scheduling a visit, DOT decided to finally install a stop sign.
"This is a lesson in never giving up," said District Manager Barry Spitzer. "Our neighbors know we will never stop fighting for them, no matter how long it takes. We would like to thank Commissioner Rodriguez and the DOT for installing the sign and Senator Felder, Councilman Yeger, and Assemblyman Simcha Eichenstein for constantly being in the trenches with us on behalf of our community."