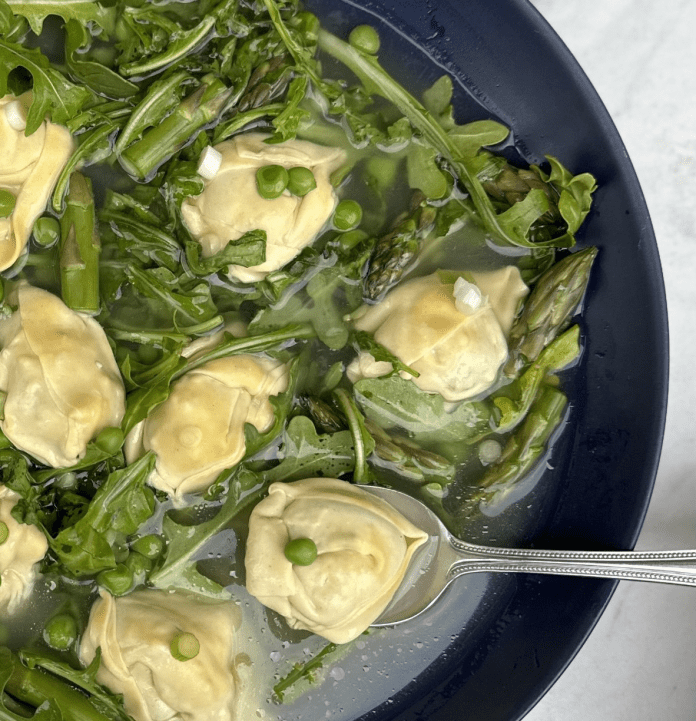 Spring is in the air, and what better way to celebrate than with some fresh spring vegetables? Brodo is Italian for broth and is essentially a beef or vegetable stock. In this recipe, baby arugula, spring peas, scallions, and asparagus are paired with wontons and served en brodo to create this light spring dish. Ground chicken is mixed with aromatics and then wrapped in dumpling wrappers. The wontons can easily be made in advance and kept in the freezer so your dinner can come together quickly.
Ingredients
1 package thin wonton wrappers
2 tbsp canola oil
2 lb ground chicken
2 onions, diced
1 bunch scallions, chopped
4 cloves minced garlic
2 chicken legs or thighs
3 stalks celery
3 carrots
1 whole onion
2 cups arugula
1 bunch asparagus
1 cup frozen or fresh peas
Directions:
To make the broth, peel onion and carrots, leave whole. Cut off leaves and stems of celery and leave whole as well.

In a large pot, place chicken, carrots, celery, and onion. Fill pot with water. Add salt and pepper and cover. Let simmer for 2 hours.

In a wide skillet, heat oil. Add diced onions and sauté until golden. Add ground chicken, garlic, and salt. Use a fork or masher tool to separate into small pieces. Add most of the scallions and shut off the flame. (save remaining scallions for later)

To make the wontons, place a wrapper in one hand and place about one teaspoon of beef in the center. Dampen the edges of the wrapper by dipping your finger into a bowl of water and moisten the edges of the wrapper with the water.

Fold the dumpling wrapper in half in a taco formation, pinching it together at the ends. Bring the two edges together to create a circular hat shape. Press out any air bubbles. Repeat until all wontons are filled.

Place wontons in an airtight bag in the freezer until you're about to use them.

To assemble, remove vegetables and chicken from broth, set aside for another recipe.

Carefully place wontons to boil in the broth, being careful to leave space for them to move without getting stuck to each other. Cook for 3-4 minutes, drain, and remove from broth. Set aside.

Clean asparagus and cut off the two inches off the bottom and discard. Chop into two-inch pieces, add to broth to cook for 2 minutes so they won't get soggy. Drain and remove from broth.

To assemble individual bowls – divide arugula among your bowls. Place about 5 wontons per bowl and then add asparagus and (uncooked) peas. Pour hot broth on top, and finish with sliced scallions. Serve immediately.