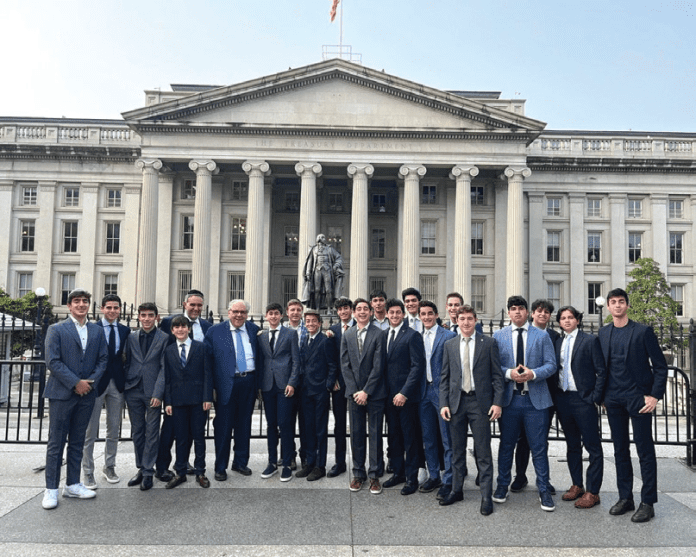 Last month, Rabbi Avner Bitton arranged for a group of Magen David Yeshivah high school students to travel to Washington D.C. to visit the White House and the Senate in honor of Jewish Heritage Month.
Dr. Daniel Vitow, along with Mr. Bruce Bromfeld, and Rabbi Elinatan Bitton joined them as they met with Mr. Jake Turx, Senior White House Correspondent at Ami Magazine, who escorted them behind the gates, into the White House.
The students were also invited to the Senate, where they enjoyed a Jewish Heritage Celebration and heard from many senators and representatives. They visited the Senate Chamber as Senator Schumer was speaking and witnessed President Joe Biden depart on Marine One.
Afterwards, the students visited the International Spy Museum and took a sightseeing bus tour around the city.
The students expressed their thanks and gratitude to all the MDY staff members who accompanied them.
Community Board 13 Lodges Complaint About Housing Migrants in Neighborhood
Community Board 13, which represents the neighborhood of Coney Island, lodged a complaint concerning the plan of New York City to house some of the arriving migrants in the Sandra Feldman Gymnasium at 2818 West 35th Street. The gym is part of Public School 188, located at 3314 Neptune Avenue.
The Community Board reported that they were given no advance notice of the plan by any city agency, and noted that they had attempted unsuccessfully to receive even the most basic information
CB-13 is concerned about the number of people the city plans to house there, the length of time they are to remain there, if they have been screened for diseases, and if there is a plan in place to provide them with services
In protesting how the city handled this proposal, CB-13 members insisted they be informed about the process and be included in the discussions about implementing it.
SBH Summer Computer Workshops
SBH is offering free computer workshops this summer. All workshops will take place via Zoom. Register today, as the time for Summer 2023 courses is quickly approaching. For more information, please contact Jacqueline Tebele at jtebele@sbhcareer.org or call 718 787 1400 ext. 239